Bringing back the birds to the urban landscape

Abhishek Pandey
&nbsp | &nbsp Kanpur
03-December-2010
Vol 1&nbsp|&nbspIssue 14
Worried over the drastic decline in number of birds fluttering through the concrete jungles, a retired senior manager of a bank CL Khanna is out to ensure the return of the winged ones to his city, Kanpur. His wish is that birds should continue to chirp in the cities for many generations to come.

Khanna, who is 63 years old, had found a suitable way to reverse the decline in bird population in urban areas through the setting up of artificial nests in colonies and apartments.

He has been making artificial nests for birds for last ten years so that birds could breed even in densely populated urban localities. "I always loved living in proximity with the birds and liked to listen to their chirping sitting in the veranda of the house everyday. I loved seeing flocks of sparrows (Gauraiya) bustling with activity in my house, pecking at spread grains and twittering for hours over it," he says.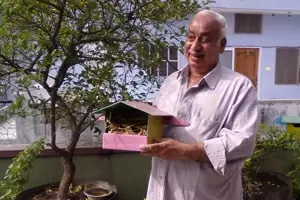 Homemaker of a different kind: Khanna spends about Rs.30-50 to make a nest, which would take him one day to complete.
A resident of Nawabgunj locality of Kanpur, Khanna says, the urban set-up has left very little space for these birds and he has been observing the change for past several years. Earlier, birds used to make their nest under the sloping roofs or behind the slanted photo frames but none of such things exist these days in urban areas. He says increasing pollution level in the environment had also increased the mortality rate of the birds in the cities and that's why the birds like sparrows are becoming rare.

Khanna is worried that the next generation would not get the joy of seeing birds like sparrows in their houses as very few birds are flying into houses in the present environment. Since he strongly felt that something had to be done for saving the birds, he started making artificial nests. He gifts these nests to the people for free.

"I was very disturbed with the trend. After the marriage of both my children in 1995, I and my wife Madhu Khanna were left alone in the house. I started spending much of my free time in making artificial 'homes' for the birds and after few years, I took voluntary retirement from the bank to devote myself fully to the job," says Khanna.

He has set-up several such artificial nests at his house and many families of the birds, mainly sparrows, live inside these nests. "Sparrows have hatched eggs for more than 36 times inside the artificial nests placed in my house. I have made hundreds of such nests for the people. My bedroom is my workshop," he says.

Khanna invests almost thirty to fifty rupees and a hard day's work in making a single nest. Many of his nests have been installed in the houses situated in Kanpur and nearby districts. His daughter Ashakati living in New Zealand has taken these nests along for placing in her house there to attract birds.

His new job has earned him a nick name 'Khosle wale Uncle' among the children of Nawabgunj locality.

Speaking about his husband's endeavour, Madhu Khanna says that he works a lot for making these nests and a large part of his pension goes in purchasing material required for making nests. Khanna uses twigs, dead leaves, broom bristles, shredded paper, cotton balls and other such material to make the nest and doesn't use any unnatural material that has chemicals or pesticides.


Trending Now: