Do not take your body organs to heaven, people on earth need them

Rama Devi Menon
&nbsp | &nbsp Hyderabad
26-November-2010
Vol 1&nbsp|&nbspIssue 13
MOHAN, the acronym, stands for Multi-Organ Harvesting Aid Network. In Hyderabad, a couple, 48-year-old Lalitha Raghuram and 52-year-old Raghuram, who are actively involved in the network, live by what they preach.

When their 19-year-old son, Swamy Narayan, was declared 'brain dead' after a car accident in January 2004, they decided to donate all his organs. "Several of our friends and colleagues told us that we need not donate the organs of our son, just because we are in this field. But both of us strongly believed in the cause we were working for, and decided to go ahead and donate Swamy's organs," says Lalitha.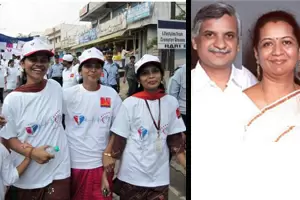 (left) A rally to spread awareness about organ donation in Hyderabad (right) Raghuram and Lalitha have between them managed organ donation from 104 brain dead patients
"In a way, we feel that our son was born with a purpose, and that is, to propagate the message of organ donation through us. Both of us have not rested even for a while to look back at what we have done. We have kept ourselves so busy that we forget about our loss and grief by immersing ourselves in work," adds Raghuram.

Raghuram, the CEO of MOHAN Foundation since 2004, was earlier associated as an administrator with L.V. Prasad Eye Institute, Apollo Hospitals, Lokmanya Hospitals (Pune) and Global Hospitals in Hyderabad. His past experience stands him in good stead while dealing with hospital managements, doctors, nurses and patients' families.

During her stint as an administrator in-charge of patient care at L.V. Prasad Eye Institute, Lalitha, who was the first employee to have joined the institute before the foundation stone was laid in 1986, would see patients coming for corneal transplant from far and wide.

As awareness about eye donation was minimal at that time, a patient had to wait for at least six months before receiving a corneal transplantation. "I have personally seen the plight and agony of patients waiting for a donor cornea. Thereafter, I worked as Executive Director of the Eye Bank Association of India (EBAI) between 1993 and 2001, where we initiated and implemented several public education programs, including one minute TV ads on eye donation featuring Aishwarya Rai and Amitabh-Jaya Bachchan," says Lalitha.

Getting the consent from families for organ donation is no easy task. "There are instances where the families have signed the consent form and have taken it back," says Lalitha.

"Every family is different and so is every circumstance. Emotions vary from individual to individual," says Raghuram, who sometimes manages to receive consent for donation within half an hour. Essentially, counseling involves education about 'brain death', the possibility of organ donation, answering families' queries and then waiting for their response.

The couple has successfully retrieved organs from 104 brain dead patients so far - 190 kidneys, 73 livers, 9 hearts, 1 pancreas, 52 heart valves and 268 corneas.

"Typically, a brain dead donor can donate his/her kidneys, liver, heart, heart valves, and eyes. Although lungs, pancreas, large intestines, small intestines, bone and skin can also be retrieved, infrastructural facilities for such transplants have not developed in Hyderabad yet," says Lalitha.

In March 2009, the CNN IBN conferred the "Real Heroes Award" on the couple for their exemplary work in the field of organ donation.


Trending Now: