Caring for the destitute and needy of Bengaluru

Shubham Sharan
&nbsp | &nbsp Bengaluru
04-November-2010
Vol 1&nbsp|&nbspIssue 10
Mission 5 is more an eponymous name for the organisation that was started by five students with a mission: To help others. Based in Bengaluru, 'Mission 5', with Vijaya Chandrakant Nagapure hailing from Pune at the helm, has attracted about 40 youth in the age group of 17 to 28 in the past three years. Some are students, others work for various companies.

The '5' in the name has another significance too: The members believe in transforming lives with Rs 5. Every month they collect Rs 5 from willing students in colleges for five days and then go about their mission. The organisation believes that youth is a great force in bringing about a change in society and that they could inspire others to help the disabled and the deprived.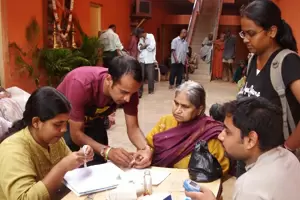 Mission 5 youth help inmates in orphanages and old age homes in Bengaluru
Among the key activities of the members are buying essentials for orphanages and old age homes and spending time with children and the elderly, organising competitions in rangoli making, drawing, pot painting, paper bag making and so on. They conduct educational tours for children and celebrate all festivals like Ganesh Puja, Eid, Easter, Diwali, Onam etc with the young and aged.

"We help two orphanages and two old age homes in and around TC Palya. We give them essentials. We spend time with the inmates and make them realize that they are not alone. We also donate Braille sheet to Rakum Blind School every month," says Shikha, a member of Mission 5.

Over the years, they have put 36 orphaned children in two schools, and sponsor their education through a project called '3 Help 1 Child', where three people come together to sponsor a child's education for one year.

They collected funds to help a 9-year-old girl Presila for her open heart surgery and 7-year-old Padma, who lost her left hand in an accident. They also took care of a 90-year-old lady who was thrown out by her family members.

It all started with Nagpure organising a group of students of Garden City College to help the poor and destitute children in and around TC Palya. First they put the children in government aided schools and then provided them with their needs even as they made the parents realise the importance of education.

"We have started a project called 'Unnati', where we provide computer education to children in an orphanage," says Ali, a member of Mission 5.

Trending Now: