Making NRIs pay for the eyesight of the poor

Divya Mangwani
&nbsp | &nbsp Pune
15-October-2010
Vol 1&nbsp|&nbspIssue 7
Archana Gaikwad is a seventh standard student in a village school in Maharashtra who found it difficult to read and write. It was not because she was not smart; on the contrary, she's one of the brightest students in her class. For three years, she had been suffering from DCR (Dacryocystitis Rhinostromy), an infection in which the vein connecting the eye and nose gets blocked as pus fills in it and impairs eyesight. It can be treated with a fairly simple but expensive surgery.

Since Archana's father is only a teacher in the municipal school and supports a family of six, she could not afford the treatment. But when 'Sight for Sightless', an outreach programme of the KK Eye Institute in Pune, had an eye check up in her village, her eye condition was discovered. She was operated upon free of cost and now Archana hopes to study hard and become a teacher.

Renu Wadhwa, the director of 'Sight for Sightless' programme, has many such stories to share. A modest woman in her thirties, she is also the CEO of the eye. "I feel truly blessed to be able to help so many people. My entire team thinks it is a privilege and honour to be working for the programme," she says.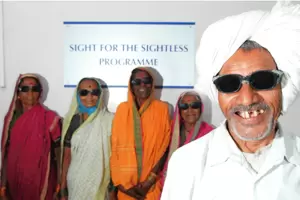 Sight for Sightless is truly a visionary programme that provides free eye surgeries for the poor
The programme is a social initiative by the Sadhu Vaswani Mission started in 2003, with the singular objective of eradicating curable blindness in the villages in Maharashtra. The Mission, based in Pune, was the brainchild of Sadhu T.L. Vaswani. It carries out service programmes in social, educational, cultural and humanitarian fields.

The Sight for the Sightless Programme, now in its seventh year, holds eye check camps at various villages where the villagers are examined by professional eye care experts. The ones with problems are identified and transported from their far-off homes to the hospital in Pune in buses.

Renu states, "The programme has set up eye care camps in over 262 villages in areas as far as 250 km from Pune. Over 42, 025 individual surgeries have been completed."

The villagers are dropped back at their homes few days after the surgery, once their eye patch and dressing are removed. They are also provided counselling for post-operative eye care and provided with medication and dark glasses.

Since the surgery, transport, post-operative medication, nursing and housing care come free of cost for the villagers, the programme relies on funds by benevolent donors, many of whom are based abroad. They have the option of paying for a single cataract surgery, which would cost Rs 2100 or a retinal surgery for Rs 10,000 or even as little as Rs 200 for a single pair of spectacles. "We send a picture of the person and their story to the donor who sponsored their surgery. It makes them feel more involved and realise how much their money is making a difference in the lives of these poor people," Renu explains.

She says: "These villagers are not aware of their problems but are in need of our services. So they are very trusting with their eyes and are so grateful which is heartening to see."


Trending Now: