A remarkable journey for women who have waged a long war
Manisha Prakash
&nbsp | &nbsp Patna
21-May-2016
Vol 7&nbsp|&nbspIssue 21
There's a folk song that the women of Bihar have been singing for generations: 'Mitti me milal zindagani; balam piye mahua ke paani (My life has gone to dust; my husband drinks the water of the Mahua)'.
Clearly, liquor, country or the more expensive kind, has, for the longest time, been the greatest curse on their lives, as they have been at the receiving end of countless atrocities inflicted by the intoxicated men of the family.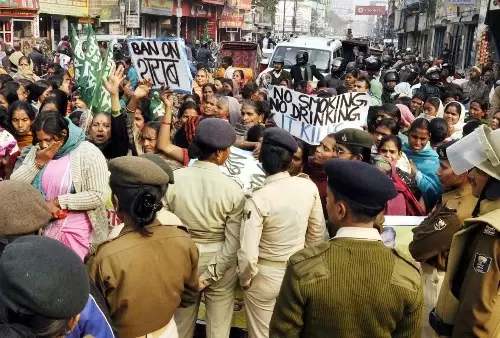 For the scores of women who have been campaigning tirelessly for a ban on liquor the prohibition in Bihar is a validation of their beliefs and hard work (Photo: WFS)

Be it extreme financial hardship or crippling domestic violence, the hapless women in the state have quietly borne the degrading circumstances as their "fate" – but not anymore. There is a blanket ban on the sale and consumption of liquor in Bihar since early April and for once it's the women who are in "high spirits".
The bold announcement of prohibition may have been widely described as "bad economics and risky politics" but for the scores of women who have been campaigning tirelessly for a liquor ban for years now this is a validation of their beliefs and hard work.
Today, Sushma Devi, the Mukhiya of Domath panchayat in Bettiah, Pramila Devi of Parbatti in Bhagalpur, Jaymala Tiwari of Pragatisheel Mahila Morcha in Rohtas, Vibha of Samastipur, and hundreds of thousands of women associated with over five lakh self help groups (SHGs) in the state are relieved and happy that they have "the license to correct the errant fathers, brothers, husbands" and build the good life they deserve.
Yes, there are going to be challenges in enforcing the ban; yes, there will be many alcoholics who will need support in terms of rehabilitation facilities – but the women are willing to take all the strong steps to ensure that alcohol addiction, which, presently, is all-pervasive, becomes a thing of the past.
For her part, Pramila Devi had been earnestly fighting the menace since 2009. She remembers how after she got married and came to Parbatti in 1978 she couldn't even step out of her home because there were drunks lurking in the narrow village streets.
For years, she witnessed several families getting destroyed and women being battered. Tired of being a silent bystander, she eventually decided to take matters into her own hands. A door-to-door campaign to encourage women to stand up to the abuse ended with the creation of the Mahila Sangharsh Samiti, which took the fight against alcoholism to the next level.
They sought meetings with the District Magistrate (DM), Senior Superintendent of Police (SSP), and even their Member of Parliament to state their case and routinely resorted to organising protests to spread awareness. These days, Pramila and her troupe are happy about the ban and feel that, in some part, they too have contributed to the enforcement of the order.
Another group that has been hitting the streets since 2012 to campaign against liquor is the Pragatisheel Mahila Morcha in Rohtas. Set up post Nirbhaya, the widely publicised rape case of a young female student in Delhi, this group has taken a more militant approach to do away with the "nuisance of widespread alcoholism".
Shares Jaymala Tiwari, Secretary of the Pragatisheel Mahila Morcha, "We have taken out rallies in villages and 'tolas', have ransacked liquor shops, beaten drunk husbands, and stood up to the threats of the liquor mafia, but with the law on our side we see hope.
"Of course, while we are elated that the government has banned liquor, steps must be taken to support the women who are facing the brunt of alcoholism. In our district there are villages like Sitabigha, Karbandiya, Khanda and Banka where many have been widowed because of alcohol. For them, it is an everyday battle for survival."
Outfits like the Mahila Sangharsh Samiti and Pragatisheel Mahila Morcha have been at the forefront of applying pressure on the Nitish Kumar government to take this radical step. Interestingly, it's a state livelihood scheme that created the enabling conditions for lakhs of grassroots women to first organise and then take action against alcohol consumption in their areas.
Jeevika scheme, being implemented by the Bihar Rural Livelihoods Promotion Society has been the unwitting catalyst. "Although the mandate of the Jeevika scheme is livelihood promotion for social and economic empowerment of women, alcoholism was posing to be a major problem.
"The women SHG members who borrowed money were unable to return it on time as willy-nilly their husbands would squander the earnings on buying liquor. Moreover, often many of them were unable to attend meetings after being beaten up particularly badly," shares Archana Tiwari, Project Manager-Social Development, Jeevika.
Gradually, the SHG women understood that if they had to gain financial independence and make sure that their children were educated they would have to first find a way to deal with the rampant alcoholism.
Apart from localised efforts, like those by Pramila Devi in Bhagalpur or Jaymala Tiwari in Rohtas, a major, and some might even argue decisive, push came in July 2015, when the chief minister was addressing women activists at a state-level Gram Varta workshop at Patna's S.K. Memorial Hall.
He had barely taken his seat when a woman from the audience loudly declaimed: 'Mukhya mantri-ji, sharab band kariye; ghar barbaad ho rahe hain (Honorable chief minister, please ban liquor in the state; our homes are getting destroyed!)."
Enthused by her passionate appeal others joined in compelling Nitish Kumar to assure publically that "if I come back to power, I will enforce complete liquor ban in Bihar".
Consequently, upon re-election, six days after taking oath, on November 26, 2015, he made the prohibition announcement, "My government is committed to fulfilling promises made to women… There was a surge of complaints from women about male members of the family resorting to drinking and creating nuisance, which also affected the education of their children. Though the excise department can earn Rs 4,000 crore per year [from liquor sale], we have to think in terms of public interest and take this decision."
Whereas the ban has been put in place since April 2016 already there are changes visible within the community and, particularly, in the attitude of the men folk. Vijyanti Devi of Rohtas is a happy woman nowadays because after 14 years of estrangement she has been able to reconcile with her husband, Jai Govind Singh, who used to be a habitual drinker.
Though it was their daughter Ishika, who was instrumental in reuniting the couple – she had submitted a written pledge to her school that she would help her father as well as other drunkards in her neighbourhood to kick the habit – Singh feels that the government ban will only help drinkers like him to stick to their decision. Like him, Suresh Ram, a police officer in Katihar, who was infamous for drinking, has resolved to give up alcohol, much to the relief of his family.
Naturally, it's not been easy to stop drinking overnight and some have had adverse reactions as well, but men like Vijay Choudhary, a painter from Hridayganj in Katihar, who had to be rushed to the Sadar hospital when he stopped drinking, are ready to do what it takes to live a life that is free from "fights and tension". At present he is undergoing treatment and counselling to get over the addiction.
Vigilant women haven't spared their errant relatives, too. In Samastipur, Vibha Devi, who hails from the Pasi samaj, a community that is traditionally connected with toddy tapping, reported her sister-in-law, Kabutari Devi, when she refused to stop selling liquor even after the ban. Kabutari was subsequently arrested.
Truly, it's been a remarkable journey for women who have waged a long war against alcoholism in the state. Now, it's on to the other big challenge – to make the ban a success. -Women's Feature Service
Wish to share your story?
Trending Now: