A group of dedicated lawyers take up cases of the poor Dalits and get them justice
Shuriah Niazi
&nbsp | &nbsp Dewas
22-February-2016
Vol 7&nbsp|&nbspIssue 8
The year was 2014. In a small village in Chhindwara district, Madhya Pradesh, a hearing- and speech-impaired minor Dalit girl was brutally gang raped.
When the victim's mother, Padma Devi (name changed), a daily wager, mustered up the courage to go to the police she was turned away as the authorities were 'unable to understand' what the child wanted to convey.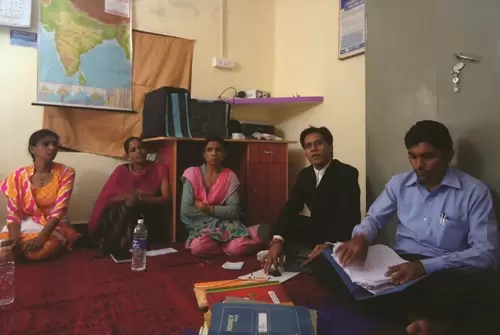 The Forum for Social and Economic Rights in Madhya Pradesh fights cases on behalf of victims of rape and other crimes belonging to the Dalit and other marginalised communities. (Photo: Shuriah Niazi\WFS)

Disappointed, she simply resigned to fate – till someone told her about a toll-free helpline she could call to register her complaint. When she called in and explained the situation, a team of legal experts from the Forum for Social and Economic Rights, a group of advocates that fights cases on behalf of victims of rape and other crimes, instantly came to her assistance.
It took a month – and meetings with the State Women's Commission and the Director General of Police – but an FIR was finally lodged with the promise of a proper investigation.
Justice, rights, equality … these words simply don't exist in the vocabulary of the poor and socially-excluded Dalit community in the state. Most families slave away as wage labourers in the farms of wealthy land owners to make ends meet.
Their children don't have access to even basic education and girls and women are extremely vulnerable to sexual assaults and other forms of violence. So what happens when a Dalit victim goes to the police to report a crime? S/he is simply sent back or threatened with dire consequences if they don't keep quiet.
It's this unfortunate reality that prompted Jan Sahas, a non-government organisation, based in Chhindwara's neighbouring district, Dewas, to set up the Forum for Social and Economic Rights.
When Kranti Khode, one of the 25 lawyers who make up the Dewas unit of the Forum – they have branches now in districts like Indore, Ujjain and Panna – heard about Padma Devi's daughter's case she instantly wanted to help out and went as part of the fact-finding team to Chhindwara.
Accompanied by the mother-daughter duo they went to the scene of crime where the child explained everything in sign language. A woman living in the area confirmed that she had seen the girl along with two boys and that she suspected that she had been sexually exploited by them.
After the Forum applied pressure, the police registered a complaint but even then it didn't name anyone in the FIR. It was lodged against unidentified persons. Only when they approached the Madhya Pradesh Women's Commission and the state's top cop did the local 'thana' (police station) clearly name four persons in the FIR.
Khode says, "Police would not have even lodged the FIR in this case had we not intervened. Justice would have eluded the poor girl and this would have emboldened the accused persons. Over the years, I have realised that the poor need support to fight against the rich and the influential.
"This girl comes from a very poor family. Her parents are labourers and they have to toil all day to earn a meagre income. They can't afford to miss even a single day's work and it would have been impossible for them to leave everything and pursue their daughter's case."
In fact, the lawyers like Khode have been handling a wide variety of cases. Mohan Panchal of the Forum shares, "Our group is committed to protecting Dalits and others belonging to the weaker sections of the society, particularly women and children, from social injustice and all forms of exploitation.
"In fact, most of the lawyers associated with the group, too, come from marginalised homes so they have natural empathy for the people they represent. The poor find it hard to speak up against the atrocities. They have neither the money and resources nor the courage to fight against the powerful elements. This is where the Forum has been making a real difference as it takes up the fight on their behalf."
Besides standing up in the court of law on behalf of victims of domestic violence, rape and sexual assault, they help forest dwellers, mostly tribals, to gain ownership rights over forest land under the Forest Rights Act and also inform people about their entitlements under government schemes like the Mahatma Gandhi Rural Employment Guarantee Act (MGNREGA).
In order to be easily accessible to the community, the Forum maintains a toll-free helpline service that is publicised by the grassroots activists of Jan Sahas.
When someone calls in they are instantly connected to a member who makes a note of their complaint. Thereafter, a fact-finding team is dispatched to meet the victim and the family.
The Forum conducts a thorough investigation to ascertain the veracity of the case. At the same time, they ask the victim to sign on a consent letter that states that s/he is willingly handing over the case to the Forum, which would represent her/him in court.
Khode elaborates, "We take the fact-finding exercise seriously. As we are conducting an independent investigation, we plug in any loopholes left deliberately or inadvertently by the police, so that the accused can't escape punishment in court."
Apart from undertaking extensive fact-finding and assisting in the social rehabilitation of the victim and his/her family, the Forum diligently prepares them to appear in court and fight their case with confidence.
A mock courtroom setting is recreated that they do not feel nervous while facing actual proceedings. According to Panchal, nearly 70 to 80 per cent of the complaints they receive are related to rape and sexual abuse.
In addition, it has taken up several cases related to bonded labour, manual scavenging and domestic violence. "Due to the lengthy and expensive legal process, it is not easy for women who are separated from their spouse to fight for alimony. The Forum has helped many such women," he adds.
Moreover, in order for them to do their work properly and increase outreach, the group is training youngsters to identify cases of atrocities in their villages and bring them to the attention of Jan Sahas activists or the Forum.
Of course, their main motivation to be part of this transformative process continues to be their allegiance to the idea of ensuring justice for the voiceless and powerless.
Speaking for her colleagues Khode concludes, "This profession enables us to make sure that the law is enforced in all fairness. I wanted to work for the Dalits and other backward classes, which was why I joined this Forum.
"So far, not only have we managed to bring cases to the court of law we have also successfully pleaded several cases. Unfortunately, for poor people, especially in the rural areas, to get their case registered is a Herculean task. To that end, we have made it easy for them and I am proud of the work our group is doing." - Women's Feature Service
Wish to share your story?
Trending Now: