"My parents raised my brother and sister to be socially conscious and especially aware of women's issues"
Kavita Bajeli-Datt
&nbsp | &nbsp New Delhi
24-August-2015
Vol 6&nbsp|&nbspIssue 34
She has become an Internet sensation after completing the London marathon sans any sanitary protection during period in a bid to end the stigma on menstruation.
Indian-origin Kiran Gandhi, a Harvard Business School graduate and a professional drummer, said the silence about the subject has to end, and she was happy to have started "a global conversation online" on periods.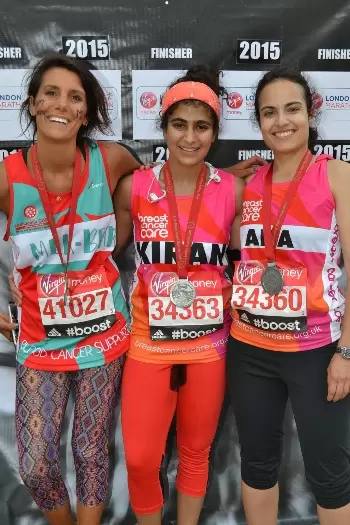 Kiran plans to reach out "to intelligent and forward thinking people" and the media on the subject of menstruation to raise awareness (Photo: IANS)
Born to Wall Street investment banker Vikram Gandhi and social activist Meera Gandhi, she said that after her "free bled" episode went viral, she received letters from diverse countries including Iran, India, Pakistan and Croatia.
In an e-mail interview, Gandhi, 26, who has toured globally as a drummer with M.I.A and Thievery Corp and has been profiled widely by media for juggling her busy student life with the hectic schedule of a musician, said the world is now talking about periods and how women face the pain in silence.
Asked whether she was able to raise awareness about the issue, she said: "(It has) started a global conversation online that I never could have expected. Just yesterday a brave young woman emailed me a screenshot of her on Whatsapp.
It was between her and her trainer, in India. She said that for many years she never told her trainer why she misses certain days of working out each month but finally, because of this conversation, had the courage to say it was because of her period."
Gandhi said the woman's trainer created a plan that wouldn't be as painful or uncomfortable for her so that she could still come in and train.
"Imagine, that stigma prevents something as simple as women being able to have honest conversations with their coaches, about something natural."
Gandhi, who was preparing for the London marathon for over a year, got her period a day before the event. She had two options - to opt out of the first 26.2-mile race or run and let it flow.
She chose the second option. She ran the 41.195 km alongside two of her closest friends, completing the course in 4 hours 49 minutes, with her running pink pants stained.
"I have received letters from women in Iran, fathers from India, fellow marathoners, young girls from Pakistan to Croatia.
"I believe that women constantly have to prioritize the comfort of others around them at their own expense. In this case, it felt most comfortable for me to run without anything that might chafe or hurt me.
"I knew that by the very nature of a marathon course, I could actually liberate myself from this type of oppression. That on a marathon course, I didn't have to think about how I looked or what people thought of me. That no one can tell you anything if you've just run a marathon. The respect of running a marathon speaks first and foremost for itself."
She now wants to continue "speaking to intelligent and forward thinking people" and the media about the issue as often as possible to raise awareness.
Most hailed her bold act but there were some who slammed her, calling the move "disgusting" and "unhygienic".
To her, such reactions, only further solidified that people are "deeply uncomfortable with a natural and normal process.
"I didn't need to be the one to respond to these opinions, women's and men's voices chimed in from all around the globe to respond to these feelings of disgust. And the very fact that doctors have already debunked the myths around my run just goes to show how taboo and silence prevents real education and awareness about menstrual health to permeate," said Gandhi.
She said she was aware that in India many girls and young women use unhygienic sanitary pads or dirty cloth, but was proud that two NGOs, She Innovates and Saathi Pads, whose founders went to Harvard Business School like her, are doing tremendous work.
Gandhi, who has famous parents working in the social sector, said it was heartening for her when she got tremendous support from her family.
Asked about the reaction of her family, she said: "Of utmost support, intelligence and joy.
"They understood that this act has nothing to do with a girl running a marathon and everything to do with a global problem that needs to be addressed. And having them behind me has been exactly the kind of strength I've needed to move forward and do my best work.
"My mom started The Giving Back Foundation which focuses primarily on women's and girls issues. My father started Asha Impact Investing which supports microfinance in India.
"Both of my parents raised my brother and sister to be socially conscious and especially aware of women's issues," Gandhi said. - IANS

Trending Now: