Young HIV positive people have learnt to live with it but want society to accept them

Saadia Azim
&nbsp | &nbsp Imphal
10-August-2015
Vol 6&nbsp|&nbspIssue 32
"It is not living differently, it is just unusual," states Prakhriti Thaodem, 17, from Imphal, capital of the northeastern state of Manipur. This Class Eleven student was born with HIV and she has learnt to live with it.
"I have been having medicines since childhood – I take them every morning and night like I have food. But what I would really wish for right now is to not be discriminated against or treated any differently from other children," she shares.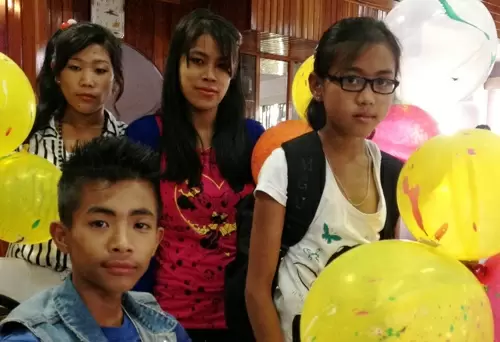 As per the National AIDS Control Organization (NACO) status report, Manipur has more than 25,000 registered people living with HIV and their children, whether infected or not, live in fear of being discriminated (Photo: Saadia Azim\WFS)

Thaodem belongs to the second generation of people living with HIV and she and her peers are focused on working towards not just taking care of themselves but also building "a life beyond discrimination and hatred".
Take Simaran Nesa, 14. She contracted the virus from her mother, Suraiya Begum, after the older woman met with an accident while she was expecting Nesa, her third child.
Transfusions with untested blood completely changed the course of Suraiya's life and that of her unborn baby. Today, both mother and daughter are unconditionally loved by Nesa's father, Md. Reyazuddin, a teacher in Thoubal district, and it is his support that is their greatest strength.
"We are aware of our positive status and are concerned for our family members. We love each other and make it a point to religiously have our medicines and take all necessary precautions," says Suraiya confidently, adding, "What is needed is a move to counsel others so that they too learn to live with people like us."
In the last decade, states in northeast India have registered a greater number of HIV cases than other parts of the country. According to the National AIDS Control Organisation (NACO) status report, Manipur has more than 25,000 registered people living with HIV. Their children, whether infected or not, are plagued by the fear of being identified and treated badly.
Consequently, they are seeking formal legal protection against discrimination and easy access to government welfare schemes. Recently, members of the Manipur Network of Positive People (MNP+) came together to urge the state government to ensure legal protection, especially related to the disclosure of personal information, as well as adequate redress mechanisms.
They have even drawn up a 15-point resolution with the assistance of World Vision, an international humanitarian non-profit, as a precursor to a nationwide advocacy campaign that will address issues such as health, stigma, education, nutrition, and disclosure and succession rights.
L. Deepak Singh, President, MNP+, is committed to creating a safe and happy space for himself and his daughter. He says, "I am 48 and have lived with the virus for most of my life. My wife and daughter are not infected and I make that extra effort to ensure their safety.
"I hope that my daughter never encounters discrimination and that she does not live with the apprehension of being outed as the daughter of a positive person."
The kind of stigma and ostracism that people living with HIV (PLHIV) and their loved ones face can truly have disastrous outcomes. Kiran Bala, 14, registered as a child living with HIV, succumbed to the disease all because her status became public. Kiran's entire existence came under the scanner a few months back.
This resident of Leitong in Imphal West was staying with her grandparents after she lost both her parents to AIDS. Once her relatives realised that she was HIV positive, too, the entire community turned against her. Though she was undergoing Anti-Retroviral Treatment (ART) her grandparents were unable to provide her with the supplementary nutrition she required because they were completely shunned from the society.
In her last days, Kiran and her grandparents were ousted from their own home and thrown out onto the streets. "And all this happened because people realised she was a positive person.
"Her grandparents, who stood by her till the very end, do not have any legal claims over the land Kiran inherited from her parents. Sadly, the elders have seen two generations being taken away from them," remarks Impuri Ngayawon of World Vision.
According to Dr R.K Rosie, Deputy Director, Manipur Aids Control Society, "Whereas we are counselling positive people we realise that there is an urgent need to counsel ordinary citizens as well so that they do not brand people. After all, the ART works only when people have good nutrition and living conditions."
Adds Daisy David, National Advocacy Officer, World Vision, "There is a lot of fear-based stigma in society. People are simply scared to contract the disease and so they discriminate and ostracise. But children living with the virus are citizens who are entitled to enjoy equal rights. They want their parents to be healthy and working. They also want access to good nutrition so that they can live somewhat normally and sustain the ART treatment."
The resolution prepared by MNP+ calls for relaxing the criteria for the PLHIV applying for benefits under social schemes, doubling the ICDS nutrition for all HIV infected children, creating an ART pension scheme as well as access to an uninterrupted supply of regular medicines and ART medicines at all ART centres, DOTS centres and Primary Health Centres, along with the second line ART for all PLHIV who are resistant to first line treatment.
Legal battles, particularly those related to property rights, are another challenge that PLHIV find difficult to overcome. Thoithoibi, 5, a registered HIV positive child, and her mother, Ibemcha Devi, are caught in a legal tangle over her father's property – located near the highway in Imphal – with his family that wishes them to be dead so that they can take over the land.
"All they want is for us to die," says Ibemcha, whose husband was diagnosed with AIDs in its last stage. These days, this brave single mother is managing to fight for her life and her girl's birthright because of the live-saving drugs she gets from the Manipur Aids Control Society. "There has to be some law to protect people like us. While on the one hand we fight the battle for our life, on the other, people do not want us near them," says Ibemcha, who is running her home by selling detergent powder and soap.
"The pain of living in isolation and encountering prejudice every step of the way is definitely a cause for concern both for the government and for the advocates of PLHIV," says Singh.
At present, the ART centres are few in number and women like Ibemcha have to travel three kilometres to get in their monthly quota of free medication. If the drugs are not available when they visit, which is often the case, then they have to keep a track of the availability.
"There are more than 21 lakh people living with HIV in India, including over 1.5 lakh children. Even if the first generation PLHIV were not so careful or well informed the second generation is vigilant and sensitive.
"Yet, fear and anxiety is still a big part of their existence. They are scared that they will not get admission in a competent learning institution, a good job will be out of their reach, they will not be able to marry, get their rightful inheritance or do all the things that are usually taken for granted. Something has to be done; they cannot be termed a lost cause," concludes Singh. - Women's Feature Service

Trending Now: