"They are still being pushed to do well at studies and try and build a career"
Radhika Bhirani
&nbsp | &nbsp New Delhi
18-July-2015
Vol 6&nbsp|&nbspIssue 29
Sania Mirza's latest Grand Slam triumph at Wimbledon is a testament to what Indian women are capable of achieving, but there is a long way to go before change sets in for most women who wish to take up sports as a profession in this country, feels badminton ace Saina Nehwal.
In the past few years, the likes of Sania, Dipika Pallikal (squash), Saina, Jwala Gutta and Ashwini Ponnappa (all badminton) have done India proud with their unprecedented feats.
However, World No.2 Saina admits that despite the global success of Indian women in sports, there is a lack of enthusiasm for sports education for girls in the country.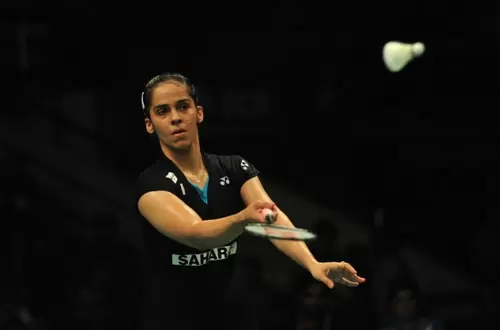 Saina wants more women to take up sports as a career (Photo: IANS)

"Changes are happening and girls continue to outperform and excel in life, but there is still a long way to go when it comes to sports. Women are traditionally not encouraged to indulge in sports," Saina said in an email interaction on her association with Microsoft's #MakeItHappen campaign.
As part of the campaign, she has motivated Indian youth to follow their dreams -- via a video titled "Umeedein".
"Apart from being a relevant topic, it is close to my heart and one that has the potential of giving this country many more proud moments," said Saina, who brought home the first and only Olympic medal for India in badminton.
"The video carries a message for the Indian youth to follow their dreams. I wanted to communicate to parents and stakeholders to let girls experiment and give them freedom of choice so that they can opt for the best possible career for them," she said of the initiative.
The Hyderabadi also stressed while "female education is something everyone can get enthused about, but when it comes to girls taking up sports as a profession, that enthusiasm vanishes".
"One of the reasons is the assumption that sports cannot be a profession for girls and that it distracts them from doing well at studies. In my experience, I have met a lot of girls who are equally interested in sports but lack a proper direction to take their interest forward," said the 25-year-old.
"They are still being pushed to do well at studies and try and build a career in professions 'perceived' as made for girls.

"People, especially, from tier-II and tier-III towns are often disadvantaged as they do not get as many opportunities as people from the metros. We need good sports people who can make our country proud."
Saina's said her professional entry into the sport was by chance.
"I was spotted by coach P.S.S. Nani Prasad Rao in Hyderabad. He agreed to take me under his wing as a trainee at the Sports Authority of Andhra Pradesh (SAAP) summer camp in 1999.

"I have been fortunate to have always got encouragement and support. I was spotted while playing at school. Hence, I am a big believer of encouraging girls to take up sports," she said, adding that there's no ideal age for sports education.
Saina also hopes her story, "among other stories of success, can help bring about a nationwide change in the mindset of people who still go by old perceptions". - IANS

Trending Now: