'Condition of Odisha's migrant workers no better than bonded labourers'
Sarada Lahangir
&nbsp | &nbsp Bhubaneswar
23-May-2015
Vol 6&nbsp|&nbspIssue 21
Sabita Sahoo, 35, a migrant labourer, works in a brick kiln unit near Balianta in Khurda district of Odisha. Severe poverty and debt, brought on by landlessness, force her family of five, including her children, to move out of their village in Bolangir district in search of suitable livelihood opportunities.
Year after year, Sahoo's top concern, as always, is about being able to earn enough in order to provide two square meals daily to her children.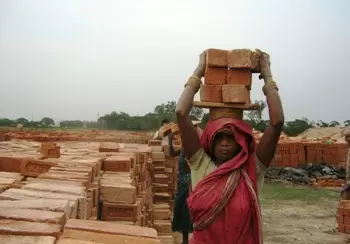 An estimated five lakh migrant labourers from the southern and western districts of Odisha are working in tough conditions without their basic rights (Photo: Sarada Lahagir\WFS)
Remarks this dejected woman, "Nothing ever seems to change in our lives; we will be as impoverished as we are today and our children will continue to be illiterate and without a future."
Gurubari Banchor, 43, who works in a brick kiln at Trisulia in Cuttack district, is also facing similar challenges in life. She shares, "I am working at this unit along with 18 other families. There are another 30 families, around 120 people, employed in a kiln nearby. Most of us are contracted to work for around three to four months and we cannot leave during this period."
Like Sahoo and Banchor, millions of poor Dalit and tribal people across Odisha pack their bags and step out of their homes each year in the hope of gaining some decent wage work.
Official data reveals that every year 1,18,451 lakh people, engaged by recognised labour contractors, migrate from the Kalahandi-Bolangir-Koraput (KBK) region. The government has given licences to 3,046 contractors.
However, estimates of the Migration Information and Resource Centre (MiRC), Aide et Action South Asia, a local non-government organisation, put the number of migrant labourers at five lakh, mainly drawn from the southern and western districts of the state.
As per MiRC, more than 60,000 families, or two lakh people, from the districts of Bolangir, Nuapada, Kalahandi, Boudh, Sonepur and Bargarh go to Andhra Pradesh, Chhattisgarh, Tamil Nadu and Karnataka.
Additionally, around 40,000 to 50,000 people find work at the 150 brick kiln units that are located within a 40-kilometre radius of the twin cities of Cuttack and Bhubaneswar. Yet, it's not easy keeping a track of these migrants.
According to Umi Daniel, head of MiRC, "Most of these migrants fall under the debt migration system and are harboured illegally by the middlemen. Due to lack of policy or any systems in place, it is not easy to track down a majority of them as they are spread across different locations, from nearby Andhra Pradesh and Maharashtra to the far flung states of Delhi and Punjab."
Migration begins in October and goes up to the onset of the monsoon. Unfortunately, most seasonal workers recruited by agents are no better than bonded labourers and can't go anywhere during their contract period, although some migrants, mainly from Ganjam district, who work in Surat, Gujarat, are strong enough to leverage their rights. Where the employers do consent to granting leave, mainly during emergencies, the womenfolk and children have to stay back and work till the men return.
Sukanti Kuanr, 55, who has spent a better part of her life toiling away in various brick kilns in her state and across the border, in Andhra Pradesh, as well, says, "Only the menfolk are allowed to leave the work site and that too after the agent has had a word with our 'sardar' (as the middlemen are called). Women have to stay and work extra time to compensate for the losses on the job."
Work at a brick kiln is hard, back breaking and endless. The brick-making process runs like an assembly line. Clay is first mixed and balls are made out of it. These balls are moulded into bricks.
The wet bricks are then carried into the field for drying and are flipped over until they dry. These sun-dried bricks are then carried, headload by headload, to be fired. The finished bricks are finally transported to the market.
Naturally, everyone in the family, including the children, ends up working seven days a week. The wages depend on the number of bricks churned out every day.
While the men prepare the clay, the kids help transport it to the site and the women fill the mould and prepare the bricks for drying.
Clearly, these are workers without welfare, health support, insurance or sick leave. But the real irony is that despite enduring all the injustice and hardship they don't really know how much pay they will get at the end of their stint.
In most cases, because the workers are illiterate and don't have bargaining power, they end up getting only a small sum to cover their travel expenses to go back home.
Bhubaneswar-based social activist Amrita Patel observes, "Although migration is an empowering process – a move made for better livelihood options – in Odisha, the migration of women is disempowering, with women's dependency on a patriarchal order getting even more intensified. They have no established social safety nets and have to bear the burden of childcare in often hostile conditions."
Despite the state government having a special labour cell to monitor migration, both within the state and outside, and to keep tabs on agents involved in illegal practices, it has been largely ineffectual, according to Patel. She also believes that there must be some grievance redressal mechanism, which does not exist at present.
Given the fact that the first thing that migrants lose when they move out of their villages is an identity, Daniel argues that simply keeping tabs on the contractors is not enough, "The government must be more proactive in protecting the interests of seasonal and regular migrants, many of whom don't even know their basic rights."
For women like Sabita Sahoo, Gurubari Banchor, and other brick kiln workers the harsh realities of their life just never seem to go away. - Women's Feature Service

Trending Now: