Trailblazing Muslim teens impart education to elders on a plethora of social issues

Ajitha Menon
&nbsp | &nbsp Kishanganj
23-March-2015
Vol 6&nbsp|&nbspIssue 12
Nooniya Basti under Mahingaon Gram Panchayat in Kishanganj district of Bihar is largely inhabited by Shershabadi Muslims, who trace their origins to Bangladesh.
It is in this conservative milieu, where girls are not allowed to even step out of their homes unchaperoned, that Ziratunnisa Khatun, 14, and her friends have been leading a campaign on family planning since the last two years.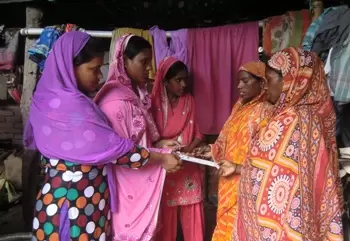 The Kishori group members of Nooniya Basti interact with older women showing them samples of contraceptive pills, Copper T and condoms and telling them about the merits of keeping a five-year gap between children (Photo: Ajitha Menon\WFS)
"We are members of the Kishori (adolescents) programme being run by the Bihar Voluntary Health Association.
"Our group comprises girls between 12 and 18 years and we have been trained to create awareness on the need for family planning, the ill effects of child marriage, related maternal health issues and the importance of good nutrition, water conservation and sanitation," informs an articulate Nasera Khatun, 16, President of the Nooniya Basti Kishori group.
Since October 2012, activists of the Bihar Voluntary Health Association (BVHA) have been running the Kishori programme, as part of the Department of International Development (DFID) supported Global Poverty Action Fund project, 'Improving Maternal Health Status in Six States in India', initiated by Oxfam India.
Shares Meraj Danish, Thematic Coordinator-BVHA, Kishanganj, "I remember how tough it had been for us to convince the elders in the Shershabadi community to give permission to their adolescent daughters to get involved in our maternal health intervention.
"We drew them in by facilitating their access to rations given to teenage girls under the government's Rajiv Gandhi Scheme for Empowerment of Adolescent Girls (Sabla scheme).
"The scheme provisions for three kilos of rice, two kilos of lentils and 40 iron supplement pills in a month to every out-of-school girl in the 11-14 age group and all girls between 14 and 18 years.
"As we managed to rope in more girls into Sabla, the trust quotient between us and the community increased. These were people who were anyway battling with poor infant and maternal health, anaemia and lack of nutrition in adolescents, so eventually they came around and agreed to let their girls attend our training sessions."
Girls, for whom family planning had been a taboo subject, were in for a huge surprise at the training sessions conducted by the BVHA volunteers.
"The meetings were a real eye-opener. As we listened to the volunteers, we soon figured out the reasons behind our mothers always feeling weak and lacking energy. We realised that most of our brothers and sisters and, in fact, we ourselves, were suffering from the ill-effects of under nutrition.
"We also understood the need for family planning and the fact that spacing between children is critical for ensuring the good health of the mother and child. Above all, we learnt to improve our eating habits as well as maintain proper personal hygiene," elaborates Habiba Khatun, 17.
Nooniya Basti's Kishori group began its family planning advocacy by first speaking to their own family members, relatives and friends.
"We used to carry samples of contraceptive pills, Copper T (intrauterine device) and condoms and go door-to-door, talking to our mothers and their friends. Rather than insisting on use of contraceptives to limit the number of children, we told them about the need to have at least a five-year gap between each child," explains Tanzera Khatun, 16, adding, "this automatically brings down the number of children per couple and removes any concerns regarding forced family planning."
Till a couple of years back, most women living in and around Nooniya Basti had no clue about family planning and were mostly bogged down by three-four children, born within just a year of each other. Consequently, the mothers and their children used to be very weak and sickly.
"This is why the women immediately related to our conversations regarding the need for the body to fully recover between pregnancies and showed a keen interest in knowing how to use contraceptives to ensure spacing between children. By and large, we spread the message that it was alright to use contraception to achieve spacing between children even if family planning per se was taboo," reveals Sabina Khatun, 16.
Of course, it certainly was not always smooth sailing for the girls. Many women were quite unwilling to talk to "children" on issues of family planning and contraception.
"The fact that we could talk proficiently about the use of contraceptive pills and their possible side effects and demonstrate how to use Copper T and condoms added to our creditability in their eyes. After a few interactions, during our house visits, there was no hostility or shyness and the women could voice their different issues and concerns openly before us," adds Ruksana Khatun, 16.
Whereas the community women have benefited from the Kishori group's active engagement, the girls too have learnt a lot in the process. This has prepared them well for the future and set them apart from their lesser fortunate peers across the country.
"Thanks to this intervention, most of us have become vocal against early marriages. Moreover, we have become particular about eating nutritious food and taking iron supplement pills to fight anaemia," points out Nasera Khatun.
The other advantage for this group has been in the form of access to better education. "Once the community elders saw how well the girls were faring, it was possible for them to seek permission to join mainstream schools to acquire better quality education, along with studying at the local madarsa. Many girls in the group are now attending regular school," says Danish of BVHA.
At present, there are three Kishori groups in Kishanganj. Though there are about 20 girls in each, the health awareness campaign related to family planning and contraception is spreading effectively across several villages in the district, as the peer and friend circles are absorbing the knowledge and experiences of the core Kishori units and putting them to good use by reaching out to women of their own localities. - Women's Feature Service

Trending Now: