Using discarded urban products to help rural India
Rahul Vaishnavi
&nbsp | &nbsp New Delhi
16-March-2015
Vol 6&nbsp|&nbspIssue 11
For 45-year-old Kashmiri filmmaker Ajaz Rashid, who was among hundreds displaced in the September 2014 torrential rains and floods in the Valley, the disaster was literally a life-changing experience that prompted him to leave his profession and become a full time social worker - all thanks to Delhi-based NGO Goonj.
"I was moved by the devastation around me and wanted to help others but didn't know how to go about it. That's when I came in contact with Goonj ( which literally means echo) and the experience changed my life forever," Rashid said on the sidelines of an event to celebrate the NGO's 16th anniversary here.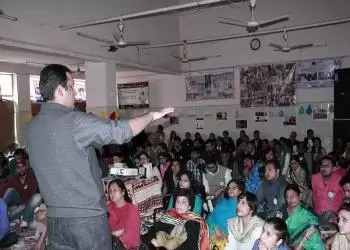 Goonj founder Gupta (in pic) was featured among Asia's top 10 social entrepreneurs (Photos: IANS)
The former filmmaker joined Goonj fulltime and is at present working towards improving the health and education facilities in Kashmir.
"My focus will be on these two issues for the next couple of years," said Rashid.
Across the country, there are examples galore of individuals who have ditched their careers and jobs just to help the underprivileged in society and the one factor that's common to all is their association with Goonj - the NGO that came into existence in 1999 with the idea of converting discarded urban waste into a resource of rural development.
The NGO, which began with just 67 pieces of clothes collected by founder members - Anshu Gupta and his wife Meenakshi - today has 11 offices in 21 states and 300 employees across India. It annually transfers over 1,000 tonnes of used clothes, household goods and other essential items from cities to villages.
Goonj has launched a number of initiatives over the years and one of the most popular is the 'Cloth for Work' wherein people living in rural areas are encouraged to undertake community service like digging wells and making roads and bridges, among others, in return for not money but clothes.
"It's sad that clothing is not a subject in the development sector like food and shelter. With this initiative, we want people to work in return for clothes," said Meenakshi Gupta.
Only washed and clean clothes, woolens, blankets, footwear and the like are given to people without compromising their dignity.
The model that has helped set up schools, water-tanks, roads, bridges et al in several villages all over India came as a blessing for 48-year-old Utara Pardar, a resident of Mandla village in Madhya Pradesh, who wanted to teach poor children in her village.
A teacher by profession, Pardar had managed to get a piece of land from the authorities in the village but had no money or resources to build a school. That's when Goonj came to her rescue.
"They sent a truck full of clothes and many locals came forward to construct the building," said Pardar, adding that the school has so far taught hundreds of local children since it was set up in 2008.
A mother of two daughters and a son, Pardar is supported by her children and husband in the social work she does back home and claims to be an "inspiration for women" in her state.
While Goonj encourages people to donate clothes that are clean and in one piece, Gupta admits that a lot of dresses or fabrics are soiled and torn.
However, the NGO has found an innovative way to also deal with this.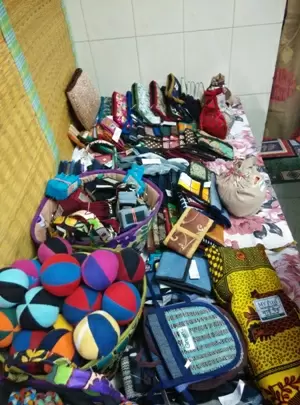 Different products made from discarded pieces of clothes
The torn clothes or shreds are used to make clutch bags, handbags, mobile pouches, pen stands and even sanitary napkins at their Sarita Vihar workshop in south Delhi that employs around 40 people.
The products are sold either online or through the NGO's offices.
In fact, making affordable sanitary napkins under the 'Not Just a Piece of Cloth' campaign is one of the pet projects of Anshu Gupta, who observed that in villages and slums, women and girls have poor menstrual hygiene.
"In these areas, women use dirty pieces of rags because of lack of clothes and awareness. Our mission is to reach out to maximum number of women and distribute hygienic pads made from clean cotton clothes," said Gupta, who was featured among Asia's top 10 social entrepreneurs, adding that over three million of such 'My Pads' have been made and distributed in the last few years.
While Meenakshi Gupta acknowledged that the donations and contributions from people and corporates are rising "exponentially", her husband has sought even greater support from the people for the growing NGO.
"From funds to land, we need anything and everything to cater to the maximum people," he said. – IANS

Trending Now: