Villagers give a new life to their health centre, making life easy for themselves

Ajitha Menon
&nbsp | &nbsp Kishanganj
08-December-2014
Vol 5&nbsp|&nbspIssue 49
The Health Sub Centre (HSC) at Marwatoli village, which falls under Mahingaon gram panchayat in Kishanganj district of Bihar, is spacious, neat and well-equipped with a separate labour room.
Stationed on duty are two Auxillary Nurse Midwives (ANMs), who take turns to carry out immunisation as well as monitor and counsel pregnant women and adolescents. Normal deliveries are also carried out with great success at this model government-run facility.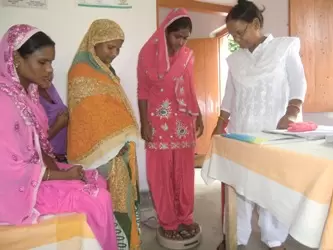 Villagers have transformed a defunct rural health centre into a model facility (Photo:Ajitha Menon\WFS)
"For most people living in rural areas, a smoothly functioning health centre is nothing less than a dream come true. But this has been possible only due to our community's persistence and determination to make the once-defunct HSC fully operational," says Mahendra Prasad Harijan, 50, proudly.
He is a ward member as well as a part of the local Village Health Sanitation and Nutrition Committee (VHSNC). Under the National Rural Health Mission, VHSNCs are mandated to implement health initiatives in individual villages, although in Bihar these committees are working at the panchayat level.
In Marwatoli, however, a 15-member VHSNC has been formed to deal with local health issues, with the assistance of the Bihar Voluntary Health Association (BVHA), an NGO partnering Oxfam India in the DFID-supported Global Poverty Action Fund's (GPAF) project, 'Improving Maternal Health Status in Six States in India'.
The HSC in Marwatoli was set up in 2003 but for various reasons remained redundant for nearly a decade. "The only activity that used to happen was the monthly 'tika divas' or immunisation day – and that too intermittently. Everyone had to go to the crowded Kishanganj Sadar Hospital, 10 kilometres away, whether it was for treatment or for delivery. Locals were using the HSC compound to dry clothes and graze cattle," recalls Anjari Begum, 26.
When the BVHA started advocacy in Marwatoli, one of the 10 villages in Mahingaon gram panchayat covered under the intervention, the first step was to identify active and concerned people who could become members of the VHSNC.
Once that was done, field animators from the NGO conducted a series of personal interactions, talking to each of them about health issues and rights. Later, VHSNC members from all the 10 villages held meetings in each hamlet to discuss the common problems being faced in the area.
In Marwatoli, the main issue that came forth from this process that took place in 2013 was that of the defunct HSC and the difficulty the 1,842-strong population was facing while accessing medical care at the Kishanganj Sadar Hospital or the Primary Health Centre (PHC) at Belwa, 35 kilometres away.
"We decided that our priority was to get the HSC functional. For this, we started interacting with the ANM regularly and mounted a strong advocacy campaign," shares Shimoli Devi, 30, adding, "we wrote letters to the panchayat and the District Magistrate and urged the ANM and the panchayat to use the untied funds given by the government to each village to repaint and refurnish the HSC, which was in a dilapidated state."
According to Jawahar Yadav, 45, Mahingaon Panchayat Pradhan, the message from the people was so strong that the panchayat decided to put its weight behind them. This had the desired effect as finally the PHC, too, ordered Marwatoli's ANM to open the HSC daily.
Apart from ensuring the re-opening of the HSC, the VHSNC asked for and got two ANMs for the centre. Shares Chandni Devi, 22, "Initially, there was one ANM at our HSC. When she used to go to the anganwadi centres twice a week to give immunisation, the centre used to be closed. So we asked that another ANM be stationed. Now the HSC works on all days."
With the people's committee keeping a close watch on the pre- and post-natal check-ups as well as distribution of iron tablets to expectant women and adolescent girls, there has been a marked improvement in their health status.
"None of the 16 pregnant women in the village miss out on the counselling sessions held at the HSC thrice a week. They ask for and have the iron pills given to them and they don't forget a single blood pressure or weight check-up," informs Rama Biswas, 48, ANM, Marwatoli HSC.
"The expectant and lactating women properly follow the advice given during counselling and take extra care to eat green and leafy vegetables, eggs and meat and milk. They don't miss any of the booster shots, too," says Adori Devi, 22.
As per Pradhan Yadav, thanks to the intervention, infant mortality has come down tremendously in their panchayat. "Previously, two infants out of every 10 born didn't survive. Now infant mortality is almost non-existent and most deliveries are institutional," he says.
Bindu Kumari, 32, the other ANM at Marwatoli HSC, states that ever since it became fully functional from February 2014, 36 deliveries have taken place at the centre, despite the fact that it had remained closed for a few days in between when the previous ANM was transferred.
Of course, now that the villagers are aware of the power of collective action, they have shifted focus onto getting the panchayat hospital up and running. "The hospital building near panchayat bhavan, just two kilometres from Marwatoli, is ready but there are problems related to electricity and water supply. The villagers have decided to push for its opening," says Victor Kumar Singh, Field Animator, BVHA.
Here's why they are determined to get the hospital going. Says Noorjabi Khatun, 18, "It will give us access to medical care 24 hours a day all seven days a week, and it is easily reachable by rickshaw."
Marwatoli today has better access to patient care and registers improved health indices. It has, in fact, emerged as a perfect example of how a determined community can fight and gain its entitlements to make quality of life better for everyone.
Gulabo Devi, 40, a village volunteer with the BVHA, sums up, "All of us in Marwatoli have not only understood what our rights and entitlements are but, with the right guidance and encouragement, we have been able to take the necessary steps to secure them as well. It's heartening to see the transformation taking place right before our eyes." - Women's Feature Service

Trending Now: