Girls step out of their homes to kick out gender stereotypes
Kamayani Bali-Mahabal
&nbsp | &nbsp Mumbra
22-November-2014
Vol 5&nbsp|&nbspIssue 47
They started off as a secret sports club. What brought them together was their shared love for football, a game they couldn't dream of playing owing to their conservative family backgrounds.
After all, how could young girls, who weren't even allowed to step out of their homes without the 'hijab' (veil), run around kicking ball in an open field? But they showed exceptional courage when they defied parental dictate to pursue their passion for the sport.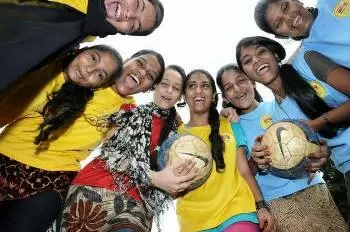 The all-girl football team in Mumbra has not only broken gender stereotypes but has been responsible for bridging the divide between the Muslims and Hindus in a communally volatile city (Photos: WFS)
Three years back, Sabah Khan, Salma Ansari, Sabah Parveen, Aquila, Saadia and 40 other girls got out of their homes in Mumbra, a small town 40 kilometres from Mumbai, Maharashtra, to play football.
Today, this group that calls itself Parcham, inspired by Asrar ul Haq Majaz, an Urdu poet who saw women as crusaders with an inherent quality to revolt against exploitation and injustice, has truly lived up to its name.
They have not only broken gender stereotypes by regularly playing football but have been responsible for bridging the gap between the Muslims and the Hindus in their communally volatile city.
Sabah Khan, the captain of this unique all-girls team, recalls how their journey of change began, "Around 2011, a bunch of us were approached by the NGO Magic Bus that uses sports as a means to help poor children lead a better life.
"They wanted to teach football to both girls and boys but we told them that in Mumbra Muslim girls cannot take up a sport let alone play alongside boys. That's when they decided to exclusively train girls who were keen to try out something they had only dreamt of."
The target was to put together a group of 40 girls but that was easier said than done. "Most of us hail from families that struggle to make ends meet. We can never really spare time for fun and games. We study, chip in at home or work.
"That's why we were unable to personally go to motivate girls to join in. However, some of us decided to make pamphlets and distribute them outside girls' schools and colleges.
"Apart from that we also approached the local wing of the Maharashtra Mahila Parishad that works with several self help groups to see if any of their members would be interested in sending their girls for this programme. In this way, we managed to build a team," elaborates Sabah.
The next challenge was to find a ground to practice on. "We went to every school and college in the vicinity that had a ground to find out whether they would allow us to play for two hours every Sunday. Unfortunately, no one was agreeable," shares the articulate leader.
It was a member of the Mahila Parishad, who spoke to a board member of a temple trust to secure permission for using the open space around it for playing.
At the outset, the girls decided to call their team 'Parcham'. Aquila, one of the founding members, narrates the story behind it, "We decided to call ourselves 'Parcham' as we are inspired by Asrar ul Haq Majaz, better known as Majaz Lakhnawi. Through his romantic, revolutionary verses, Majaz urged women to look at the hijab not as a barrier but as a flag or banner.
"He has written: 'Tere maathe pe ye aanchal bauhat hi khoob hai, lekin tu is aanchal se ik parcham bana leti to achcha tha… (The veil covering your head and face is beautiful, but if you make a flag out of it, it would be better)'. We, too, have transformed something that many see as a sign of repression into a symbol of revolution."
Through sports Parcham strives to build a just and equal society that is respectful of diversity and celebrates difference and interdependence. Their mission is to empower marginalised communities to access their fundamental rights, creating spaces for dialogue among diverse sections of society.
"And our one great achievement has been getting official recognition for our struggle to get a playground for the girls," says Aquila.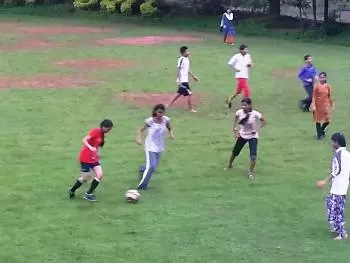 The girls of Parcham led a signature campaign to get their very own playground in Mumbra
Last year, after they started a massive signature campaign with the support of 900 girls from across Mumbra, their demand for a ground was finally acknowledged. Female students from various schools, under the leadership of Parcham, wrote a joint letter stating: "We wish to play football and other sports. We believe that through sports we also come together in unity, forgetting our religious and other differences."
When they met with MLA Jeetendra Awhad he was amazed to see this strength of association. He told them that it was perhaps for the first time that 900 girls had got together to ask for a playground to be reserved for them. He also assured them of their very own space to play.
"That promise was fulfilled and the football-loving girls of Mumbra are now able to practice freely. Moreover, the move gave a boost to our campaign that motivates girls and women to reclaim open spaces," states Aquila. Their dedicated practice sessions have fetched Parcham some rich rewards. They have won two major local tournaments – one in November 2013 and another in March 2014.
Of course, if the struggles of the group have been remarkable, then so are their individual journeys. Take the case of Saadia Bano (name changed). "When I had first heard about Parcham I immediately wanted to be a part of it. However, I did not have the courage to speak to my parents.
"I am not allowed to move from home without a 'hijab', so imagine them allowing me to play football! Initially, I used to step out every Sunday telling them that I was going to visit some friend. Then one day when I took my brother's T-shirt to wear for a tournament my mother immediately suspected that I was doing something without telling them. When she confronted me I had to confess to her and my sister."
Saadia's brothers still have no inkling. "After I won a trophy at a tournament I told them that it was a friend's. There are many like me who cannot yet be completely honest with all their family members. We don't want to make them unhappy nor do we want our freedom curtailed. This way we all get what we want," she says.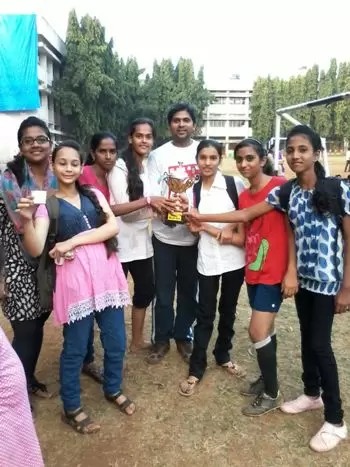 The girls' team has won two major local tournaments
Adds Salma Ansari, 22, who has supportive parents and is pursuing an MBA degree, "What we need is for the society to accept that girls have an equal right to public spaces; that they too deserve to experience the joy of being able to run free, kick a ball, hold a bat, sprint, jump or swim. Nowadays, we are trying to break gender stereotypes by training a group of 50 young boys and girls together."
The religious divide, too, has been overcome with the inclusion of girls from other faiths. Simran, 15, the youngest member of the team, is a Sikh. "We have so many misconceptions about other religions. But perceptions and attitudes change when we meet and interact. Being in Parcham, I am learning about gender, equality, justice… Watch out, I am a feminist in the making!" she says emphatically.
What's next on Parcham's agenda? "We want to set up a resource centre for our girls, complete with books, newspapers, computers and a wi-fi network.
"Every Saturday, we plan to hold meetings where we can discuss the latest news and concepts like secularism and citizenship to enable everyone to think and form opinions on subjects they are passionate about. The centre will be a safe haven for Muslims and non-Muslims to build friendships," says Sabah.
In the home town of Ishrat Jahan, the young woman who was tragically shot in an encounter in Ahmedabad in 2004, these girls are gearing up to drive out prejudice and hatred. - Women's Feature Service

Trending Now: