Fight against malnutrition in Bidar sees sprouting of kitchen gardens in homes and schools

Pushpa Achanta
&nbsp | &nbsp Bidar
04-August-2014
Vol 5&nbsp|&nbspIssue 31
In 2000, countries around the world pledged to fulfill the UN Millennium Development Goals (MDGs), a set of eight time-bound targets to eradicate poverty and hunger and uphold the principles of human dignity, equality and equity.
India, which is ranked 63 out of 81 countries on the Global Hunger Index, has been working towards finding workable solutions to a problem that especially affects children between 0 to 5 years.In the parched and poor northern Karnataka district of Bidar, a community-led initiative to address child malnutrition in Aurad taluk is creating a roadmap for change.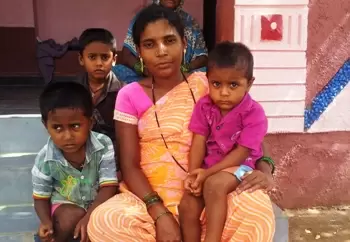 Women like Sudharani, 22, seen in the photo above with her three sons, have regained their health thanks to efforts of Myrada (Photo: Pushpa AchantaWFS)
Through a slew of interventions, ranging from awareness drives to developing kitchen gardens and involving local government institutions, a marked change has been achieved in the health indicators.
The locals have been able to set this process of transformation into motion with assistance from Myrada, a Bengaluru-based non-profit organisation, which is implementing the Fight Hunger First Initiative (FHFI) of the German development agency, Deutsche Welthungerhilfe, in the region.
Aurad taluk, which lies in a semi-arid zone and is home to a sizeable population of severely marginalised Dalits and Adivasis (tribals), has some of the worst social and health indicators in the southern state.
"This was why we chose Aurad as the primary location for activities focusing on eliminating acute malnutrition among children. We launched the campaign in September 2011 and it will go on until early 2015," shares Mohammed Siraj, Programme Officer, Myrada.
The work on eradicating malnutrition took off with a door-to-door survey to gauge the status of the health of mothers and children in 68 villages. Quite predictably, the results were not very positive.
While the levels of undernourishment were found to be high, with several children falling in the SAM (Severe and Acute Malnourished) category, numerous reasons contributing to this unfortunate reality came to light like the lack of awareness among mothers, nutrient imbalance in the diet, poor hygiene and insufficient or unclean drinking water, among other.
The need of the hour was to not just initiate life-saving treatment for SAM children but build awareness regarding the critical issue to generate long-term gains.
With these twin objectives in mind, Myrada identified and trained literate women in the project villages as Community Resource Persons (CRPs) to provide counselling, track the progress of pregnant women and neo-natal children and engage with the anganwadi workers to ensure effective implementation of the various government health schemes.
Ashalatha, a CRP from Wadgaon village, reveals, "Initially, I realised that most mothers had no idea of the risks associated with malnutrition particularly the reduced physical and mental development of children.
"Ever since, I make it a point to regularly visit homes and assess the nutrition levels of children be it newborns or those enrolled in primary school.
"I ensure that mothers take their babies to the anganwadi centre where the anganwadi worker checks them for signs of malnutrition by measuring their mid-arm circumference, weight and height. The weight of the children is tracked as per the specifications in the growth chart issued by the World Health Organization (WHO)."
Those children who are classified as SAM are referred to the Nutritional Rehabilitation Centres (NRCs) attached to the district hospital. This is done at the recommendation of the anganwadi worker. Admitted at the NRC for 10 to 12 days, the children receive rigorous treatment that includes proper food, medicines and dedicated nursing care.
Within primary schools, the CRPs have been encouraging children to develop nutrition gardens. Reveals Suzanna, another committed CRP, "Over the last couple of years, I have been conveying the importance of growing vegetables to school-going children.
"If you take a walk around primary schools in the area you will find nutrition gardens lush with curry leaves, tomatoes, mint and coriander, which are utilised to prepare good quality mid day meals. The students divide their time to take care of the plants and even tell their mothers about the benefits of planting their own little kitchen garden."
Today, 41 schools and 212 families in the taluk are maintaining kitchen gardens (2013 figures).
Besides information dissemination to prompt behavioural change and promote good practices within the community, local women have been taught a magical recipe that is a quick fix solution to meet the nutritional needs of their children.
Called 'My Nutrimix', it is a blend of powdered wheat and sprouted green gram combined with groundnut and jaggery and cooked with milk or water. It provides all the necessary calories and is rich in iron and calcium. To SAM children this mix is provided free while others can simply make it at home.
When Sudharani, 22, a mother of three from Soralli village first met her CRP she was anaemic and her second son, Sudeep, severely malnourished.
An agricultural labourer belonging to the Dalit community she earns a daily wage of Rs 60 for toiling eight hours in the fields while her husband Shankar, 26, works in the unorganised construction sector and can get Rs 500 or more depending on the job.
"A couple of years back when I was informed that my son was extremely malnourished I couldn't really comprehend what was being told to me. However, I realised that I needed to follow what my CRP and anganwadi worker were telling me to do. I have been feeding Sudeep and my other boys the Nutrimix powder and diligently attending all the meetings at the anganwadi centre," she elaborates.
Efforts of the CRPs have enthused the Accredited Social Health Activists (ASHAs) and Anganwadi workers in the taluk with a renewed sense of purpose.
Says Sharada, 47, from Wadgaon, who has been an anganwadi worker for around two decades, "Prior to this intervention, although the anganwadis and primary health centres were existing and had a staff working with basic infrastructure, families hardly knew about the link between health and nutrition and the need for regular monitoring of children's wellbeing.
"Nowadays women walk up to me to get check-ups done and pick up their take home rations. Additionally, I collaborate with our ASHA Jaishree to guide expectant mothers and supervise infant care."
The impact of such a multifarious and concerted endeavour is there for everyone to see. Of the 96 children that were identified as SAM in July 2013, 61 have become normal, in addition to 589 of the 641 moderately malnourished children that have regained their health. The hard numbers say it all, as do the happy demeanors of the families in Aurad. - Women's Feature Service


Trending Now: