Government's apathy to the 70 million disabled shows in public transport systems
Rupesh Dutta
&nbsp | &nbsp New Delhi
12-July-2014
Vol 5&nbsp|&nbspIssue 28
Varun Mahato, a 24-year-old visually impaired, boards a bus to his Noida office every day. His journey is a "struggle" because he often travels standing as the seats reserved for those with disability remain occupied by the abled who often callously refuse to offer him a seat.
Mahato ends up missing his bus on various occasions, as other commuters at bus stops nudge and push, making it impossible for him to climb on.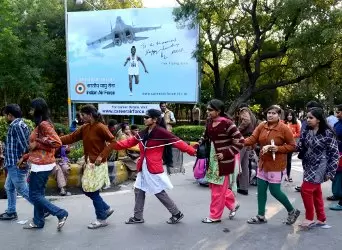 Commuting by public transport in India is a daily torture for the disabled (Photo: Indian Photo Agency)
Mahato is not alone in his despair.
Wheelchair-bound Ismail Sheikh, 22, a vocalist by profession at a restaurant in South Extension, too faces the same fate as he often has to wait for help to board the bus.
"The ramps which are mandatory at all the bus stops to help people like us board the bus are never available," said Sheikh.
They also face the insensitive behaviour of the driver and conductor, who many a time charge more than the designated fare, despite travel for visually impaired being free in all state-run Delhi Transport Corporation (DTC) buses and the National Capital Region (NCR).
This is however not restricted to Delhi or the NCR area alone. The 70 million disabled in India face similar problems in other parts of the country too and, possibly, things are much worse.
According to Merry Baruah, founder of Action for Autism: "Not just in Delhi, transportation in every Indian city and town has failed disabled citizens to access a smooth life.
"It is the lack of awareness among people along with lapsed policies that has become hurdle for the people with disabilities," said Baruah.
She said that while the low floor buses in cities like Delhi, Mumbai and Bangalore are initiatives for making transportation smooth, it has hardly helped in easing the woes of the disabled.
Said Javed Abidi, director, National Centre for Promotion of Employment for Disabled People in India: "Despite it being a norm, there are no ramps to get on to the bus stands in the national capital."
"It's a shame that the DTC plays hoax on us by painting disabled-friendly pictures and signages at bus stops, as they never practise what they preach," said Abidi, who works for the rights of the disabled in the country.
He added that despite writing to the DTC that existing bus stands in the city are not disabled-friendly, hardly anything has been done to address the issue.
"Even the advertisement boards near the ramps are a big hurdle for a wheelchair-bound person as it restricts movement," said Abidi.
Though many new pavements and sidewalks in most New Delhi Municipal Council and Municipal Corporation of Delhi (MCD) areas are spacious and well-laid - though they are not tactile-friendly as pavements in cities around the world - they are blocked by bollards through which a wheelchair can't pass.
"As a result, wheelchair-bound persons cannot move about on the pavements. When we can't provide accessibility to disabled people, why call the capital city a disabled friendly one," Abidi questioned.
According to disabled rights organisations, the special ramps constructed on many roads have faulty design and don't meet international standards.
For a height of one metre the ramps should be 18 metres long (1:18 gradient). But the ramps are built on a 1:12 gradient and are steep. Moreover, they also do not provide a landing after every five metres.
However, Ravinder Minhas, senior manager, DTC, said that the DTC is "not responsible for the construction of the ramps".
"DTC is not responsible for the construction of the ramps. It is the Delhi State Industrial and Infrastructure Development Corporation Limited (DSIIDC) which is responsible for the construction," said Minhas.
"We cannot do anything about the disabled unfriendly pavements. In case people with disability face any kind of difficulties they can register a complaint by calling at our toll free numbers," Minhas stated.
Mahato and Ismail's anguish are, however, not limited to only travelling in the city buses. It unfortunately also extends to the Delhi Metro, which is considered to be a "boon" for daily commuters.
The duo share that the house keeping staff recruited who assist people with disability to board the metro are not "easily available".
"Every time I want to board the Metro, I have to wait for at least 20 minutes until the house keeping staff comes for assistance. It is ironical, but at times announcements are made to call the house keeping staff," said Sheikh.
Boarding the metro at overcrowded interchange Metro stations like Rajiv Chowk, New Delhi and Kashmere Gate makes it more difficult for the disabled.
"As there are a limited number of house keeping staff at every Metro station, it sometimes becomes difficult for the house keeping staff to be available," said Anuj Dayal, chief spokesperson of the Delhi Metro.
"To make every station disabled-friendly, the Delhi Metro is planning to install steel railings at all its stations. The Phase 3 Metro stations will have railings, which have been designed keeping in mind the problems faced by the differently-abled," he added.
Installing such steel railings will prove to be beneficial for the disabled, says Sheikh.
"There is an urgent need for the installation of such steel railings, as not just the disabled, but even the general public will be benefited," said Sheikh.
Both Mahato and Sheikh, who have fallen on the tracks of the Delhi Metro in the absence of railings, have been victims of the government's apathy towards the 70 million disabled of the country. - IANS

Trending Now: