This election, web wizards enable youth to discuss issues online

Aditi Bishnoi
&nbsp | &nbsp Delhi
22-March-2014
Vol 5&nbsp|&nbspIssue 12
Are government subsidies a necessity or just populism? Do you think the government should function like corporates? Is there really a need for the Women's Reservation Bill?
Should people check out the credentials of leaders before casting their vote?
As India gets ready to vote in a new government, a group of dynamic web wizards have come together to inspire young people to ask the relevant questions and push for political change by actively taking part in the My unManifesto campaign, which aims to create a one-of-its-kind, crowd-sourced youth manifesto.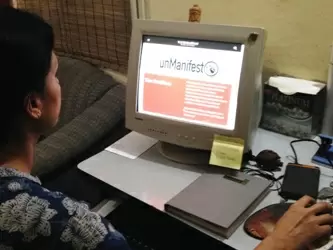 Access to the World Wide Web enables people to bring out their inner activist as it is powerful, affords anonymity and has none of the constraints of physical location. (Photo: WFS)
Creating just the right buzz on the Internet are motivated communicators from Youth Ki Awaaz, Got Stared.At and Halabol, who have been sparking debates around issues like clean governance, education and women's safety, on dedicated web pages, Facebook and Twitter accounts and other social media platforms.
Talking about the need for being on virtual media, Mahamaya Navlakha, one of the Coordinators of the unManifesto campaign, says, "Young people are really influenced by what's happening on social media.
"For a campaign that is aiming to encourage them to be politically active, a strong online presence doesn't just ensure visibility but the buzz created gets noticed by political parties that are keeping an eye on what's happening online."
One of the key online facilitators of unManifesto is Youth Ki Awaaz, a website for youngsters to speak up on different issues.
The creator of this trendy portal is Anshul Tewari, a young journalist, who even as he was studying in college in Delhi realised that there was no real space for those like him to share their opinion on politics.
"Youth Ki Awaaz (YKA) was the blog I started in 2008 to voice my concerns. In a few months, as my passion for writing on YKA grew, so did its popularity. A few of my classmates got involved and together we decided to break this silence by encouraging people to write," says Tewari, who has been blogging since he was 14.
YKA has been operating as a self-sustaining, people-driven site since 2012. It ties up with non-profits that want to reach out to the young and in turn gives them an opportunity to become part of the real change on the ground.
Elaborates Tewari, "Partnering with unManifesto was natural. We started off in August 2013, focusing on getting people to submit qualitative promises they wanted their politicians to fulfill after coming to power.
"Together with other online partners, Halabol and Got Stared.At, a strategy was worked out. First, YKA has a web page where people can register their promises.
"Second, we rope in influencers on Twitter – regular folk who have over 10,000 followers and are interested in social issues – to talk about what they feel is important to young people. We do tweetathons where they get people to give promises. Debates and polls are also undertaken every month on our portals and Facebook pages."
Says Ajay Kapoor, consultant with Halabol, a platform for social activism through pledges, blogs and social networking, "The idea of joining the unManifesto campaign was to help take the success stories generated by the on-ground partners to a larger audience through different channels.
"While YKA collect promises and Got Stared.At is the twitter handle of the campaign, Halabol maintains the Facebook account updating it on a daily basis."
Among the promises collected, political accountability, involvement of the youth in matters of governance and gender rights figure prominently.
Says Dhruv Arora, creator of the online movement against street harassment, "When it comes to women's rights there are a lot of incidents, ideas and solutions discussed. But many a time it remains at that stage.
"How do we make the streets safer for women and people of other genders – that's what we have been working on and now with the election we are looking to influence the political agenda. unManifesto provides an opportunity to hold politicians accountable."
Engineer-turned-editor, Tanya Singh, 25, of YKA, too, believes that women are as politically active as men, "They have started demanding their rights and are actively seeking information to make up their minds. Also issues that women raise are universal – safety comes first, followed by equal access to education and swifter justice."
Thanks to these web masters, unManifesto campaign has not only awakened political consciousness but given digital activists a stake in General Election 2014. - Women's Feature Service
Wish to share your story?
Trending Now: