'Coca-Cola-NDTV Support My School campaign' is drawing more students to classrooms
Shradha Chettri
&nbsp | &nbsp Nuh (Haryana)
08-March-2014
Vol 5&nbsp|&nbspIssue 10
Salman, 13, a student of a government school in this Haryana town, wants to become a computer engineer.

The small town boy with modest hopes began dreaming big after his ill-equipped school was provided with a computer lab equipped with a dozen computers.
Like the 10 other government schools in the area, Salman's Rewasan School is one of those to have benefited from a computer lab, a library, a playground and clean drinking water - and most importantly, separate toilet for boys and girls, under the Coca-Cola-NDTV Support My School campaign.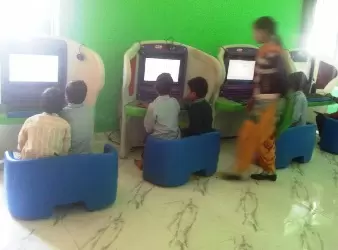 Children at Rewasan School in Nuh learning with help of computers. The school is one of the beneficiaries of Coca-Cola-NDTV Support My School campaign (Photos: IANS)
"I came to this school when I was in Class 7 and this year when I came back, it had changed totally. We had so many new things," said Salman, proudly showing the change through a collage.
Rewasan School is the 300th in the country to have been facilitated with such infrastructure.
A year back, getting a girl child admitted to the school was quite taxing but not so now - thanks to the separate toilets.
"Since there were no separate toilets for girls, they had to go back to their homes, due to which their attendance used to remain very low," said Rewasan headmaster Vaid Prakash Gautam.
According to Gautam, apart from improving attendance, the dropout rate of girl students has also reduced.
Rewasan School now has 255 girls among 738 students.
"Building a toilet was very essential. Though there is still a need for more, we are thankful at least it has been built now," said Shahizbi, a mother whose three daughters study at Rewasan.
At Rewasan, girls and boys are taught in different classrooms, so the importance of separate toilets can be easily understood.
"The culture of the place is such; so we have to respect their feelings," Gautam added.
Similarly the school playground, which earlier lay barren, is now home to swings, merry-go-rounds and badminton and volleyball courts.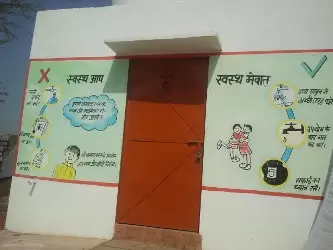 Toilets have been constructed in many schools
"Having such a facility serves as an added attraction to the students. Such facilities are important for their development," Gautam said.
Apart from providing infrastructure, the teachers at these schools have also been trained in modern methods of imparting education.
"We want a holistic development of both the children and the schools, so that they can evolve into model institutions," said Suresh Reddy, director of SRF Foundation that has been engaged in training the teachers.
There's one grey area, though. The schools are only till class eight and there's a question mark over the students after that.
"I want to become a doctor but since our school is only up to class 8 I won't be able to study. My parents are scared so they won't send me away," said Saiden, a student of Government Middle School Kanwarsika.
Like Saiden, many such girls requested this correspondent to help upgrade their school at the earliest.
"As this campaign runs on a golden triangle partnership model where the private sector, civil society, government officials and local leaders work together, we have been promised upgradation by government officials," said Sameer Pathak, public affairs and communication manager at Coca-Cola India. - IANS
Wish to share your story?
Trending Now: