She has seen more than what many others have, now she wants to change it all
Alok Singh
&nbsp | &nbsp New Delhi
22-February-2014
Vol 5&nbsp|&nbspIssue 8
She never thought of joining politics. But 38-year-old Soni Sori, brutally tortured by police in Chhattisgarh for her alleged links with Maoists, has joined the Aam Aadmi Party (AAP) in her desperate bid to change the system.
Sori, keen to contest the Lok Sabha polls from Bastar, said she wants to fight for those jailed on false charges by the BJP government of Raman Singh in Chhattisgarh.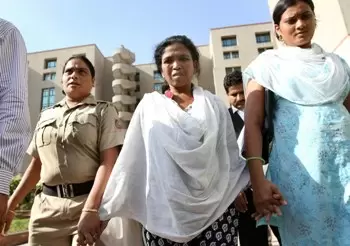 Sori was brutally tortured in Raipur jail (Photo: Indian Photo Agency)
"I was never interested in politics. I wanted to live a normal life. But the torture and atrocities in the jails and police custody have changed my entire thought process and outlook," said a frail-looking Sori.
"Now I want to contest elections and through AAP I will transform the system. I have seen so many innocents jailed on false charges. I want to work for them.
"I saw life from very close quarters when I was in jail. I had never heard, seen or read anything like what happened to me and other prisoners. It has changed me completely," she said.
Sori and her nephew Lingaram Kodopi, a budding journalist who had ambitions of empowering the poor tribals, were accused of receiving money from a corporate house, a charge they denied. The money was supposedly meant for the Maoists. Kodopi was arrested in September 2011 and Sori a month later.
She spent over two years in jails in Raipur and Jagdalpur in Chhattisgarh and then in Delhi's Tihar jail.
Dressed in a yellow colour salwar-suit and a jacket and accompanied by Kodopi, Sori recalled the horror which have left a lasting impression on her psyche.
"I was brutally tortured in Raipur jail. While in the custody of the Dantewada police, I was stripped naked and given electric shocks at the orders of (then) district police superintendent Ankit Garg. I was sexually assaulted by three of his men," she added.
Sori, a mother of two daughters and a son, was subsequently warded in the Kolkata Medical College Hospital where doctors removed stones inserted into her vagina and rectum.
The former primary school teacher-turned-tribal rights activist has been staying in New Delhi for four months after the Supreme Court granted her and her nephew interim bail in November.
They were barred from entering Chhattisgarh but a recent court verdict has allowed them to visit their hometown.
Sori is determined to bring an end to injustice and atrocities committed against people like her, especially in Chhattisgarh, where the Maoists have held sway for years in places like Bastar.
"I met several people inside the jail who too had been imprisoned on false charges like me," she said.
According to Sori, she got a call from AAP leader Prashant Bhushan last week offering her a Lok Sabha ticket from Bastar. She accepted the offer.
"The people of Bastar don't enjoy the rights guaranteed by our country's constitution. I want to help and empower them," Sori said.
"I want to become the voice of the people of Bastar."
Sori is at present staying with her nephew and 10-year-old younger daughter Apsara in Delhi but plans to return to village Jabeli in Dantewada district to prepare for the polls expected in April-May.
"I would love to see her contesting the election. Being a student of journalism, I want to work in the field of writing," said Kodopi.
Sori's elder daughter studies in Class 8 and lives with a relative while her son Jitendra studies in Class 6 and stays in a hostel.
Her husband died due to some undiagnosed neurological condition that paralysed him from waist down in Dantewada in August 2013.
AAP recently announced a list of 20 candidates for the Lok Sabha election. Sori's name was finalized for the Bastar seat, as per the party sources, but there is yet to be a formal announcement. - IANS
Wish to share your story?
Trending Now: