Cycling to create awareness on HIV/AIDS, he has seen it all
Hadra Ahmed
&nbsp | &nbsp Addis Ababa
08-February-2014
Vol 5&nbsp|&nbspIssue 6
He'd been captured by the Taliban in Afghanistan and escaped a bomb blast in Iraq. His bicycle's been stolen six times but Somen Debnath from the eastern Indian state of West Bengal is determined to complete his mission to pedal 200,000 km to 191 countries by 2020 and reach out to 20 million people to spread awareness about HIV/AIDS.

Now on his fourth foray, this time to Africa, he intends covering 40 countries on the continent.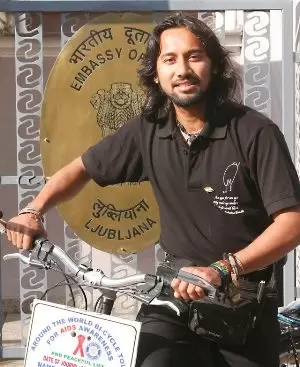 Somen Debnath has met 17 presidents and 49 prime ministers during his cycling expedition (Photos Courtesy: somen2020world.com)
"Despite all the mischief I came across throughout my journey, I always meet people with a good heart and that encourages me to do what I am doing," Debnath, who has so far traversed through over 80 countries, said during a stopover in this Ethiopian capital.
In Ethiopia, the 30-year-old Debnath visited Metema, Bahir Dar, Debre Markos and other cities and met people of different age groups to whom he was able to deliver his message.
During his stay here, he visited the Addis Ababa University, St. Mary University College and other schools and colleges where he met hundreds of students and made presentations about the HIV/AIDS virus.
He also talks of Indian culture and yoga and carries the message of peace, which has prompted some to dub him the Ambassador of Indian Culture.
"Sometimes, I stay with HIV/AIDS positive people and try to support them in whatever way I can. I would like to also create awareness of living with HIV and tell them how to take care of themselves," Debnath said.
Besides, Debnath said, he has met prostitutes and discussed with them how they can protect themselves from the virus, adding that he had also met with drug addicts and alcoholics.
During the course of his journey, Debnath claims to have met 17 presidents, 49 prime ministers, 160 ministers and 80 Indian envoys in various countries.
Debnath does not read about a country that he passes through but forms an opinion from his own understanding rather than being influenced by books.
He is now writing a book about his journey titled "Around the world on bicycle with 17 dollars".
Debnath's dream is to build a Global Village in his native West Bengal when he returns home in 2020. It will be a complex of houses in an area of eight hectares to provide visitors from around the world an opportunity to live and interact with one another.
"It will be a self-sustaining and self-sufficient venture where guests will have the opportunity to cultivate their own crops and fruits on a four-hectare farm", he said, adding: "When everything is finalised, my friends - the families I met throughout my journey together with those in India - will build the village."
He takes a handful of sand from each country he has been to and sends it back to India to be eventually exhibited at the Global Village.
Debnath's journey took root 16 years ago when at age 14 he heard about a man who died of HIV/AIDS.
"He lay down in front of the hospital in Kolkata, abandoned by his village and he died alone, suffering so much and having received no help," Debnath recalled.
"It was at that moment that the desire grew in my heart to learn about the (HIV/AIDS) virus and to make people aware about it," he said.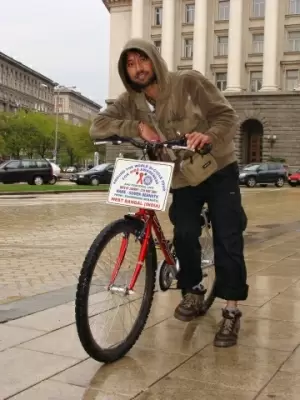 Debnath's dream is to build a Global Village in his native West Bengal
The next six years were spent in acquiring special training on treating HIV/AIDS at the West Bengal AIDS control society and in obtaining degrees in zoology and the fine arts from Calcutta University.
With the rupee equivalent of around $17, he started out on a bicycle May 27, 2004, at the age 20 and in two years, travelled across 28 Indian states to create awareness about HIV/AIDS.
"It suddenly became my life and I could no longer live without it," he said.
He then travelled throughout Asia and covered 28 countries from 2006 to 2009, including Nepal, Bangladesh, Afghanistan, Pakistan, Malaysia, Turkey, and Iran.
From 2009 to 2012, he travelled across 42 countries in Europe. Setting out again in 2012, he has so far covered 10 countries in Africa.
In the course of his travels, Debnath has had some terrible experiences.
In Afghanistan, he was kidnapped by the Taliban and kept captive for 24 days. He was blindfolded, tied up to a chair and badly beaten up. He survived by cooking Indian curry for his captors and proving that he was not a spy but only an adventurer on a peaceful mission.
He narrowly escaped from a bomb blast in Iraq. His bicycle was stolen in Bulgaria, Poland and Germany six times and he was also mugged in other countries - but the soldier in him will ensure that he never gives up. - IANS
Wish to share your story?
Trending Now: