IITians throw a ladder to underprivileged kids to help them come up in life

11-January-2014
Vol 5&nbsp|&nbspIssue 2
For more than a decade now, students and faculty members of Indian Institute of Technology (IIT), Kanpur, have been making a positive difference in the lives of the less fortunate people in their vicinity.

Their service of free tuition in English, Science, and Mathematics for children studying in classes 4 to12 has benefitted over 500 poor families residing in a 3 km radius of the institution.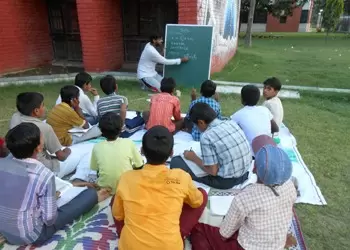 Every day children from the neighborhood gather at IIT campus for their free tuition classes
Every evening after school – there are no classes on Sundays - the children gather at the IIT campus and learn from some of the brilliant minds in the country.

It is a project of 'Shiksha Sopan' - which literally means 'education to be used as a ladder' - an organization started by few IIT-K professors and students.

"It is a good platform for our students to spend time with real society," says H C Verma, current President of Shiksha Sopan.

Author of the popular book 'Concepts of Physics', Professor Verma recalls how a socially active Hindi teacher Pranay Kumar had sown the seeds of Shiksha Sopan during an interaction with some students and faculty members in 2001.

Some professors including Verma, Avinash Agarwal, Kunal Ghosh later formed the Shiksha Sopan. Kailash Kotwani, Prasanna Kumar, Chandramohan Thakur and few other students and some local youth were involved in the initial stages of the project.

Shiksha Sopan has bloomed into a vibrant educational organization. "We have started a new program called 'Adarsh', a project to create video resources of science experiments," says Verma.

Amit Bajpai, a local youth, and the secretary of Shiksha Sopan who lives in the vicinity of the IIT-K campus at Nankari says that lot of kids have benefitted from this project.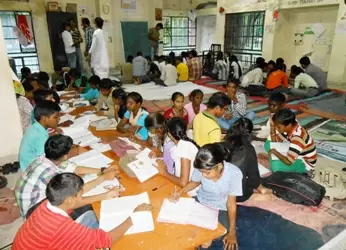 Many children managed to get into professional colleges and some of them are employed
The list of beneficiaries is long and impressive. Hanuman, who attended the classes during 2003-2005, scored high marks in UP board exam with distinction in Physics and Chemistry. He was so well-trained that in school his teachers would ask him to conduct science experiments and teach the class.

Shiksha Sopan helped him to complete several computer courses. Today, he is a trainer in Pearson Company, an educational firm, where he takes online classes for students undergoing short term courses in Linux Server, Microsoft Server & Ethical hacking.

Ragi, the daughter of a vendor who sold 'masala dosas' in front of IIT-K hostels now works in an IT firm in Bengaluru. Shiksha Sopan funded her education in MCA from Gorakhpur University.

Vikas, who lived in the servant quarters of IIT-K, was aided through their 'Pratibha Poshan Yojna' (talent assisting scheme) and provided free coaching. Today, he is a B.Tech student in NIT Hamirpur.

Similarly, many others from economically weaker sections, children of vendors, drivers, daily wage earners, and laborers benefitted from the programs of Shiksha Sopan.

Ashish Bhateja, a research scholar in Mechanical Engineering department, says currently they are running two evening centers, one at the campus, and the other at a village called Barasirohi, some 100 km from their campus.

"There are around 50 children studying at each of the centers," he says. Apart from teaching them school subjects, the children are also told inspiring stories and encouraged to take part in personality development activities.

There are other programs as well. Through 'Pratibha Poshan Yojna' program they identify talented children from poor families and support them with scholarships and free tutelage.

A 4-6 week fully residential summer camp and 2-3 day short-term camps are also organized. Students are also provided financial support for paying school fees and given guidance for national level competitive exams.

Shiksha Sopan instituted Dr V N Kulkarni Merit Scholarship for children residing in the vicinity of the campus. Through Higher Education Cell, IIT-K faculty had helped collect funds to fund the higher studies or special courses for children, often by way of loans.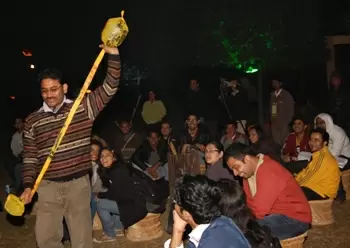 Shiksha Sopan volunteers use simple and creative techniques to teach the children
Shiksha Sopan volunteers are currently interacting with over 250 children. The student volunteers take turns and devote 4-5 hours per week for these programs despite their hectic academic schedule.

Professor Verma and his team members use simple and creative ways to teach the children. Shiksha Sopan has developed modules to teach science through demonstrations and activities, so that the relevance of science education in their day-to-day life is directly experienced.

They helped to establish a Science Resource Center at Kulethi village in District Chanpavat of Uttarakhand. They also conduct several workshops to train teachers in villages and small towns across India about the impact of experiment based science teaching.

In future, they plan to create e-learning resources for underprivileged students.

Shiksha Sopan has nine core committee members, three each from IIT-K students, local youth, and faculty members.

Actively involved in Shiksha Sopan are Prof H C Verma, Prof Sameer Khandekar, and Rakesh Kumar among other faculty members. Students like Ashish Bhateja, Aashu Chawdhury, and Pradeep Kumar, and local youth like Amit Bajpai, and Ranjan Upadhyay are in the management committee.
Wish to share your story?
Trending Now: