'Khurshid Anwar, a victim of media trial'
Garima Tyagi
&nbsp | &nbsp New Delhi
28-December-2013
Vol 4&nbsp|&nbspIssue 52
The tragic death of Khurshid Anwar, a social activist who committed suicide following rape charges against him, has raised questions about the role of media which highlighted the victim's allegations on TV without bothering to cross-check facts or even get his version of the incident.
Anwar's death has caused deep anguish among journalists, activists, friends and his family members who feel it was "media trial which forced him to end his life".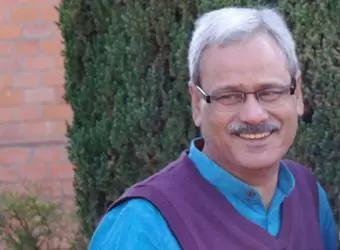 Khurshid Anwar's suicide has shocked his friends and family members (Image courtesy: Facebook)
Anwar, 55, executive director of NGO Institute for Social Democracy, allegedly committed suicide on Dec 18 by jumping from his third floor residence in Vasant Kunj after two news channels aired video clips in which a woman accused him of rape.
The 23-year-old woman, who hails from Manipur and was working with the NGO, accused him of sexually assaulting her on the night of Sep 12 after a party.
Senior Journalist Saeed Naqvi feels that Anwar, a JNU scholar, was forced to take the extreme step due to the "mental trauma and public humiliation" caused by the "media trial" which targeted him without his version and process of law.
"A targeted vilification campaign on Facebook and certain TV programmes broadcast on the day immediately led to his death.
"Whatever the matter is, without giving him (Anwar) an opportunity to explain his version you go on with an extremely harsh programme, putting all the blame on him. That is terrible," Naqvi said, adding Anwar was a "victim of media trial".
He explained that if you see something against you on national news channel you feel so "helpless" and "humiliated". Naqvi added that this is not the first time media has jumped to conclusions "so quickly".
"There is a tendency in journalism - it convicts a person on the day allegation is levelled against him, even before the court convicts him. That is sad. How can media reach a conclusion so quickly and start showing one as an accused? At least, it should wait for lodging of an FIR, completion of investigation," Naqvi said.
Asked whether the media is sensationalising sexual assault cases nowadays, Naqvi said: "Yes, look at the Tarun Tejpal issue. We don't know what happened in the lift, but the media proved him an accused even before the court has done so. For over three weeks the media was carrying Tejpal's news 24x7."
Ali Javed, Anwar's elder brother and a Delhi University professor, said that it was because of "media trial" his brother killed himself.
"I believe it was because of media trial my brother died. He was hounded by so-called media which did not act responsibly and he died. They started showing the news without confirming with us, without giving us a chance to give our version," he added.
"I have lost my brother, now my concern is this situation should not be repeated with anyone. We have filed cases against the woman, Madhu Kishwar and the news channels and we will prove that my brother was innocent and he was framed. My brother will come out clean and we will fight for it," said Javed.
One of Anwar's friends with whom he shared his gloom and frustration over the allegation of rape, Tariq Nasir, said: "It was completely a media trial which left Anwar so embarrassed that he ended his own life".
Remembering the days before Anwar's death, Nasir said: "One day I was sitting with Anwar with a few other friends, he told us that he was very troubled with the allegations against him. He said it was a conspiracy against him."
"He had a clean career in his whole life. Some people tried to defame him so he also filed a defamation case. His name came on the social networking site, news channels and he was very depressed, he could not take the pressure and took the extreme step to end his life, which is very unfortunate," Nasir added.
The general secretary of Editors Guild, Vijay Naik said that media should "refrain" from jumping to conclusions in any case and should wait for more details on sensitive issues.
"The matter became public as channels started airing the video, I feel channels should have refrained from showing the video and waited for more details to come," Naik said.
He said it must have led to mental trauma for Anwar, adding: "This issue became extremely sensitive after the Nirbhaya case, we can also see in the Tarun Tejpal case where the media followed it non-stop. But media should wait for all the details and refrain from showing sensitive issues," he added.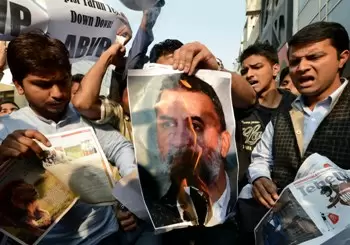 A protest against Tarun Tejpal, who is facing rape charges (Photo: Indian Photo Agency)
Asked if there were any code of conduct for media and if media follows the codes, Naik said: "Every newspaper, news channels have their code of conduct, but implementation of the code of conduct is the main problem."
A senior police officer said that a three-member team of police went to Manipur to record the statement and for medical examination of the young woman.
A week after Anwar's death, his brother Ali Javed had lodged a complaint with the Vasant Kunj North police station, denying the charges levelled against him.
The police also said the complaint alleges abetment to suicide, defamation and intimidation against 13 people, including the victim, social activist Madhu Kishwar and television channels.
Activist Madhu Kishwar, who made the video of the girl alleging rape and made it public, however, denied the allegations.
Kishwar said: "I recorded the victim's claims when she came to my office but I never circulated the CD. I never advertised anything against Anwar and did not say a word about the incident to anyone."
The victim (woman) is learnt to have narrated that on Sep 12, she along with some of her colleagues went to a party hosted by Anwar at his residence.
She alleged that as she felt giddy after consuming sedative laced alcohol, Anwar asked her to stay back. She went on to add that Anwar raped her after everyone else left the house. - IANS
Wish to share your story?
Trending Now: