Sangeeta Richard in not the first thorn in the flesh of Indian diplomats in US
Arun Kumar
&nbsp | &nbsp Washington
20-December-2013
Vol 4&nbsp|&nbspIssue 51
Where is Sangeeta Richard, the nanny at the centre of the controversy surrounding the arrest of an Indian diplomat in New York, that has sparked a major diplomatic row between India and the US?
According to the Indian embassy, Richard, who was brought to the US by Devyani Khobragade, India's Deputy Consul General of India in New York, in November 2012 has been absconding since last June.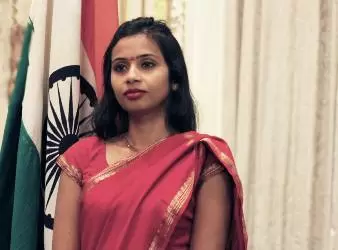 Khobragade's is the third labour related case involving the Indian consulate in New York (Photo Courtesy: Facebook)
For Manhattan's Indian-born US attorney Preet Bharara, she is apparently "Witness-1" in his case against Khobragade of "visa fraud and exploiting her babysitter and housekeeper" by paying her a fraction of the contracted salary of $4,500 per month.
But was Richard yet another foreigner domestic worker "entitled to the same protections against exploitation as those afforded to United States citizens," as Bharara charged or whether her complaint to the authorities was just a ploy to stay in the US?
According to one estimate, each year, the US State Department issues over 2,200 A-3 and G-5 "special visas" visas to the personal employees of diplomats and staff of international organizations. Many are indeed exploited, others turn against their employers simply to get a green card.
Indian officials suggest there was really no exploitation in Richard's case as diplomats who bring domestic help from India take care of all their needs such as housing, food, medical treatment, and trips back home besides paying a fairly decent salary by Indian standards.
But be as it may, Khobragade's is the third such case involving the Indian consulate in New York.
In June 2011, Santosh Bharadwaj, a former housekeeper had sued India's then Consul General in New York Prabhu Dayal accusing him of intimidating her into a year of forced labour. A year later he reportedly settled the case on undisclosed terms.
In February 2012, a New York City Magistrate Judge fined Neena Malhotra, a former press counsellor, $1.5 million for allegedly forcing an under-aged Indian girl, Shanti Gurung, to work without pay and meting out "barbaric treatment" to her.
She has appealed against the verdict but has not returned to the US.
There have been other cases of diplomats being prosecuted for underpaying domestic workers too.
In November 2012, Mauritius ambassador Somduth Soborun pleaded guilty to a misdemeanour charge of failing to pay his housekeeper the US minimum wage while representing Mauritius at the United Nations in 2009.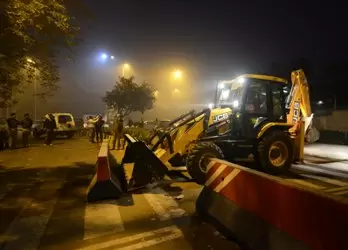 Indian authorities removed security barriers in front of the US embassy in New Delhi in a strong reaction to the US action against Devyani (Photo: Indian Photo Agency)
Soborun, who did not invoke his diplomatic immunity, was ordered to pay a $5,000 fine and nearly $25,000 in back wages to the woman, whom he brought from the Philippines to take care of his home in New Jersey.
But unlike Khobragade, none of them was arrested or handcuffed or strip-searched.
In fact, none of the 49 Russian diplomats and their spouses charged by Bharara a week earlier with scamming Medicaid, a government health care programme for low-income families, out of $1.5 million over a decade, are in custody as they enjoy diplomatic immunity.
Eleven of them still reside in the US with six of them representing Russia
in New York.
None of them can be prosecuted unless Russia waives diplomatic immunity, which is pretty unlikely. That would give the US only one choice - ask the alleged fraudsters to leave the country - An exit route that was not available to Khobragade. - IANS
Wish to share your story?
Trending Now: