As technology is used for destruction, she stands up against it

Pamela Philipose
&nbsp | &nbsp Morena
13-December-2013
Vol 4&nbsp|&nbspIssue 50
The district of Morena in Madhya Pradesh is marked by the scarred landscape of the Chambal ravines that straddles it.
Life here is governed by a feudal subservience and fiercely patriarchal traditions, with women facing discriminations and biases at every stage of their lives.
The 2001 Census only underlined this reality when it revealed that Morena district was one of the 10 worst performing districts in India in terms of its child sex ratio (CSR). Its CSR stood at 829 girls for every 1000 boys, as compared to the national average of 927 girls.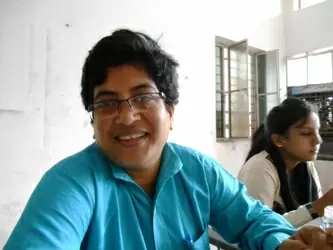 Asha Singh, a Morena based lawyer, has been able to project the issue of the declining sex ratio at the national level (Photo: Pamela PhiliposeWFS)
There is something particularly telling, therefore, that it was a daughter of Morena who made the crusade against sex selective abortions her own.
Meet Asha Singh, now in her early forties. She wears her hair short, prefers to don jeans and can ride the motorbike as well as any Chambal dacoit. Born in the small town of Morena, the district's headquarters, she has been able to project the issue of the declining sex ratio at the national level.
Asha believes it was her early childhood that made all the difference to the way her life took shape. Born into a Rajput family, it was her mother who brought her up – her father having had to leave the home because of a family dispute.
"My mother did not have much of an education – she was a fifth standard dropout – but she was instinctively independent minded. After father left, she chose not to go back to her parents' home, as other women in her situation may have, and instead brought up her five children on her own in Morena. The family owned a hotel business and that provided financial support," recalls Asha.
Unusually for a family in the region, the Singh daughters were not discriminated against in any way. They were given the freedom they needed, with the sole stipulation that they must not bring dishonour to the family name.
During her growing up years, Asha kept testing the limits of that freedom. She says, "I was drawn to athletics and delighted in running the marathon. I also played cricket and since there wasn't a separate women's league, I played with young men in the Indore and Gwalior cricket clubs. I still remember Sidhu and Azharuddin coming in to train us!"
People would complain to her mother about her behaviour, saying that she spent far too much time in the company of boys. Fortunately, both her mother and her elder brother's wife had immense faith in her.
Their confidence was rewarded, when she went on to win the marathon in her district and received a bicycle as a trophy. She used that bicycle to win a 14 kilometre cycle championship.
This drive to set new goals and excel came to mark Asha's personality: "for me everything was like a challenge".
Incidentally, her record of having won the sports championship for five years while in college for her graduate and post-graduate studies remains unbroken. She was considered the champion among champions and also participated in several inter club cricket tournaments.
But along with the fun and games, Asha was also getting ambitious about her professional future.
"I had completed my graduation and post-graduation in political science but felt I needed a proper job. This led me to do my LLB," she says.
Training in legal studies introduced her to concepts like human rights. For the first time a woman who had always considered herself "one of the boys", now understood that there was something known as gender discrimination. That realisation made her decide to work for the rights of women and children.
The culture in which Asha had grown up had glamorised masculinity and made heroes out of gun-toting dacoits. It also accorded the most horrendous treatment to women.
What was to be a turning point in Asha's trajectory as a lawyer was a case of rape that came to her, "The husband of the raped woman, after filing a case against his wife's attacker, agreed to withdraw it because the rapist had offered him two bighas of land as a bribe.
"I was so angry with his behaviour that I went up to him and asked, 'Is this all you value your wife – two bighas?' The woman herself was shaken but told me in piteous tones that she had no option but to go along with her husband."
That case proved how heavily the system was loaded against women. After the 2001 Census revealed that Morena and adjoining Dholpur, in Rajasthan, were among India's 10 worst districts in terms of skewed sex ratios, Asha involved herself in a series of road shows on the declining sex ratio, conducted by the Madhya Pradesh Voluntary Health Association.
That experience helped her understand the links between skewed sex ratio, on the one hand, and discriminatory practices like dowry, on the other.
"I remember one boy coming up to me during one of our halts, saying, 'We don't ask for dowry, our parents ask for it. They have paid for our education and we are obliged to follow their diktat.' His words made me realise that it is vital for society in general to understand the women-related laws in our statute books," says Asha.
Taking her newfound interest in the sex ratio to the next level, Asha participated in a research study, entitled 'Building Families, Building Gender', which inquired deeper into the phenomenon of son preference and daughter aversion in northern India. It brought her face to face with several social hypocrisies.
She elaborates, "I would be amazed to see that if a buffalo died in a village, the whole community would gather to commiserate with the family, but if a female infant died, nobody bothered to mourn.
"The pressure on daughters-in-law to have sons was so bad that many young hapless women were seriously affected. As for doctors, not one of them took the law against sex-selective abortions seriously; they were openly conducting these procedures."
Ending discrimination against daughters now became Asha's most important objective.
In 2004, when the Dholpur-based organisation, Prayatn, in partnership with ActionAid, began the Chahat Hai Jeene Ki (CHJK) intervention, Asha came on board.
"We realised that since doctors had strategised on ways to protect themselves from the law, we too needed to think of ways to come together to counter them. So we learnt to pit one doctor against the other to get information out of them," she recalls.
Asha and her colleagues discovered that sex selective abortions in Morena town were usually done under the cover of darkness, with foetuses being discarded late at night.
She personally supervised sting operations under the CHJK project. In fact, once when she happened to be in Gaya, Bihar, with noted anti-sexing lawyer and activist, Varsha Deshpande, she posed as a pregnant woman wanting to test the sex of her child in order to expose a local doctor.
Over the last decade, she has seen a lot of positive changes but understands clearly that the declining sex ratio is an issue that will continue to haunt India for decades to come, and she for one is ready to do her bit.
Says she, "It disturbs me that modern technologies, meant to improve health care are being used in such a destructive manner. As a proud mother of a daughter, this is one social cause that has become a personal one." - Women's Feature Service
Wish to share your story?
Trending Now: