It's anybody's guess when riot-hit women in Muzaffarnagar will resume their normal lives

Anjali Singh
&nbsp | &nbsp Lucknow
22-November-2013
Vol 4&nbsp|&nbspIssue 47
Mesum, 16, a widow, kept herself covered from head to toe in a thick black sheet. She was on a three month-13 day Iddat (mourning) ever since her husband was hacked to death by rioters in Muzaffarnagar district of western Uttar Pradesh (UP).
She lives in a relief camp with her in-laws today and is not allowed to speak, be seen or even grieve without the permission of the ulemas, who have laid down the code of conduct a widow must observe during this mourning period.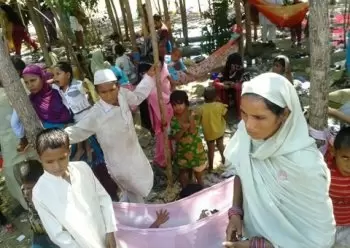 Group nurseries with makeshift cradles tied to trees in the camps at Muzaffarnagar (Photos: Askari NaqviWFS)
Like Mesum, there are scores of women, who are languishing in various relief camps across the district. They are struggling to regain control of their lives in the aftermath of the bloody riots of August 2013, which have been termed as the worst incidence of communal violence in the country since Gujarat 2002 and Assam in 2012.
As many as 10,000 people have been affected in the month-long violence that rocked the region although, predictably, it is the women and children who have borne the brunt of the destruction and displacement.
Says Meena Soni, member of the Joint Citizens Initiative (JCI) that recently visited Muzaffarnagar on a fact finding trip to assess the effects of the violence on this vulnerable group, "Weeks on and the fear psychosis is more than evident, especially among women and children. Even a false rumor of a riot breaking out again sends spasms of terror through the camps and they instantly break out into collective mourning and shouting in fear."
Adds Azra Khatoon, another JCI member, who is part of a women's rights group: "Women survivors remember the screaming mobs. Even now they can hear the chants of 'Musalman ki do jagah Pakistan ya kabaristan' (there are only two places for a Muslim, either Pakistan or a graveyard) in hushed tones in the camps, which creates a very tense situation.
"As if that is not enough, in some camps groups like the Jamait-Ulema-e-Hind are issuing religious diktats. In one camp, Jamait members had decreed that everyone entering the area, whether a Muslim or a Hindu, will have to wear a burqa. Even we were not spared!"
Making matters worse is the fact that these internally displaced persons are refusing to go back home out of fear and so large-scale migrations continue to other districts and cities leaving village after village empty of people.
To address these issues as well as matters of safety, health, education and rehabilitation of the displaced women and children, the JCI – comprising women's rights activists and health and medical professionals from New Delhi, Mumbai and Uttar Pradesh – visited different camps and later presented a summary of observation along with a charter of demands related to the immediate needs of riot survivors.
Entitled '30 Days and Counting… The aftermath of violence in Muzaffarnagar & Shamli, Uttar Pradesh', the document clearly brings out women's security concerns, including the unprecedented sexual violence they have have experienced.
Pushpa from Vanagana, a prominent Chitrakoot-based women's group, who also met with survivors, remarks, "The entire nation today is concerned about the safety of women, but it is strange how we are not talking about the brutal assaults they have undergone during this episode of violence.
"At least five FIRs on sexual assault have been filed and many more women have spoken to our team about sexual assault of varying degrees and expressed a desire to file FIRs against the accused. It remains to be seen whether the state will aid them in seeking justice."
Of course, whether or not the government expedites justice, the JCI team has recorded testimonies of sexual assault victims from village Lisarh (in Shahpur camp) and village Phugana (in Jogikara Camp) in Muzaffarnagar.
These women and their family members are being pressurised to withdraw their complaints but nevertheless women activists are readying to move the courts on their behalf.
While sexual violence is a big focus of the report, it has also painstakingly documented the deplorable health conditions prevalent in the camps. Children suffering from scabies and dermatitis have been observed, clearly pointing to the fact that the health of women and children is not a priority for the camp management committees.
As per Askari Naqvi, a social justice lawyer from Sanatkada Samajik Pahal, who plans to represent cases of sexual assault and neglect of women and children in court, "The worst affected by the lack of proper medical care are children. At the Loi camp we saw eight deaths within a week due to poor medical aid.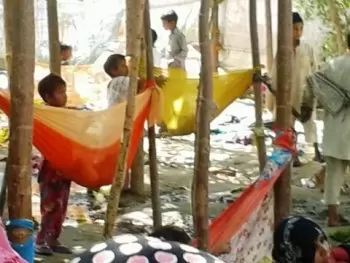 Children take care of their new born siblings in the rehabilitation camps
"It was heart rending to see a four-day-old child die in the absence of any care, five children succumb to diarrhoea and fever and a 14-year-old girl bleed out during menarche. These are the worst human rights violations we have ever seen."
The JCI report, presented to Javed Usmani, Chief Secretary, UP government, triggered an immediate response.
An enhanced compensation package has been approved in addition to the setting up of a working Special Investigation Cell as well as the assurance that statements recorded under Section 161 of the Indian Penal Code for tracking missing persons will be followed up diligently.
All of these were part of the charter of citizens' demands. Additionally, the JCI team has also called for provision of health care in camps and the immediate tabling and passage of the Communal Violence Bill 2011.
When and how Mesum and thousands of other women trapped in their nightmarish existence will resume their normal lives is anybody's guess right now, but it is imperative that the state government understand the human tragedy that is unfolding in these camps and act without any further delay. - Women's Feature Service


Trending Now: