The campaign against self-immolations has its impact with more voicing support

18-October-2013
Vol 4&nbsp|&nbspIssue 42
The Weekend Leader's Campaign Against Self- Immolations has received a shot in the arm with Naam Thamilar leader Seeman extending his support to the cause.

Following an in-depth conversation on the circumstances that led to the suicides of about thirty Tamil youth who ended their lives to draw attention to the genocide in Sri Lanka, Seeman said his party would henceforth not glorify self-immolations, adding that the sacrifices of youth like Muthukumar, Sengodi, and Abdul Rauf however cannot be belittled.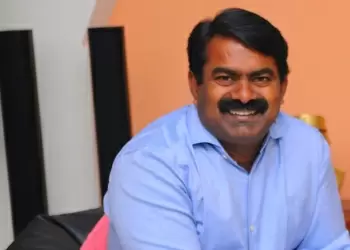 Seeman urged the youth to preserve their life to work for the community
Most significantly, Seeman revealed during a candid discussion on the issue that he had himself contemplated suicide at one point of time pained at the sufferings of Tamils in Sri Lanka. But he chose to live as he realized there were other ways to fight for the cause.

Commenting on the self-immolations that the State has witnessed in recent years, he said the youth took the painful decision as a last resort due to the indifferent attitude of people to the suffering of their brethren in Sri Lanka.

"Muthukumar was grieved at the massacre of Tamils in Sri Lanka. But the Tamils here were least bothered about the killings. They went on with their business, flocking to shopping malls, cinema theatres and liquor shops.

"The spirit of Tamil kinship had died. Muthukumar wanted to bring it back to life and he gave his life for the cause," said Seeman.

In the 1980s, Abdul Rauf had set himself ablaze to protest against India playing the Sri Lankan cricket team in Chennai.

Seeman pointed out that Sengodi was an activist, who was creating awareness on various social issues. She killed herself demanding that the death row convicts in the Rajiv assassination case should not be executed.

His point was that those who immolated themselves were deeply affected by the injustice done to Tamils and were well-informed about the ground situation.

"We have never welcomed self-immolations. But we had to respect the sentiments of those who gave their lives for a cause," he reasoned.

Seeman was in agreement with The Weekend Leader's stand that Tamil society needs to put its foot down and arrive at a consensus on ending the loss of precious lives, especially of the socially conscious youth who could serve the community better by choosing life over death and continuing their struggle through democratic ways.

Seeman conceded that the sacrifices of the youth have not stopped the sufferings of Tamil Nadu fishermen at the hands of the Sri Lankan navy or the travails of Sri Lankan Tamils.

"The government does not respect the sacrifices. Over 500 fishermen have been killed by the Lankan navy. The harassment continues," Seeman said.

He said those who spoke for people's rights are denied the freedom to speak. "I am not being permitted to speak in public meetings. The only way to change the situation is to capture power through the ballot," he said.

Seeman said Tamils need to vote for parties that would safeguard their interests.

He asserted that Naam Thamilar will no longer endorse self-immolations and urged the youth to preserve their life to work for the community and for attaining political power to achieve their dream.

P C Vinoj Kumar is Editor of The Weekend Leader

This Article is part of 'Stop Self-Immolations' - A TWL Campaign
More Articles in the Series

'Society needs concerned individuals, those with compassion and political orientation'
'A true fighter stays the course and fights till his last breath'


Trending Now: