'A true fighter stays the course and fights till his last breath'

04-October-2013
Vol 4&nbsp|&nbspIssue 40
It has been a week since I lost a friend. Neelaventhan, 32 years of age, took his own life. I had known him for about eight years. He was a practicing advocate and general secretary of a Dalit party, Adhi Thamilar Peravai.

When I met him a couple of weeks ago in Chennai at a function, he did not appear to be a man who was plotting his own death, albeit for a cause.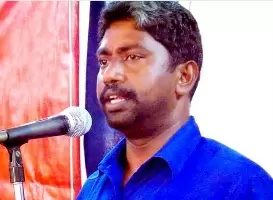 Neelaventhan was general secretary of a Dalit party, Adhi Thamilar Peravai
A few days later I received the shocking news that he had burned himself to death in Tiruppur in support of his demand that Arunthathiyars - a community his party represents - be given 6 percent sub-quota within the 18 percent reservation for Dalits in Tamil Nadu.

He joined the list of nearly 30 persons who have immolated themselves in recent years in Tamil Nadu for political or social causes.

His death made me both sad and angry. I am sad because I lost a friend, but angry because a man who was a committed crusader for the Dalit cause chose to end his own life at a young age.

I am upset because he took an irresponsible decision when he should have lived and fought for the cause he cherished using the various options available in civil society.

The very people he died for will miss him in the days to come as they continue to fight for their rights. He would have been of greater help to them had he been with his people to lead the struggle. A true fighter stays the course and fights till his last breath.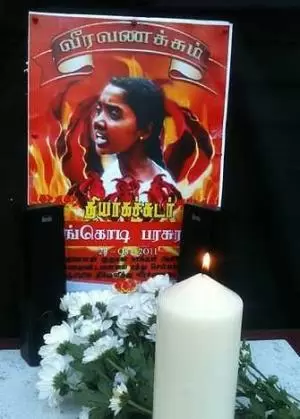 Many like Sengodi have immolated themselves for the cause of Eelam in Tamil Nadu (Photo: Media Ramu)
Instances of political self-immolations have been sadly on the rise in Tamil Nadu in recent times. Many have immolated themselves for the cause of Eelam (a separate nation for Sri Lankan Tamils).

It has become a practice for political leaders to hail these suicides as a supreme sacrifice for the Tamil cause and labeling the deceased as martyrs. Statues are built for them and even monetary compensations given to their family members.
The culture of glorifying their deaths has encouraged more self-immolations. The practice of self-immolation is a relatively recent phenomenon in Tamil Nadu and is an insult to the virtues of Tamil courage and valor, which is celebrated in ancient Tamil literature.

In one of those ancient poems, a poet tells of a mother who is upset that her son retreated from the battlefield and is pacified only after learning that he had died fighting and had not fled from the battlefield.

Another poem tells of a mother who was willing to send her son to the battlefield even after losing her father and husband in the war.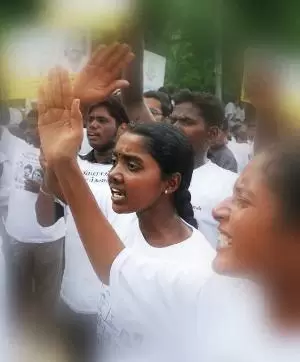 Sengodi (Photo: Media Ramu)
In recent history, brave LTTE (Liberation Tigers of Tamil Eelam) fighters fought the Sri Lankan army, and many became martyrs in the battlefield.

Leaders in Tamil Nadu have been making appeals to their followers not to commit self-immolation. But their appeals lose their meaning when they accord a martyr's honor to the next victim.

Their appeals lack resoluteness. It makes people wonder if they are really sincere about stopping these deaths or they want this to continue forever.

It is the bounden duty of every Tamil leader to send out a loud and clear message to their followers that they would not appreciate self-immolations any longer.

To demonstrate their sincerity, they should not turn up to pay their respects to the next person who might choose to end his or her life in this manner, be it for the Tamil cause or any other.

M Punitha Pandiyan is Editor of Tamil monthly magazine, 'Dalit Murasu'
Wish to share your story?
Trending Now: