Schools of safety, the lessons begin in classrooms by teaching teachers first

Aditi Bishnoi
&nbsp | &nbsp Delhi
18-October-2013
Vol 4&nbsp|&nbspIssue 42
* "Every morning when I go to school, I cross the Lal Market where vendors as well as shoppers often pass lewd comments. I want the school authorities to do something about it." – Ashima, a Class VII student at a municipal school in Delhi.
* "If my friends absent themselves from the school for some reason, I do not go that day. I never go to school alone." – Roohi, a Class VI student.
* "When the girls' morning school shift ends, boys, who are supposed to enter after the girls leave [for the afternoon shift] stand outside the gate and try to touch them or pass comments." – Ankit, a Class VIII student.
* "In our school there are many secluded spots where we avoid going because there are many 'bad' things that go on there." – Saurabh, who is in Class IX.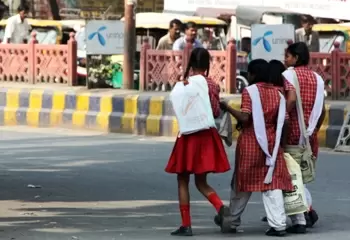 School-going girls are at risk from crimes like harassment, leering and inappropriate touching particularly as they travel to school and back. (Photo Courtesy: WFS/ Rosipaw on Flickr under Creative Commons)
The disturbing experiences of these youngsters, unfortunately, mirror those of lakhs of school-goers across the national capital. Once known as 'the temple of learning', these days, schools are an 'arena of fear and violence – be it 'eve teasing', bullying, verbal abuse, corporal punishment…'
According to Ishani Sen, an activist with Pravah, an organisation that has been working with the youth for over two decades, "Today, children are at risk, whether in the government school system or the public institutions. They are vulnerable while travelling to and from school as well as on its premises. Not only do they face harassment first-hand, they also witness it, which impacts them adversely."
Girls are the primary targets of violations like teasing, leering and inappropriate touching, although in Sen's experience younger boys are at risk, too.
Clearly, violence has penetrated the schooling system, just as it has become a lived reality for girls and women whether in homes, offices or public spaces.
It is with the idea of reaching out to young impressionable minds that Pravah and Jagori, a Delhi-based women's resource centre, joined hands in July 2012 under the Safe Cities Progamme Delhi, which is part of the UN Women Global Programme on Safe Cities Free of Violence against women and girls project.
With the support of the state government's Directorate of Education, a slew of activities have been undertaken across eight government schools in south Delhi to raise awareness on children's right to a safe learning environment and strike up a dialogue on gender equality.
Explains Sen, "The two major factors that influence children's socialisation process are the home and the school environments. That is why a discourse on gender safety and equity had to be introduced in schools.
We chose government institutions as that's where the majority gains an education. Teachers, who can influence the attitudes of students, are important stakeholders in this conversation. Therefore, we work with teachers and students simultaneously."
An effective training module has been developed for teachers, which enables them to understand the need to work with children on gender issues, look at providing a safe learning environment through the gender lens and explore their own stereotypes.
Darshana, an art teacher with a Government Girls Senior Secondary School in south Delhi, was among the group of 14 that came together for a two-day workshop organised by Jagori and Pravah earlier this year. Says she, "Violence against girls and women has become a big menace so it is important for us to talk about it."
Adds Dr V.K. Pathak, who teaches Sanskrit and Geography at Government Boys Senior Secondary School in J-Block, Saket, the venue of the workshop, "The interaction with gender specialists has helped me answer many questions that boys have regarding the opposite sex. There is a lot of natural curiosity that needs to be addressed and, as their teacher I know I can help them."
Pathak encourages his students to talk about what they think about women and why they stoop to 'eve teasing' for "fun".
Darshana, who has had frank conversations with her girls, observes, "Nowadays they are aware of the dangers they are up against. Even those as young as in Class Six have freely spoken about being harassed as they travel to school and back, and how older men try to lure them with sweets."
Plan India, an NGO that works with underprivileged children, has also been holding teacher trainings in schools under the North Delhi Municipal Corporation.
Informs Lilly Vishwanathan, Senior Program Manager, "Involving teachers is essential. We talk to them about behavioural management – how to respond to children, keep them busy in class; we take them through the Right to Education Act as well."
Further, to guide and review the existing school curriculum from a gender perspective - an important step towards ensuring a more inclusive school environment - the state government formed a core committee of specialists on education, communication and gender, post December's rape incident.
Of course, how can there be attempts at raising awareness on gender issues in schools without the involvement of students? Says Sen, "Of all the activities we have been doing with around 800 school children over the last year, what have proved most effective are the film screenings by the Must Bol campaign, the safety audit walks and the self reflection exercises with Jagori."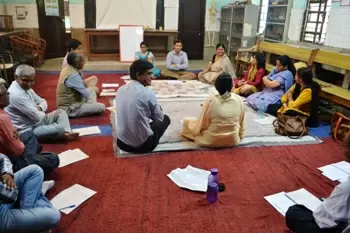 A training workshop for a select group drawn from government schools in south Delhi. (Photo: Shreyanjana Bhattacherjee WFS)
She recalls one heated discussion on stalking that followed a film screening: "A few boys initially said that the girls should not go out alone after dark. When probed further they said that boys would 'obviously' tease girls if they knew that they were alone.
"Then, one boy stood up and asked: 'Shouldn't boys be kept at home after dark so that they don't create a nuisance on the streets?' This changed the course of the discussion. The students realised that it was unfair to restrict the movement of girls just because men were threat to them."
Plan India's 'Chuppi Todo' campaign, which talks about unsafe touch, is another intervention that has proved effective. Elaborates Vishwanathan, "We have developed a short film, scripted and enacted by some girls from Mongolpuri, and it is being shown in schools under the North Delhi Municipal Corporation. After the screenings, children are encouraged to speak about their experiences."
Vishwanathan also emphasises the need to convey concepts like gender equality to children at an early stage, "One needs to get them thinking on these lines while they are still young. What they learn during their adolescent years is likely to stay with them throughout their lives."
Ultimately, while learning is indeed a lifelong process, if the foundation provided by the school is sound and strong, it does offer hope for a safer tomorrow. - Women's Feature Service


Trending Now: