A Bangalore NGO offers a plethora of programs for slum children

20-September-2013
Vol 4&nbsp|&nbspIssue 38
Scores of youngsters from slum communities are receiving training in life skills, computers, personal finance management and communication, thanks to 'Dream A Dream,' a Bangalore based NGO that was co-founded by Vishal Talreja and 11 of his friends in 1999.

"Life skills are positive adaptive skills that deal with challenges of life effectively," says 35-year-old Vishal, who had quit a corporate career after stints in Xerox, and Technology Holdings, and took charge of the NGO as Executive Director in 2002.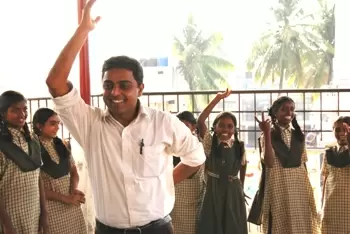 Vishal always had this urge to give back to society and 'Dream A Dream' project was right up his alley
One of their programs offers opportunities for volunteers from corporate sector to pair up with youth from lower economic strata as mentors and motivate them to aspire for better things in life.

About 400 downtrodden youth have benefitted from the mentorship program so far since its inception in 2007.

Some have completed graduation and are now placed in the social sector. One has joined a dance studio, another is employed in a retail outlet, and yet another has become an entrepreneur.

Vishal always had this urge to give back to society. Once out of college he visited a shelter of HIV positive children with his friends and did not have a clue as to how to respond to the situation.

However, his heart melted at the response of the children who ran towards them as they entered the home. In those few seconds of interaction with the children, their enthusiasm won him over and all his prejudices broke.

Later when he went to Finland through an exchange program he was surprised to see the quality of life and the dignity of labor people had there.

"I befriended a guard of a 5-star hotel and a girl who worked in a bar. They were proud of their jobs," says Vishal. He knew back home he might never be friends with a girl working in a bar.

It amazed him that the girl was working to pay for her education and felt proud of what she did. He wondered about the lack of dignity of labor in India. He wished to empower the kids from slums and change their mindset.

Back in India he started volunteering with several social organizations and learnt a lot before taking over the reins of 'Dream A Dream' (DAD).

DAD conducts programs to develop life skills of the youth through the medium of sports, arts, outdoor camps, connect, fun days and mentoring. The life of urban poor is tough and they face many challenges since they lack the skills to cope with real life conflicts and situations. The resultant frustration leads them into illegal activities.

DAD volunteers address these issues by being caring adults and listening to the fears of their mentees, instilling confidence in them without judging them, and cheering them on.

Vishal recounts examples from real life experiences when civil society refuses to even acknowledge people from vulnerable communities like beggars, domestic help or the like.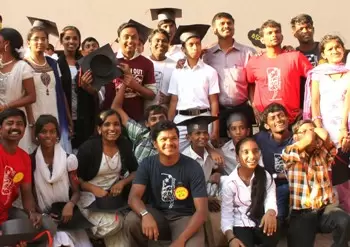 Mentees attached to 'Dream A Dream' are confidence personified as they pose for a photo with Vishal
Besides directly mentoring the youth through their volunteers, DAD also has a program to train teachers from government schools who are in close contact with their target segment.

The program aims at training the teachers to effectively communicate with their students who in turn would feel free to interact with them.

DAD provides free training for youth in career development skills through 'Dream Connect Centre'. Catering to an age group between 14-18 years, they hold workshops on career counseling and training programs in computers, personal finance management and communication skills.

"We have community outreach programs where we explain about the courses to youngsters living in slums and surrounding schools," says Sangeetha, Manager, 'Dream Connect Centre'. She adds that they have a well-equipped centre at Koramangala with two computer labs.

The programs and centre are supported by Dell Giving. In any given day there are 80-90 children enrolled in some course. Last year they impacted more than 1000 youngsters through these programs.

Chrishelle David, Manager (Communications), DAD says they have plans to take more volunteers to don the role of mentors.

Trending Now: