Wives of former militants suffer as the government sees them with suspicion
Ashutosh Sharma
&nbsp | &nbsp Srinagar
30-August-2013
Vol 4&nbsp|&nbspIssue 35
Zahida Parveen, 29, from Bhimber district of Pakistan Occupied Kashmir (PoK), recounts her nerve-wracking experience of clandestinely crossing the heavily militarised Line of Control (LoC) in Kashmir that divides India and Pakistan.
Her first task was to convince her husband to do this. "My husband was undecided about leaving the camp but I told him that God does not judge such action. He finally agreed with me and we secretly set out on our own with our four children," she remembers.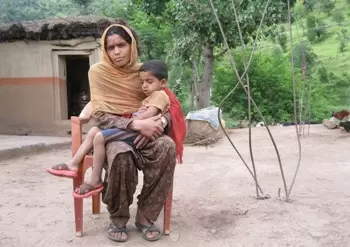 Zahida Parveen from Bhimber district of Pakistan Occupied Kashmir (PoK) with her son (Photos: Ashutosh SharmaWFS)
Zahida's parents had married her off to Mohammad Shokat, a resident of Surankote block in Poonch district. At the time, the young man was allegedly undergoing training as a militant after he had crossed over, a few years ago, to Moong Bajree in PoK with a group of militants for arms training.
As Zahida narrates her story, a range of emotions – fear, indignation, anticipation, surprise, sorrow and joy – flit across her oval shaped face that seems to have aged prematurely owing to the adverse circumstances that have marked her life.
"It was a night in December last year, and rain was pouring down. All through the night we kept walking, crawling, panting and perspiring. We didn't catch sight of any Pakistani soldier but as soon as we stepped on to the Indian side it was almost morning.
"We came to a halt near a small stream in the nearby Degwar village to gather strength, not suspecting that it would be under surveillance. The very next moment we were encircled by army men with their guns pointed at us. After being grilled for some hours, we were handed over to the police," Zahida says.
The couple claimed that they were not armed and this perhaps helped their case. Zahida was arrested and bailed out after 15 days. Her husband had to spend six months in jail under the Public Safety Act. Today, she lives in Khardi, a village that almost adjoins the border. Every three months, both husband and wife have to appear before the district court.
"I weighed 72 kilos when I came here, now I am just 49 kilos," she says, showing her marriage album. The photographs corroborate her claim, indicating how daily deprivation has rendered her a pale shadow of her former self.
"Here, we don't have identity cards, ration card – nothing. With great difficulty I managed the admission for my children in a local school but they are not formally enrolled," Zahida reveals. Her husband cannot leave the area, so he works as a daily labourer in the village and Zahida assists him in running the household by tailoring clothes.
While life is tough, it was not as if things were better on the other side. "Our life at the camp was miserable. Women there are not treated like human beings. We came here to start our life afresh after hearing about the government's rehabilitation policy, but so far we have not received any help from the authorities," regrets Zahida.
Zahida worries about her younger sister, Safia Parveen, who is also married to a surrendered militant, Mukhtayar Hussain, from Surankote. Hussain too had gone across the LoC to join the ranks of the militants on the other side, but returned secretly with his wife and three children by slipping through the almost unguarded Nepal border.
"My sister's in-laws don't like her. They want to remarry their son to a local girl. Last winter they repeatedly beat her and threw her out of their home. She remained out for three months, spending a month with me. After that, because of the intervention of some local people, they took her back," elaborates Zahida.
Under the Government of India's Rehabilitation Policy, native militants who abjure violence and pledge allegiance to India can surrender by arriving in the country through four recognised border crossings – Poonch-Rawlakote in Jammu region, Uri-Salamabad in Kashmir, Wagah in Amritsar and the International (IGI) Airport in Srinagar.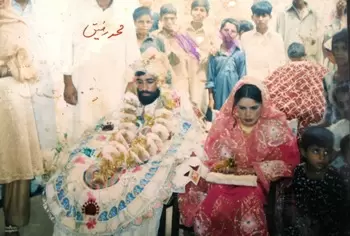 Zahida and her husband during their wedding ceremony
However, because of non-cooperation on the part of the Pakistani authorities, these converts to peace are unable to cross over to the Indian side legitimately.
Says Advocate Taj Hussain Shah, who has been pursuing such cases at the Poonch district court, "The rule of thumb for every conflict is usually state versus state or state versus insurgents or us versus them. But these women have no presence in the ongoing conflict for either side, yet they are facing the worst kind of human rights abuse."
Then there is the case of 24-year-old, Parveen Akhtar, who was married to a surrendered militant in 2008. She was living a normal life until her husband was rearrested by the police who claimed that his was a case of mistaken identity as he was not a local militant, as he had claimed, but a Pakistani mole.
Soon after the police nabbed her husband, his family abandoned her. Presently she is living with her maternal family in the Thanamandi area of Rajouri district.
Holding her three-year-son, Bilal, in her arms, Parveen says with deep sorrow after a long pause, "My husband was not known to me before marriage. Even after marriage I never asked him about his past life. He was working as a manual labourer at a road construction site in a nearby village, when he was rearrested."
So far, the courts have not pronounced on the status of women like Parveen, Safia and Zahida. They continue to live in a circle of fear and anxiety.

(The writer is a media fellow with National Foundation for India presently working in Jammu and Kashmir.) - Women's Feature Service
Wish to share your story?
Trending Now: