An experiment with toilets is changing the way of life in a Rajasthan village

Haris Zargar
&nbsp | &nbsp Tonk (Rajasthan)
25-April-2013
Vol 4&nbsp|&nbspIssue 17
A few years ago, Shadima Bi, like many other children in Hajipura village in Rajasthan's Tonk district, would feel embarrassed going out in the open to defecate.
These days, the morning ablutions do not occupy her thoughts as her village is now open defecation free (ODF).
"Earlier we would go out to defecate in the open and face embarrassment. In the night we wouldn't go out because we felt insecure. But now, every house in the village has a toilet. Things are much easier," the 13-year-old said.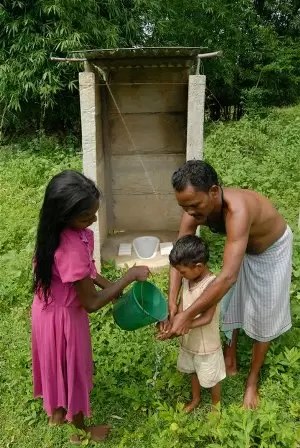 Children have been trained to wash their hands and use the toilet. There has been a decline in the number of people afflicted with water-borne diseases. (Photo: Unicef/ Sandeep Biswas)
The village, located in the Devpura Gram Panchayat of Tonk block, has 124 households. It also has an upper primary school (UPS) with an enrolment of 109 children, including 44 girls.
Kausar-ul-Nisa, 13, a student at the school, said girls could attend classes regularly now, since there were toilets in the school for them.
Wali Mohammed, sarpanch of the village, said that since children were taught about handwashing and the use of toilets, there has been a decline in the number of people afflicted with water-borne diseases. The village, predominantly Muslim, has a population of 631. All homes now have toilets.
The toilets in schools are of the regular type with running water, while those in homes are usually of the soak-pit type.
Tonk is one of the districts in Rajasthan that has benefited from the collaboration between Unicef and District Water and Sanitation Committees (DWSC) to pilot the Community Approaches to Total Sanitation (CATS).
The CATS strategy is to enable communities to adopt toilet use and adequate hygiene and sanitation to become OFD.
The strategy complements the national flagship programme, Nirmal Bharat Abhiyan (NBA).
Unicef's WASH (Water Sanitation and Hygiene) programme was launched here three years ago, in collaboration with the outdoor-adventure gear brand Woodland. The programme is now showing good results.
The programme focusses on providing improved access to drinking water, gender and child-friendly sanitation facilities in schools, and institutionalising critical life-saving practices such as handwashing before mid-day meals in schools.
"The partnership with the company (Woodland) will enable us to reach another 50,000 children and families in 200 schools over the next two years. The programme will lead to improved health and learning outcomes for children," said Samuel Mawunganizde, chief of Unicef in Rajasthan.
"We did not merely want to donate money, but we wanted to actually bring about a change. For us, it is more than just an activity that comes under our Corporate Social Responsibility," Woodland Shoes managing director Harkirat Singh said.
The extent of the problem in India can be gauged by the fact that only 21 percent of the rural population has access to improved sanitation facilities.
As per National University of Educational Planning and Administration's 2009-10 data, a total of 27.6 million children, including 13.5 million girls, accounting for 14.7 percent of total children enrolled in the country do not have access to toilet facilities in schools.
In neighbouring Kali Hardia village, which primarily comprises the Scheduled Castes, Scheduled Tribes and other backward classes, the programme is paying dividends.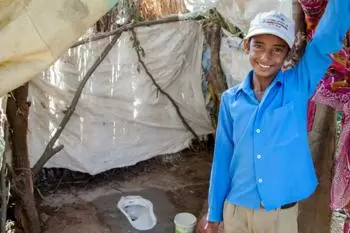 An estimated 90 percent of government primary and secondary schools in Tonk district now have toilets (Photo: Unicef/ Sachin Soni)
Toilets have been built in the lone primary school. But most of the families in this village have not been able to build toilets because they are poor.
"I don't like going out in the open to defecate so I have been telling my father to build a toilet at home. He has promised to build one this year," 10-year-old Asha Jangid said.
Upendra Kumar, Tonk's additional district elementary education officer, said: "Most families come from a poor background and cannot afford to build toilets. We have been providing money from central and state government schemes for the purpose."
An estimated 90 percent of government primary and secondary schools in Tonk district now have toilets, with a separate facility for girls.
However, problems persist. Villagers say the soak pits are filling up and since there is no one to clean them, it is leading to health hazards. Some of the children said teachers in the school would not allow them to use the toilets regularly.
Acknowledging that more efforts were needed, Upendra Kumar said the programme is facing problems because in some villages people use the toilets as storage space for grain.
"They say storage space for grain is more important than toilets," Upendra Kumar added. - IANS
Wish to share your story?
Trending Now: