Dark tales of girls and women from rural areas rarely touch the collective conscience of India

Tripti Nath
&nbsp | &nbsp Maharashtra
19-April-2013
Vol 4&nbsp|&nbspIssue 16
The barbaric rape of a young Physiotherapy student in a moving bus in Delhi last December shook the nation's conscience and prompted thousands of people to take to the streets.
One of the questions the incident raised was whether women were more unsafe in an urban setting rather than in a rural one.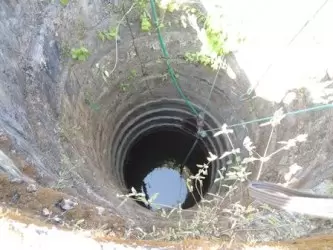 The mysterious deaths of three sisters in a village in Maharashtra underline how insecure the lives of women in rural India are. This is the well in Gade Gaon where their bodies were found. (Photos: Tripti NathWFS)
Mohan Bhagwat, head of the Rashtriya Swayamsevak Sangh (RSS), had argued then that rapes hardly take place in rural India, where presumably there is greater adherence to social norms.
Bhagwat appears to be totally out of touch with reality. He needs to be reminded of the sexual assaults on women like Phoolan Devi in Uttar Pradesh and Bhanwari Devi in Rajasthan. Both were from rural India.
A recent news report quoted statistics from court data collated by an associate professor of Delhi's National Law University. The exercise showed that 75 per cent of India's rape convictions were for crimes that took place in rural areas.
The predominantly rural state of Madhya Pradesh (MP), for instance, emerged particularly badly. The report noted that MP had led the country for the highest number of rapes every year for the last two decades.
Professor Tulsi Patel, who teaches Sociology at the Delhi School of Economics, observes, "We are a society that constantly attacks the vulnerable, especially women. Law enforcement agencies must demonstrate that they intend to punish rapists.
The delays in investigation and trials in rape cases and other crimes of sexual violence – and the manner in which they are conducted – only doubles the misery of rape victims. Besides this, a large number of crimes of this kind go unreported because of complex social realities, fear of stigma being one."
Take the recent mysterious deaths of three underteen sisters in Murmadi village in Maharashtra's Bhandara district who went missing from school. Their bodies were found dumped in a 30 foot deep well located just three minutes away from National Highway 6.
A visit to the village shortly after the incident revealed a shocking reality. It was appalling to see how casually the local police had handled the case. The mother of the girls, who was in a traumatised state, sat on a cot in one corner of her in-laws' home.
When her daughters had not come back home until 6 pm on February 14, she went around the neighbourhood asking people if they had been spotted anywhere. Her anxiety grew when her younger daughters' classmates came to the house with their schoolbags.
All they knew was that her two younger girls had left school with their elder sister at 1 pm. When the girls' grandfather went to lodge a complaint at the nearby Lakhni Police Station that evening, the mother was called to the police station.
Recalled the grieving mother, "The police were reluctant to act on our complaint. My daughters kept to themselves. I had no idea that they were being followed. It was only on February 16 that we heard that some bodies had been found in a well, two kilometres from our home.
"My father-in-law went to the spot. My life came to a halt when he broke the tragic news to me at 7 pm that day."
Holding her head in her hands, she added mournfully, "After I lost my husband a few years ago, my daughters were really my source of strength. All I want today is justice – the perpetrators must be given the harshest punishment." As she spoke she stared at the toys her daughters had played with, lying in a heap on the floor.
Initially, the police claimed that the girls had been raped. Later, they went back on that version. The real story, in fact, remains untold and will be a constant reminder of the inherent insecurity that marks the lives of girls in rural India.
There are similar stories across the country. Recently, a woman was raped after she alighted from a train in Bihar. Her body was later found hanging from a tree in a nearby village.
Incidents of dalit women being stripped and paraded naked occurs with frightening regularity in this country that boasts of a National Scheduled Castes/Scheduled Tribes Commission, and which has had a woman dalit chief minister.
One of the organisations at the forefront of efforts to bring justice to women is the All India Democratic Women's Association (AIDWA), the women's wing of the Communist Party of India (Marxist).
In mid-January, 42 traumatised relatives of rape victims from different states travelled all the way to Delhi and assembled at Jantar Mantar for a public hearing organised by AIDWA. Later, they met the Union Home Minister, Sushil Kumar Shinde, who assured them that he would get them justice.
Among the nine persons from Haryana whose testimonies were heard at this gathering was a farm labourer from the Sansi tribe of Kalsi village, located near the town of Nilokheri in Karnal district. He faced two jolts within a month.
On August 6, 2012, his 15-year-old daughter was kidnapped near her school by a Class XII student and a middle-aged man, both belonging to a higher caste. She was later dumped near her village in a semi-conscious state.
The accused threatened to kill the girl's parents if they complained about the incident but the mother was determined to seek justice. A few days later, when the mother went to Nilokheri town for dental treatment, she did not return home.
The husband reported the fact that his wife was missing to the local police but his complaint was dismissed and he was asked to come back after some time.
Two days later, he was called to a spot near a canal 30 kilometres from his mud house in Kalsi because a woman's body had been found. Having rushed there, the husband discovered that his wife had been sexually assaulted and strangled. The accused were arrested only on September 14 and that was because of AIDWA's intervention.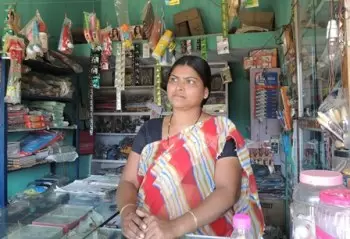 Vidya Raut who runs a shop in front of the school in Murmadi village where two of the girls studied. She fondly remembers the three sisters and will miss them
Life has ceased to be normal for this family. The daughter is too traumatised by her recent experience and has dropped out of school. The son is also disturbed and attends school with great difficulty.
Said Jagmati Sangwan, National Vice President, AIDWA, "This family is under huge stress. It has been six months but all that the family has got so far is Rs 20,000 by way of compensation." According to Sangwan, voices of resistance are sometimes muzzled forever, as seen in this case.
Caste violence against women is marked in rural India. One has only to remember the case of Bhanwari Devi, from the potters' community, who was sexually attacked by upper caste men in her village for raising her voice against child marriage. The incident took place 20 years back but she is still to get justice.
Banwari Devi, fortunately, is strong enough to pursue her case and is determined to get justice some day.
The same cannot be said for three little sisters of Maharashtra's Murmadi village. Very soon, they will be forgotten and the well in which their tiny bodies were found will become part of a dark village tale. - Women's Feature Service


Trending Now: