No IPL games in Tamil Nadu with Sri Lankans: Jayalalithaa
26-March-2013
Vol 4&nbsp|&nbspIssue 12
Tamil Nadu will permit IPL matches only if the organisers promise that no Sri Lankan players, umpires, officials or support staff will participate, Chief Minister J. Jayalalithaa told Prime Minister Manmohan Singh Tuesday.
Jayalalithaa said in a letter to the prime minister: "In view of the popular antipathy and anger in Tamil Nadu against the actions of the government of Sri Lanka, the government of Tamil Nadu is of the view that IPL matches involving Sri Lankan players, umpires and other officials should not be played in Tamil Nadu."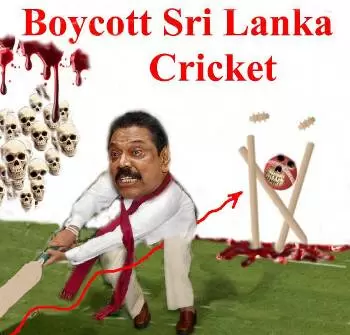 A 'boycott Sri Lankan cricket' placard used by Tamil protesters
Jayalalithaa said the Board of Cricket Control of India (BCCI) may be advised by the central government to prevail upon Indian Premier League organisers to not allow any Sri Lankans to take part in the tournament in Tamil Nadu.
"The government of Tamil Nadu will permit IPL matches to be held in Tamil Nadu, only if the organisers provide an undertaking that no Sri Lankan players, umpires, officials or support staff would participate in these matches," Jayalalithaa said.
Referring to the human rights violations by the Sri Lankan government against the Tamils and the continued attacks on Indian fishermen by the Sri Lankan Navy, she said: "All political parties in Tamil Nadu have repeatedly voiced their grave concern regarding these issues. The atmosphere is, therefore, already surcharged with a groundswell of popular public opinion against the Sri Lankan government."
She said the state government apprehended that the participation of Sri Lankans in the IPL tournament, with many games to be played in Chennai, would aggravate an already surcharged atmosphere and further offend the sentiments of the people. - IANS
Also Read

Pro-Eelam students put IPL on notice
Wish to share your story?
Trending Now: