It is not just old clothes, a couple understands the need of poor people better

Roohi Seghal
&nbsp | &nbsp New Delhi
22-March-2013
Vol 4&nbsp|&nbspIssue 12
In 1992, when Habib mentioned as a matter of fact that in winters his earnings went up because he got to collect more dead bodies, words failed 28-year-old journalist Anshu Gupta.

Habib and his blind wife, Amna Begum collected unclaimed dead bodies lying on the roads of Delhi and handed it to Delhi Police, who paid Rs.20 per body to the couple.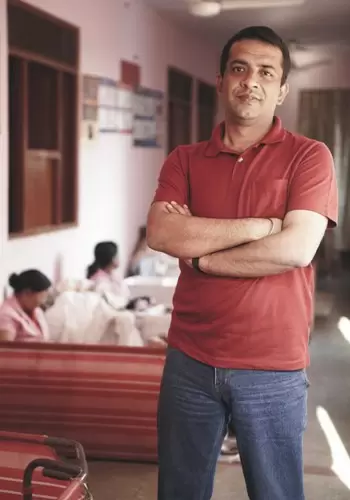 Anshu Gupta's social venture focuses on helping the poor to work for their clothes
But the most painful moment was still in waiting for Anshu. It was when Habib and Amna's daughter confessed, "When it's severely cold, I hug a dead body and sleep. It does nothing; doesn't move or shift!"

That one incident had a deep impact on Anshu, who in due course of time started a social initiative that addressed the clothing needs of poor people.

He realized it was an area that social agencies never accorded priority, focusing their attention on food, shelter, education, health, and environment instead.

Clothing is thought of only in times of disaster management interventions.

With wife Meenakshi, who also quit her 8-year old BBC job, Anshu, the journalist, who was soon to become a change maker, took out 67 clothes out of their closet and started a social venture called Goonj in 1998.

From then to now, the journey of Goonj has been of overcoming challenges, sailing upstream, against the tide and still managing to achieve milestones.

The biggest challenge, identifies Anshu, has been "to struggle with the mindset of the people, who give what they have, not what others need. We try to undo this thinking of people and abolish the concept of cloth donation and replace it with the act of 'dignified giving'."

Their programme "Cloth for Work" aims at converting the charitable clothes into a dignified commodity that can be earned as a reward.

"Unlike the cities, there is no concept of begging in villages. People prefer to earn rather than take donations," elaborates Anshu.

So local organizations propose a development activity to Goonj like building a bridge, repairing a road, digging a well, etc. in their area. Instead of cash, workers are rewarded with clothes.

The Cloth for Work program has many success stories like that of Khandwa in Madhya Pradesh.

Considering the scarcity of water in this area, the villagers of Salidhana dug up a well in collaboration with Goonj.

A sense of elation overwhelmed the crowd when they finally got water in January 2009! No money was involved in this initiative and all workers were given clothes in exchange of their labour.

Of the many programmes of Goonj, the one that is closest to Anshu's heart is "Not Just a Piece of Cloth" program.
A survey in 2001 by AC Nielsen and Plan India had found that over 355 million women and girls menstruate in India but less than 12 per cent of them used sanitary napkins.

The study also revealed that ignorance of the issue and lack of means forced more than 300 million women and girls to use old rags, husk, dried leaves, grass, ash, or sand in their menstrual days.

This was playing in Anshu's mind when during a visit to Firozabad he learned that a woman had died of tetanus since she had used a worn-out blouse with old hooks during her menses.

He also came to know that women in slums and villages used a piece of cloth that is often not dried in the sun. So a lot of moisture is retained in the cloth when it is time to use it again.

Anshu was shocked on hearing that most of the times women within a family or in the same neighbourhood shared the same piece of cloth!

The programme "Not Just a Piece of Cloth" was initiated in 2004 as a respite for such women, with sanitary napkins being made out of old clothes that were washed and dried in sunlight before being made into sanitary pads.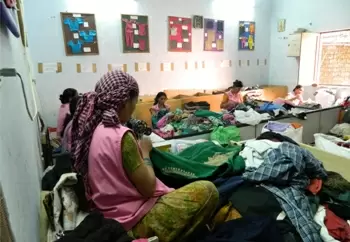 Clothes being sorted out at a Goonj processing center
Goonj makes about 150,000 to 200,000 pads in a month.

The efforts of Goonj are getting the country to recognize the tremendous value of material reuse and recycle. Goonj makes products from used cloth, paper, utensils and other household material.

Old toys and learning material are sent to schools in slums. "There are no designer minds at work; it's largely the ingenuity of our own minds," explains Anshu.

Goonj makes use of just about everything it receives. It repairs saris and woolens, adds drawstrings to salwars, turns old jeans into schoolbags, t-shirts into undergarments, and cloth scraps into quilts.

Today, Goonj operates collection centres in nine cities in India and provides about one million kilograms of material annually, of which 70 per cent constitutes clothes.

It has over 150 employees, besides thousands of volunteers, and is present in parts of 21 states. Having partnered with over 250 organizations, Goonj played a crucial role in multiple disaster relief efforts, primarily during the 2004 tsunami.

At a time when consumerism is at its peak in India, when India is amassing hoards of material goods, Goonj champions the cause of reuse and recycle, becoming the largest non-monetary resource agency.

It is also identified as one of the largest civic participation movement where every human being is not just given the right to live, but also the right to a dignified living.

Goonj has become the echo for survival with dignity.

Wish to share your story?
Trending Now: