'Student protests in Tamil Nadu may see Jaya demanding Eelam'

Viduthalai Rajendran
&nbsp | &nbsp Chennai
16-March-2013
Vol 4&nbsp|&nbspIssue 11
When the anti-Hindi agitation rocked Tamil Nadu in 1965, I was still a student. The agitation had brought the entire State to a standstill. Train and bus transportation services were totally affected.

The ruling Congress government did not understand the emotions of the students, who were in the forefront of the agitation. Chief Minister Bakthavatchalam said that students were being instigated to indulge in violence.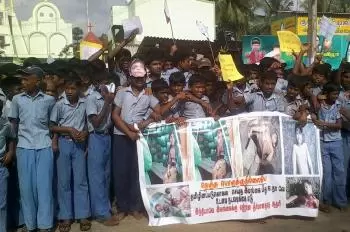 School students joined the pro-Eelam protests in various part of the State
But the truth was that discontent had been mounting against the Congress government. There was shortage of foodgrain and sugar at PDS outlets. There was even a shooting incident outside a ration shop, where people had queued up to buy provisions.

In the 1967 elections, the Congress was defeated and the DMK under CN Annadurai came to power for the first time in the State.

In 1983, there was a bigger student uprising in the State on the Sri Lankan Tamils issue. The protests followed anti-Tamil riots in Sri Lanka. People from all walks of life joined the protests that broke out in almost every street corner in the State.

The present student uprising comes as a surprise, as the State has not seen any political activity inside college campuses for a long time.

Globalisation and consumerism trends had distanced students from political ideologies and beliefs. They became more concerned about their career and had little time for politics.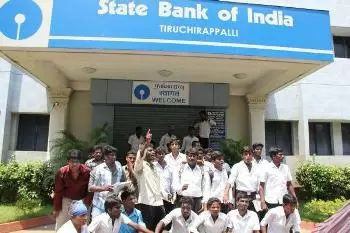 In Trichy, students locked up a SBI branch during a protest
Of late, mounting evidences of genocide against Tamils in Sri Lanka during the last stages of the civil war are being shown on television. Channel 4 documentaries provided shocking videos of cold-blooded killings of Tamils by Sinhalese soldiers.

The brutal killing of Balachandran, Prabakaran's son, was the last straw that led to the current spate of protests in Tamil Nadu.

Political parties have been shaken by the protests. The DMK has warned that it will pull out of the UPA government if it does not demand an independent international probe into war crimes of Sri Lanka and initiate action against the accused within a specified time frame.

It may be an opportunistic move. It is said that the DMK is unhappy with the Congress government for various reasons and has already decided to come out of the alliance.

The party may use the Eelam issue as an excuse to quit the alliance, but still it has been forced to harden its stand on Eelam.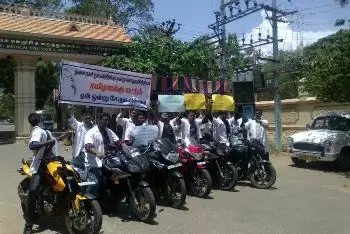 With Kanyakumari Medical College students joining the protests, the pro-Eelam agitation has spread to professional colleges
When the parties believe there is political mileage, they tend to act accordingly.

Chief Minister Jayalalithaa has exercised restraint in handling the student protests. She is aware that the Eelam supporters are a solid vote bank. First time voters and those in the 25-30 years age group decide the outcome of elections.

In the wake of the massive support for the Eelam cause among this section, it is possible that she may declare her support for formation of an independent Tamil nation as well.

Viduthalai Rajendran is General Secretary of Dravidar Viduthalai Kazhagam


Trending Now: