Jayalalithaa flays Colombo, axes athletics meet
21-February-2013
Vol 4&nbsp|&nbspIssue 7
Citing human rights abuses by Colombo, Chief Minister J. Jayalalithaa Thursday said Tamil Nadu won't host the 20th Asian Athletics Championship in July in which Sri Lanka will take part.
"The state will not conduct the championship and it cannot be held in Tamil Nadu. The general secretary of the Asian Athletics Association will be asked by the state to hold the event somewhere else," she said.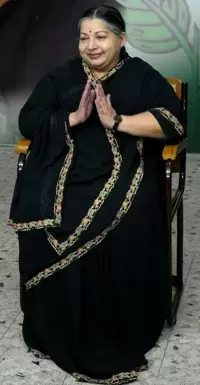 Jayalalithaa continues with her tough posture against Sri Lanka
Jayalalithaa said her government had written to the Singapore-based Association saying the participation of athletes from Sri Lanka would hurt the sentiments of Tamils.
Copies of the letter were sent to the sports and external affairs ministries.
The chief minister reiterated that the killing of the 12-year-old son of slain Tamil Tigers chief Velupillai Prabhakaran was "an unpardonable crime and has moved my heart".
She said more evidence was emerging about the way innocent Tamils were killed by the Sri Lankan military in the final stages of the war against the Tamil Tigers that ended in May 2009.
The "genocide in Sri Lanka exceeds what Adolf Hitler carried out in Germany", Jayalalithaa said.
She said Tamil Nadu had decided to host the Asian Athletics Championship to encourage sports "but is also firm that Sri Lankan Tamils be treated with dignity".
The chief minister again urged the Indian government to impose economic sanctions on Sri Lanka till Tamils displaced by the war returned to their original homes and were treated on par with the Sinhalese majority.
Jayalalithaa has also opposed training of Sri Lankan military personnel in India. - IANS


Trending Now: