Bihar MLA says Rajapaksa is worse than Hitler

Akash Bisht
&nbsp | &nbsp New Delhi
07-February-2013
Vol 4&nbsp|&nbspIssue 5
Opposition to Sri Lankan President Mahinda Rajapaksa's Indian visit, which started a few days ago in Tamil Nadu, is fast spreading to other parts of the country. Bihar MLA Som Prakash Singh is now echoing the demands of Tamil Nadu politicians that Rajapaksa should not be allowed to enter the country.

Singh, a former inspector of police, who won the 2010 state assembly election from Obra as an independent candidate, has accused Rajapaksa of having "broken all records of genocide including the ones set by Hitler himself."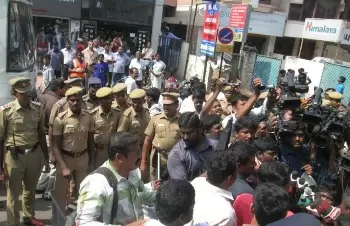 A protest organized by Thamizhar Ezhuchi Iyakkam in Chennai against Rajapaksa's visit
"Hitler killed his opponents but the Sri Lankan government (under Rajapaksa) went a step ahead and selectively targeted the relatives of anyone opposing its iron fist rule. These are the traits of a coward," he said in a statement.

Singh who quit his police job and entered politics to fight corruption, pointed out that Rajapaksa was visiting Bodh Gaya, "the birth place of Buddha who gave the ultimate message of peace and non-violence."

"Ashoka embraced Buddhism and its principles of peace and non violence after the bloody battle of Kalinga, repenting for his sins. Today, Mahinda Rajapaksa should clarify whether his visit is intended to ask for forgiveness (for his sins) from the Tamils and Indians or is it to play with the emotions of our people. And if he doesn't clarify this, a mass murderer like him should not be allowed to enter our country."

Singh said the Sri Lankan regime has brutally suppressed the Tamils' demand for equal rights.

"Instead of giving them their rights, the Sri Lankan regime has killed more than 1.5 lakh Tamils. Eliminate Tamils and then there would be no demand for any rights seems to be their agenda," the former cop stated.


Trending Now: