'Selective national outrage against rape'

20-December-2012
Vol 3&nbsp|&nbspIssue 50
As the nation's outrage over the gang-rape of a young girl in New Delhi has sparked a debate on the kind of punishment that needs to be given to rapists, an email from a reader raises uncomfortable questions on the criteria for bringing issues to national limelight.
In a nation where scores of women are daily molested, raped, and humiliated, why only few cases get the attention they deserve and the others don't? What are the factors that determine which issue gets media attention and which does not? Does the background of the victim matter?
The email mentions an incident that took place in Guwahati few years ago – attached are some photos from the mail - and wonders what happened to the men, who stripped and molested some Adivasi women protestors who belonged to the All Assam Adivasi Students' Association.
The television channel, CNN-IBN, had reported the incident. It was reported that a "local Assamese businessman, identified as Ratul Burman, was seen attacking a woman after she was stripped during clashes."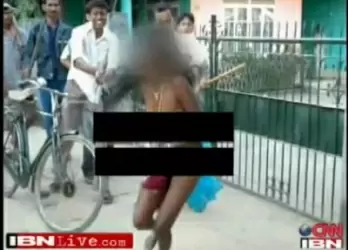 Courtesy: CNN-IBN
Assam Chief Minister Tarun Gogoi had assured then that the government would "demand maximum punishment for him."

The reader wants to know what kind of punishment was meted out to Ratul Burman and whether the media or any of the activist groups can follow up on the incident and tell him if the perpetrators of the crime had got punishment they deserved.

Any volunteers?

P C Vinoj Kumar is Editor of The Weekend Leader

Just in
Exclusive - Stripped naked in public 5 years ago, tribal girl awaits justice
Wish to share your story?
Trending Now: