As women speak out in favour of the girl, the community slowly catches up with the idea

Aditi Bishnoi
&nbsp | &nbsp Dharampur
07-December-2012
Vol 3&nbsp|&nbspIssue 49
In Naun village of Dharampur block in Himachal Pradesh's scenic Solan district, the terrace of Kamla Chhabra's family home is where the neighbourhood women occasionally gather to share a cup of tea after their morning chores.
As they sit in the sun, exchanging the latest news, their hands are busy peeling assorted dried green beans - the black-eyed peas and kidney beans that emerge make delicious curries. That's multi-tasking for you. The hard working Himachali woman makes use of every minute!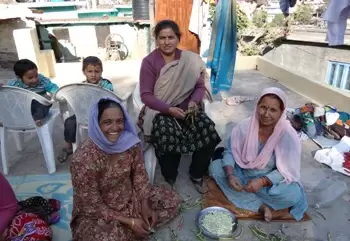 Sunita Kaprish (centre) and Kamla Chhabra (right), members of the Dharampur panchayat, are vociferous supporters of girl children. (Photos: WFS)
Someone in the group then casually mentions how just the other day a woman from an adjoining neighbourhood was ruing the fact that she had three daughters and voiced her desperation for a son.
On hearing this, the usually soft-spoken Sunita Kaprish interrupts sharply, "Yeh kaunsi baat huyi. What kind of talk is this? Didn't you tell her that if girls are given a good education, the right guidance and values, they can outshine boys? Today, the girls can also continue the family name." As she speaks, the others nod in agreement.
The salt-and-pepper haired Sunita is a vociferous supporter of girls, not just in her neighbourhood but in her panchayat (the lowest tier of government) as well. For the last decade, this mother-of-four who has been elected to the Dharampur panchayat has been working to change attitudes to the girl child, just like Kamla Chhabra, her panchayat colleague.
Kamla, a grandmother of two, who is busy whitewashing a wall nearby, joins in the conversation, "Earlier, son preference was very strong here; even now the older generation would not be satisfied with just granddaughters. But there is a definite change among young couples and we are increasingly speaking up in favour of girls. We realise it's a big problem. The number of girls is dropping rapidly and when it comes to something like sex selection, we are clear that it is illegal and morally wrong."
It's heartening to hear such words because the Himalayan state of Himachal Pradesh – despite being north India's most progressive state in terms of human development indices – is facing a grave crisis.
According to the child sex ratio data (2011 census), there are only 906 females per 1000 males in the age group 0 to 6 years. That's even lower than the dismal national average of 914. Despite a law to prevent female foeticide – the Pre-conception and Pre-natal Diagnostic Techniques (PCPNDT) Act, 2003 – and a slew of schemes to encourage families to have daughters, son preference continues to be the dominant trend here.
According to Subhash Mendhapurkar, Director of Social Uplift Through Rural Action (Sutra), a non-governmental organisation that has been working on women's issues in Himachal for nearly three decades, at present one family in four here has only male children.
He says, "We are facing a two-fold problem. Firstly, couples go in for sex detection to ensure a male child, particularly when the first child is a girl. While many may not opt for an ultrasound test during the second pregnancy, if the second child too happens to be a girl, then a test will most definitely be done the third time round. Secondly, if the first child happens to be male, then couples prefer not to go in for more kids. You'll find that the family size exceeds two children only if the first two are girls. Wishing for a male child is neither immoral nor illegal, but to undergo sex selection procedures is illegal and we want to put a stop to it."
Sutra believes in harnessing the power of the local panchayats to achieve this. The task, though, is not without its challenges. Says Mendhapurkar, "In the last two decades, the role of the panchayat has changed from that of delivering governance to implementing schemes. Social issues like reproductive health have taken a back seat.
"The few pradhans who wish to raise this concern are hesitant because they feel people will berate them and ask why they are not concentrating on building infrastructure instead of talking of saving the girl child, which is 'not their work'. It's this perception we have to change."
Thanks to Sutra's efforts, Dharampur panchayat – under which there are 11 wards – now understands the issue clearly. Say Sunita and Kamla, "During our meetings we make it a point to reiterate that sex selection is not an option. Without women how can a family or society at large even hope to survive?"
Ultimately, it is about a brighter future and general well-being. Periodically, these women ward members also initiate discussions, with the involvement of local anganwadi workers, on family planning and reproductive health.
But Dharampur panchayat is an exception in many ways. Not too many panchayats are looking at the bigger picture. This is why Sutra, with support from the Population Foundation of India (PFI), has facilitated the setting up of a local voluntary group called Kanya Bachao Samiti (KBS or Save the Girl Child Committee) in 300 panchayats across the five districts of Solan, Sirmaur, Una, Mandi and Kangra.
Elaborates Leela, Project Coordinator, Sutra, "Usually, gram panchayats only talk to women about rural employment guarantee programmes or issues related to water and foodgrain distribution. During KBS meetings, in contrast, undivided attention is paid to issues of women's heath, family planning and the declining sex ratio."
Each KBS has between 15 to 30 members that include panchayat members, anganwadi workers, members of local Self Help Groups, health workers and homemakers. They meet once a month at the panchayat office to discuss or get training from Sutra's field workers on issues related to reproductive health.
In a district like Una, which borders Punjab – among the first states in India to register declining sex ratios – the KBS approach could potentially be a game-changer. The child sex ratio in Una is an alarming 870 females per 1000 males. Sutra, in coordination with a local NGO, Energy and Environment Group (EEG), has been working here since May 2012 to focus the attention of the local panchayat leadership on the issue of missing girls.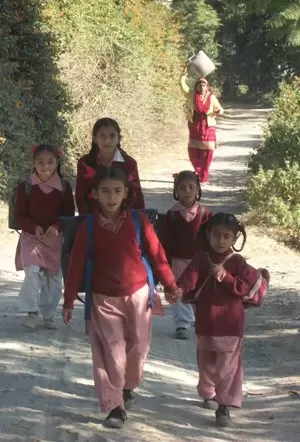 The child sex ratio in Una is an alarming 870 females per 1000 males
But it is a sensitive issue and nobody knows this better than Gargi Kumari, 34. This mother of two, who is the 'pradhan' (head) of Nari village in Una, is a familiar figure as she zips around in her smart black Scooty, meeting local women and listening to their problems.
She says, "Sex determination happens quite openly around here. In fact, a neighbour of mine underwent seven abortions after having two daughters, before she had her son. But it's not easy to intervene on such touchy topics. At the panchayat meeting when I sometimes try to raise this point, other members immediately say: 'Why do we need to bother about the number of girls?'"
The KBS could provide the perfect platform for pradhans like Gargi to place the issue before the community. Members of Nari's KBS hold animated discussions on sex selection and family planning methods. They even argue for the early registration of pregnant women, because it could act as a deterrent for couples seeking sex selective abortions.
Says Veena Dhiman, a field worker with EEG, "The KBS can work wonders in Una. But for this we need the cooperation of progressive leaders like Gargi. We have great expectations from her."
The tableau of the missing girl child is still unfolding in Himachal. Most people don't realise the implications of a masculinised society – in neighbouring Punjab, for instance, trafficking in brides is not uncommon. The time for action is now. - Women's Feature Service

Wish to share your story?
Trending Now: