Student unrest in Jaffna stirs pro-Eelam sentiments in Tamil Nadu
04-December-2012
Vol 3&nbsp|&nbspIssue 48
The student unrest in Jaffna University following the Sri Lankan army's brutal attempt to foil the observation of 'Heroes Day' in the campus by entering the hostels of boys and girls and intimidating them, and the subsequent attack on a peaceful rally taken out by the students who were protesting against the army action, has whipped up emotions in Tamil Nadu.

'Heroes Day' (November 27) is an annual event in the Tamil homeland to pay respects to departed soldiers of the army of Tamil rebels, who fought the Sinhalese army. The tradition continues even post-war, especially among the student community that has defied threats from the army to observe the memory of the slain fighters.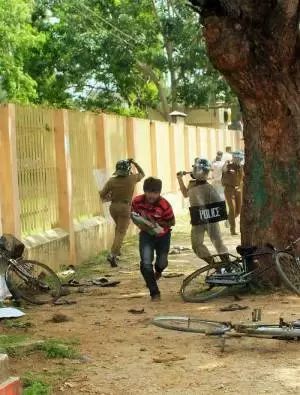 The army beat up students who were taking out a peaceful rally (Photos Courtesy: Global Tamil News)
The Sri Lankan army entered the men's and women's hostels of Jaffna University on November 27 to prevent the students from lighting candles and oil lamps to commemorate the occasion.

When the students took out a peaceful rally the next day to protest against the entry of army men into the girls' hostel, they were brutally attacked. Several students have been reportedly injured.

Four students including the Jaffna University's student union leader P Darshananth have been arrested and reportedly taken to Colombo and handed over to the notorious Terrorism Investigation Department (TID).

"The incident just confirms what we all know already. That reconciliation, as is believed and forced upon by international community as well as the Sri Lankan government, is just a hollow promise of peace for Tamils in Sri Lanka," observes S Elangovan of 'Save Tamils', an organization of IT professionals of Tamil Nadu supporting the Eelam cause.

"It is usually believed that no country would dare to hurt students as it would draw international attention to governmental impropriety. But the Lankan government has even done that. When there is no protective judicial system, and the army and police behaving as representatives of oppression where is the question of safety for the Tamil people in Sri Lanka?" he asks.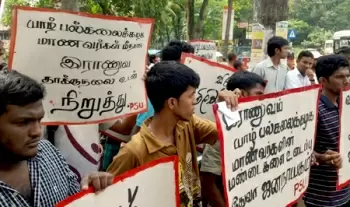 Last year a student leader was beaten up with iron rods by unidentified men
May 17 Movement leader Thirumurugan Gandhi says the student community in Jaffna has become vulnerable and needs protection. "Last year, a student leader of the same university was beaten up by unidentified men who came on motorbikes and thrashed him with iron rods," says Gandhi, who says they are planning to protest against the continuing attacks on Tamil students in Sri Lanka.

May 17 is also organizing a protest against the connivance of top UN officials in the war crimes of the Sri Lankan government.

MDMK leader Vaiko and Naam Thamizhar leader Seeman have also condemned the army attack against the Jaffna University students.



Trending Now: