In Tamil Nadu buses, some still wait for a Rosa Parks

01-December-2012
Vol 3&nbsp|&nbspIssue 48
Dalits have to stand up, giving away their seat, when caste Hindus enter a government bus. No, this is no vignette harking back to a bygone dark era of blatant caste discrimination.
It's something allegedly happening even now in Tamil Nadu, as revealed by Latha Priyakumar, member of the National Commission for Scheduled Castes, earlier this week after a visit to Pacharapalayam village in Cuddalore district, where Dalit homes were burnt recently.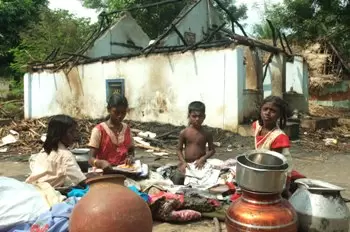 A Dalit family outside their burnt down home in Pacharapalayam village (Photos: Nakkheeran Bi-Weekly)
The startling revelation, however, brought back memories of a 42-year-old Rosa Parks, an African-American seamstress who, on this day exactly 57 years ago, defied the orders of a driver of a Montgomery city bus to vacate her seat for a white man, thus becoming the symbol of modern civil rights movement in America.

Parks was on her way back home from work on December 1, 1955, on board the Cleveland Avenue bus that got filled up mid-way with several white commuters standing on the aisle.
So driver, James F Blake, moved the sign segregating white and black passengers two rows ahead and asked four black passengers to vacate their seats. Three of them complied while Parks, who was in the first row designated for 'coloured people' put her foot down.

She was arrested for violating a local Jim Crow law, spurring the black community to raise as one man. On December 5 the local African-American community leaders gathered at a church and formed the Montgomery Improvement Association and chose a 26-year-old Baptist minister to lead an agitation that came to be known as the Montgomery Bus Boycott and went on for 382 days till the law requiring segregation on buses was lifted.

The Baptist minister, whose house was among the many properties of Blacks that were attacked during the boycott that saw African-Americans using other modes of transport or walking distances as long as 20 km for work, was Martin Luther King Jr, who will make history eight years later by delivering his 'I have a dream' speech at the 'March to Washington' rally.

Parks' life too changed. First she faced trial and was found guilty of violating Chapter 6, section 11 of the Montgomery City code. She had to pay $10 as fine and $4 as court fee. Then she and her husband, Raymond Parks, lost their jobs and moved out to Hampton in Virginia and then to Detroit in Michigan.

But she was associated with the movement against racial discrimination. She even published her autobiography to inspire the youth and also a memoir titled 'Quiet Strength'.
She received many awards, including the Presidential Medal of Freedom in 1996 and the Congressional Gold Medal in 1997. She was named as one of the 20 most influential people of 20th century by Time magazine in 1999.
When she died in 2005, her body was laid in state at the Capitol Rotunda in Washington DC — an honour given for only two non-official Americans and an only woman. It is indeed a put down to learn that in Tamil Nadu, a pioneering state in social justice, Dalits still have a long way to go.

G Babu Jayakumar is Deputy Resident Editor (Tamil Nadu) of The New Indian Express

Published by arrangement with The New Indian Express


Trending Now: