A panchayat in Bihar calls the bluff of authorities in MGNREGA implementation

Sonal Kellogg
&nbsp | &nbsp Jehanabad
30-November-2012
Vol 3&nbsp|&nbspIssue 48
* While Saroja Devi was toiling on a Mahatma Gandhi National Rural Employment Act (MGNREGA) site in Bihar's Jehanabad district, her three-year-old daughter was steadily sinking due to exposure to the hot summer sun. The child subsequently died. Not only did Saroja Devi have to go through with the pain of losing a child, she was not even paid for the work she had done. She did not know that, as a mother of a toddler, she was entitled to crèche facilities for her child.
* Mangal Das had a job card but he had not worked on any project under MGNREGA. So he was surprised to discover that money had been deposited into his MGNREGA account at the post office. Shortly thereafter he was even more surprised to notice that it had been withdrawn from the account without his knowledge.
* Over 100 workers worked on a MGNREGA project to build a canal in the area to harvest rainwater in 2010. None of them received any payment for their labour. So blatant was this fraud that the additional director of District Rural Development Agency (DRDA), Jehanabad, in charge of MGNREGA, was astounded when this large scale non-payment of wages to poor Dalit labourers was brought to his attention. He took it upon himself to make a list of all those workers who said they have worked on the above mentioned project so that they could be paid after verifying their claims.
These were just a few of the irregularities unearthed during a social audit carried out in September 2012 by social activists on the government's flagship programme, the MGNREGA, in the Barawan panchayat located in the conflict prone Jehanabad district of Bihar.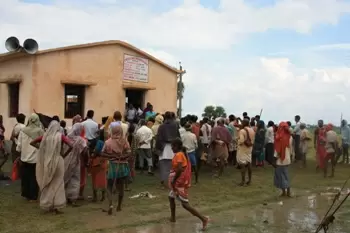 The villagers learnt that gram sabhas could ask for more schemes under MGNREGA (Photos: PACS)
It was an exercise that stirred up a lot of excitement and expectation. Presiding over the event was the woman sarpanch (village head) of Barawan panchayat and the panchayat 'rojgar sevak' (panchayat assistant).
Some 1,200 residents from four villages participated in the 'jan sunvai', or public hearing, under a large tent rigged up in an open field. As villagers presented their personal experiences, everybody present heard them in rapt attention.
This public meeting and social audit was part of a five-day event organised by Poorest Areas Civil Society (PACS) to train social activists in carrying out social audits in the villages where MGNREGA was being implemented.
The programme included two days of classroom learning and two days of field visits to the villages that fell under the Barawan panchayat to research the impact of MGNREGA. The public hearing took place on the final day after which the evidence gathered through the social audit was presented to district authorities.
Social audits, incidentally, are an integral part of the MGNREGA design in order to ensure transparency and accountability in its implementation. The effort in Barawan was to use this process as effectively as possible.
Activists who had been trained in conducting social audits came over to train local people from the participating villages, so that they in turn could carry out similar exercises in their own areas.
The Barawan panchayat public meeting and social audit unearthed many interesting and telling details. For instance, it was revealed that there were 1,200 job card holders in the panchayat but in the nine months since the new panchayat 'rojgar sevak' had been appointed, not a single job card had been issued.
Not being paid wages at various work sites in the area was a very common complaint.
Some also revealed that they were asked to pay between Rs 50 to Rs 100 to get a job card made and they were told to either get their own photograph to paste on the card, or pay Rs 20 to a photographer to have it taken. The rules under the Act, however, clearly specify that both the job card and the photograph are to be provided free of charge.
Interestingly, many job cards produced by the villagers did not have any photographs on them. Similarly, dozens of cases surfaced where people did not have a job card in their possession but were given MGNREGA employment through contractors – something that the Act prohibits.
There were clear irregularities almost at each stage of the implementation of projects. For instance, every site in the Barawan panchayat lacked facilities like drinking water, or shelter from the sun, both requirements stipulated in the Act. It was not surprising then that not one of them had a crèche – a provision that could have saved Saroja Devi's toddler who died in such tragic circumstances.
In fact, there was widespread ignorance about the entitlements under this Act. People had not received compensation for injuries, or been paid unemployment allowances, although these are provisions under the Act.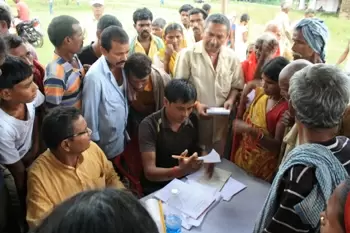 The villagers showed great enthusiasm in learning about their rights
It was empowering for ordinary villagers to know that they could demand and obtain information on any MGNREGA project being undertaken in their villages and also ask for a social audit to reveal the true facts about it.
Participants also learnt that gram sabhas could ask for more schemes under MGNREGA and they needed to plan in advance to get these schemes passed and access the requisite funds, so that enough employment could be generated for all those who desired to work.

There were many learnings to be had under that leaking tent that eventually collapsed. But perhaps the most significant of all was the fact that for the poorest of the poor, for the most marginalised communities, MGNREGA continues to remain a beacon of hope. It needs to be implemented in both form and spirit. - Women's Feature Service

Wish to share your story?
Trending Now: