It's students against gender violence
Geeta Seshu
&nbsp | &nbsp Mumbai
15-November-2012
Vol 3&nbsp|&nbspIssue 45
"I gained so much confidence when I participated in a campaign to end violence against women. I learnt to speak up against the fear that women have about violence and to argue against the indifference of society," says a forthright Vaibhavi Tankheda, talking about student involvement in an ongoing campaign on gender violence in Mumbai.
The campaign, part of a myriad programmes initiated by the Mumbai-based NGO, Akshara, is the Indian leg of the international 'One Billion Rising' (OBR) campaign to end violence against women.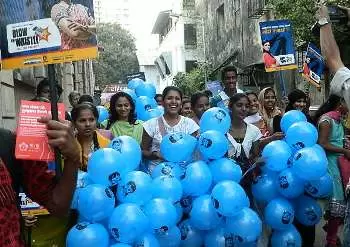 A youth campaign against gender violence in Mumbai (Photo courtesy: Akshara)
The V-day movement spearheaded by award-winning playwright Eve Ensler to raise awareness about gender violence, invites 'one billion women and those who love them to walk out, dance, rise up and demand an end to violence on V-day's 15th anniversary on February 14, 2013.
"For the last 14 years, we have been doing a number of programmes to campaign against gender violence, so the 'One Billion Rising' campaign is a logical extension of our work," says Vinita Balekundri, Programme Manager with Akshara.
Now, Akshara has joined hands with the International Association of Women in Radio and Television (IAWRT) to use the powerful medium of cinema for the OBR campaign in India. 'Our lives…to live', a soon-to-be-launched film festival will screen around 90 films spread over five cities.
A little less than half of India's 1.2 billion people are women and the gender violence they face has several dimensions, including domestic violence, sexual assault, displacement, forced migration, malnutrition, and so on. The film festival will explore these aspects with discussions and debates.
Akshara's 'violence against women' campaign has been working with college students for the last 14 years to gain an entry point with youth. The campaign sought to change mindsets as well as help students understand the sweeping social and economic changes wrought by globalisation, unrealistic aspirations, uncertainties about employment and pressures on more traditional social institutions.
Male students have been particularly targeted, in the hope that intensive work with them will help change their mindset. "Earlier, we used to talk only to the women, but when we began speaking to the boys, we found that their responses were very valuable," elaborates Balekundri.
But does the mindset of students change after being involved in such campaigns? "Yes, absolutely," says Ravikumar Jaiswal, 19, a second year undergraduate commerce students at R J College in Ghatkopar, a suburb in North-East Mumbai.
Ravikumar recalls that his friends would earlier protest if he raised topics related to the campaign with them. "They used to tell me – 'Don't pakau (bore) us'. But now, they get involved and ask questions," he says.
Aditya Sawant, a student of Kirti College, described a similar experience with his friends. In his own home, however, he has noticed a change in the way family members speak of women who suffer violence. Earlier they used to be dismissive but now they admit it is wrong and must be stopped.
Kirti College's Priyanka Kamble, meanwhile, lays an emphasis on women coming together to fight gender violence. In her family, too, the general response at first was lukewarm, but now their reactions to the campaign issues she has been raising is much more positive.
The final word comes from Santosh Wayangankar, 19, an enthusiastic college student.
He says with a rare wisdom, "We take one step forward, then another, and another…and slowly, we will be able to reach out with our message to end violence against women. But if we think the task is too huge and don't take that first step at all, we'll never get anywhere." - Women's Feature Service
Wish to share your story?
Trending Now: