Supreme Court issues notice to Odisha govt on Kandhamal killings

John Dayal
&nbsp | &nbsp New Delhi
20-October-2012
Vol 3&nbsp|&nbspIssue 42
The Supreme Court of India Friday issued notice to the Government of Odisha and its police authorities and the Central Bureau of Investigations on a writ petition by survivors and human rights activists under the "Initiative to Justice, Peace and Human Rights" who had sought fresh investigation and re-trials outside Odisha after the state failed to get convictions in the two fast track courts in 30 cases of murder in the anti-Christian violence of August 2008. There was conviction in just one case.
The notice is returnable in 8 weeks. The bench consisted of Justices RM Lodha and Anil R Dave. The plaintiffs were represented by Senior Advocate Pallav Sishodia.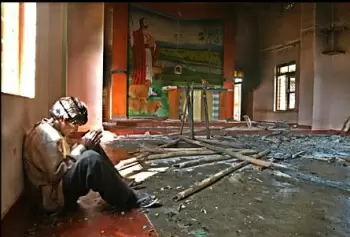 A church damaged during the riots (Photo courtesy: Tehelka)
Faulty and defective investigation on the part of the police, coupled with a perfunctory trial and unprincipled prosecution has left victims of the 2008 riots in Kandhamal without any hope of justice.
Out of the over 2500 criminal complaints, only 828 FIRs were registered by the police. After investigation, the police filed charge sheet in 512 cases and in about 315 cases filed final report.
Till date there has been a conviction for murder in only one case under section 302 of the Indian penal code.
The petitioners had prayed for reinvestigation of the cases by the Central Bureau of Investigation, the institution of a commission of inquiry, and transfer of cases to any other state.
It may be recalled that a wave of violence lasting several weeks had been unleashed on the Christian Dalit and Tribal communities of the Kandhamal district following the assassination of Vishwa Hindu Parishad Vice President Lakshmanananda Saraswati on 23 August 2008.
According to human rights activists, over 56,000 people were displaced, out of which 10,000 have not been able to still return home. Over 5,600 houses and more than 295 churches and institutions were burnt.
Christian groups have alleged there were over 100 murders and several rapes. The government has acknowledged less than 40 murders. Several persons are also being tried on charges of gang raping a Catholic nun during the violence.
Christian groups in the past had approached the Supreme Court on matters of relief and rehabilitation alleging inadequate relief and rehabilitation by the state government for the survivors and other victims of the violence.
John Dayal is a Member of National Integration Council, and National Monitoring Committee for Minority Education
Wish to share your story?
Trending Now: