Schooling kids with special needs to find jobs like anyone else

Rahul Vaishnavi
&nbsp | &nbsp New Delhi
19-October-2012
Vol 3&nbsp|&nbspIssue 42
Nineteen-year-old Joy Paul was born with cerebral palsy. Unable to cope with his studies, he quit school while in Class 7, traumatised after failing to compete with his peers for years. The disenchanted boy had lost all hope and direction until he came across a college that not only promised higher education to special children but even a job.

Paul was ecstatic. "I am an independent individual today. There is no frustration or bitterness that was part of my life when I was growing up," says Paul, who pursued a course in hospitality at the Manovikas College and is currently employed at Barista's Kamla Nagar outlet.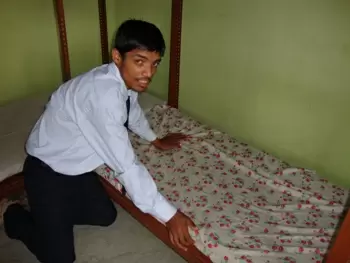 A student pursuing hospitality at Manovikas learns to make a bed (Photos: IANS)
Situated in east Delhi's Surajmal Vihar, Manovikas College was started in 1997 and initially helped schoolchildren with disabilities. It introduced higher studies in 2009 and was recognised by the Indira Gandhi National Open University (IGNOU) the following year.

The college has successfully researched and designed courses that would suit a particular disability with a focus on helping people with developmental disabilities including mental retardation, cerebral palsy, autism, learning disabilities, etc., in leading a life of respect and dignity by offering them higher education.

At present, it offers eight courses including hospitality, retail assistant and business and office attendant. A computer course would be added soon. The courses run for six months and the fee is Rs.10,000.

"Generally, people with such disabilities can't even complete basic education. So, they are either unemployed or making agarbattis (incense sticks), candles and the like," said Alok Kumar, Managing Secretary, Manovikas.

"We analyse their needs, interests and abilities to strengthen their economic and social life," he added.

The IGNOU recognition is definitely a step in that direction, said Kumar, who admitted that the number of students has increased owing to the certified courses under the university's community college scheme.

Community colleges offer particular courses to people living in a particular area. IGNOU at present has 300 such colleges across the country, of which 50 cater to the differently-abled students.

"The kids with special needs need to work in the mainstream. The goal is to help parents know that their kids can achieve greater heights if they are sent to college," said Arun Banik, director of the National Centre for Disability Studies at IGNOU.
Agreed Kumar, who said that such kids have been brought up in a very protected environment and sometimes it is very tough to convince parents to let go of their kids and allow them to explore the world outside.

Interestingly, employers are more than willing to hire them as compared to an average adult as people with learning disabilities possess greater concentration levels if they learn to do their job properly, said Kumar.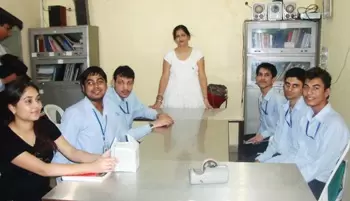 Students being taught to wrap products in a retail management class
"Our students are working with Haldiram's, Barista, Cafe Coffee Day and Big Bazar and we are also in talks with the DMRC (Delhi Metro Rail Corporation)," Kumar said.

"Once employed, we monitor the cases for six months and if the individual finds any problem in adjusting with his work environment, we again counsel and train him till the time he is ready," he said.

According to Javed Abidi of the National Centre for Promotion of Employment for Disabled People (NCPEDP), people with developmental disabilities are often neglected.

"Compared to their counterparts with orthopedic disability or visually impaired, people with development or intellectual disabilities are neglected in the larger disability movement," said Abidi.

"It is high time that these people were put into the limelight and many more colleges and opportunities were created for them," he added. - IANS

Trending Now: