Kejriwal and team demand white paper on DLF-Haryana govt dealings
09-October-2012
Vol 3&nbsp|&nbspIssue 40
Anti-corruption activist Arvind Kejriwal Tuesday released documents alleging quid pro quo involving the Haryana government, realty major DLF and Robert Vadra, son-in-law of Congress president Sonia Gandhi. The fresh allegations ignited angry denials from both the Haryana government and the Congress but Vadra maintained silence.

Even as Kejriwal sought a "white paper" on dealings between the Haryana government and DLF and said the allegations were enough for the income tax department to raid Vadra, the Congress again accused him of seeking "cheap publicity". The BJP demanded a "comprehensive enquiry" into the charges.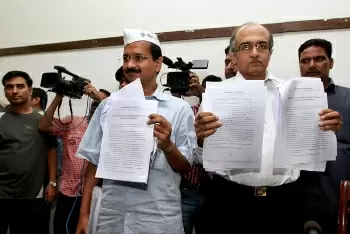 Arvind Kejriwal wants to know why Congress leaders are defending Robert Vadra if he were a 'private citizen' (Photos Courtesy: Tehelka)
In a hasty response, the Haryana government denied any wrongdoing and said it had not favoured DLF as alleged by Kejriwal.

Addressing a crowded press conference at the Constitution Club, India Against Corruption (IAC) leader Kejriwal said a white paper was needed on "all the favours done by the Haryana government to the DLF group".

A Special Investigation Team (SIT) monitored by a retired Supreme Court judge should probe the allegations, he added.

Kejriwal said Vadra's business dealings were a "fit case for income tax raids" and sought an FIR against Vadra, a 43-year-old businessman married to Priyanka Gandhi, the daughter of Sonia Gandhi.

"The Haryana (Congress) government has become an agent of DLF," Kejriwal said, citing 14 pages of court records and other documents that he gave to the media to back his case.

In his second presser in four days, Kejriwal said even the Punjab and Haryana High Court had pulled up the Haryana government and described its actions vis-a-vis DLF as "malafide" and "nexus".

According to him, Vadra's company acquired almost 50 percent shareholding in DLF SEZ Holdings Pvt Ltd a year after it was formed in 2007. These were sold back to the company a year later.

A former income tax officer, Kejriwal hit out at Finance Minister P. Chidambaram for backing Vadra.

"All the evidence we have provided today makes it a fit case for an income tax raid," he said. "I have been an income tax officer, and I know it.

"But after the country's finance minister speaks in favour of Vadra, which officer will have the guts to give (Vadra) a notice?"

Kejriwal's harshest words were directed at the Haryana government.

"Panchayat land has been handed over to DLF, HUDA land has been handed over to DLF, FAR (floor area ratio) has been increased for DLF, land use rule have been changed (for DLF)," he said.

The Congress questioned the veracity of the documents presented by Kejriwal and dubbed his charges baseless.

Congress spokesperson Rashid Alvi suggested that the activist must present his "evidence" to a law enforcement authority.

"Who is to determine the veracity of the documents presented by Kejriwal? None of the allegations he has made now is new," Alvi said.

Spokesperson Nirmala Sitharaman said the BJP wanted a comprehensive enquiry. "It is high time the Congress stops running away from a probe… it is neck deep in corruption."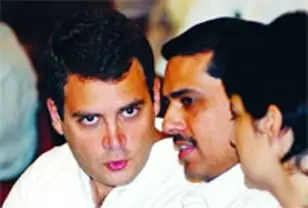 Communist Party of India-Marxist leader Basudeb Acharia asked why the Congress was not ordering a probe if the allegations against Vadra were indeed baseless.

Several farmers who alleged that the Haryana government had usurped land from them, using fraudulent methods, also spoke at the press conference.

Kejriwal wanted to know why Congress leaders and government ministers were coming to the defence of Vadra if he was a private citizen.

"What is the relation between the Congress and Vadra? What is the relation between Vadra and the government?

"Why is the finance minister defending him? Why is the law minister defending him? All the ministers are trying to save him."

On Oct 5, Kejriwal had fired his first salvo when he alleged that Vadra's fortunes had escalated sharply because of his business dealings with DLF.

Asked why he did not go to the court. Kejriwal said "this is a battle to change the system" and they would decide about going to court later. "This is a battle to be fought on the streets."

Noted lawyer and India Against Corruption (IAC) member Shanti Bhushan added that the questionable business dealings between DLF and Vadra were very much covered by the Prevention of Corruption Act. - IANS

Trending Now: