Hiremath Mitavachan and Jayaraman Srinivasan overturn the nuclear argument

K S Jayaraman
&nbsp | &nbsp Bangalore
05-October-2012
Vol 3&nbsp|&nbspIssue 40
India's energy needs can be met entirely by solar and other renewable sources, says a new study by two professors at the Indian Institute of Science (IISc) in Bangalore.
Their report published in the journal Current Science may add ammunition to the anti-nuclear agitation in India.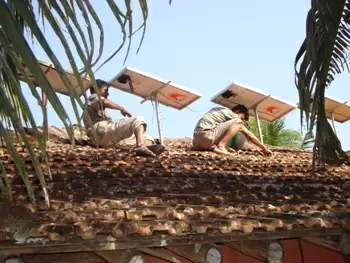 Solar energy alone can meet India's energy requirement (Photo: SELCO)
The analysis by Hiremath Mitavachan and Jayaraman Srinivasan of IISc's Divecha Centre for Climate Change overturns the argument that nuclear power is essential for India because the country does not have enough land to exploit the potential of solar energy in India.

According to their study, 4.1 percent of the total uncultivable and waste land area in India is enough to meet the projected annual demand of 3,400 terawatt-hour (TWh) by 2070 by solar energy alone (1 terawatt-hour per year equals 114 megawatts).
The land area required will be further reduced to 3.1 percent "if we bring the other potential renewable energy sources of India into picture", they claim. They conclude that land availability is not a limiting constraint for the solar source as believed.

They say their calculations are based on present-day solar photovoltaic (PV) technology and do not include higher efficiencies achieved by new solar cells. Neither have they considered roof-top PV systems that can be established without any need for additional land.

The IISc researchers' conclusion is in conformity with that of a report prepared last year by the Australian government which said: "There is more than enough suitable land in India, with high direct beam solar, to meet the entire nation's electricity needs in principle."

Convinced that sunlight differs from other energy sources in the way it uses the land, the researchers compared the land-use pattern of three primary energy sources - coal, nuclear and hydro - with solar energy. They then calculated the percentage of India's land area that would be required to meet the future projected energy demand.

Coal power plants not only transform the land around the facility but also require land for mining coal and its upstream processing, the authors note. An average dam displaces 31,340 persons and submerges 8,748 hectares of land. The direct land footprint of a nuclear power plant includes power plant area, buffer zone, waste disposal area and the land that goes into mining uranium.

"Our study shows that solar power plants require less land in comparison to hydro-power plants and are comparable with coal and nuclear energy power generation when life-cycle transformations are considered," Srinivasan said.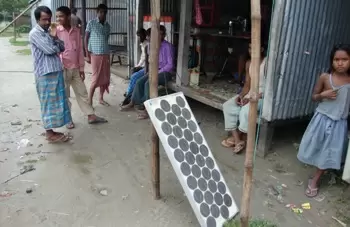 Solar power plants would need less land than nuclear, thermal or hydro-power plants (Photo: IANS)
While nuclear and fossil fuel-based technologies must continuously transform some land to extract the fuels or dispose of the waste, this is not the case with solar plants. In fact, the same land used for PV solar power plants can be utilised for other purposes like grazing.

The roof-top solar power technology, along with that proposed by IISc professors, "will be able to meet most of the electricity demand, and has the potential to transform the power sector," says Shankar Sarma, a power policy analyst and author of forthcoming book "Integrated Power Policy."

Atul Chokshi of the IISc Department of Materials Engineering and an expert on solar energy agrees.
He reported recently that a three kilowatt rooftop solar panel system on 425 million households can generate a total energy per year 1900 TWh - half of the projected energy demand by 2070. - IANS

Trending Now: