Kudankulam agitation spreads, one dead; Greenpeace, Amnesty condemn police action
10-September-2012
Vol 3&nbsp|&nbspIssue 36
Environment watchdog Greenpeace Monday condemned the Tamil Nadu government for its crackdown and use of force on protestors at the upcoming Kudankulam nuclear power plant in the state.

"The commissioning of a nuclear power plant should not happen without consensus with the stakeholders. In the case of Kudankulam, local villages are the biggest stakeholders. Since the power plant is in their backyard, their consent is required," said Greenpeace campaigner Karuna Raina in a statement issued here Monday.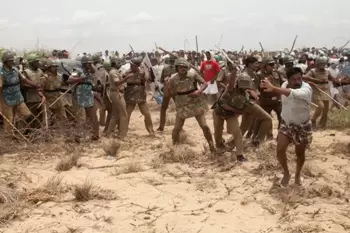 Police used force to break the protest near the nuclear power plant at Kudankulam (Photos: Amirtharaj Stephen)
"Greenpeace stands in solidarity with the people of Kudankulam and their struggle for justice," the statement said.

Meanwhile, Amnesty International India, a human rights group, also urged the government to exercise restraint.

"The Indian authorities should exercise restraint and ensure that the police response does not amount to excessive use of force," said Amnesty International India's Chief Executive G. Ananthapadmanabhan in statement.

Tamil Nadu police Monday cane charged villagers, including women and children, staging protests on the beach at Kudankulam, behind the upcoming nuclear power plant.

Earlier, officials had announced that enriched uranium fuel would be loaded in the first of the two nuclear reactors around Sep 11.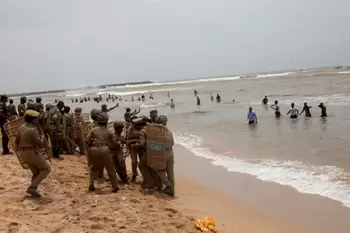 The use of force against the protestors has drawn flak from several quarters
This is the first time police started cracking down on the protestors who launched their agitation against the atomic power plant over a year ago.
The over a year-long protests against the Kudankulam nuclear project in Tamil Nadu turned violent Monday, leaving one agitator dead in police firing in Tuticorin district and several injured in a police baton charge on protestors near the plant in Tirunelveli district.

The protests, spearheaded by People's Movement Against Nuclear Energy (PMANE), and earlier confined to Kudankulam and Idinthakarai villages in Tirunelveli, around 650 km from here, spread to Tuticorin following the baton charge on the protesting fishermen on the beach at Kudankulam around 11.30 a.m. Monday. - IANS

Also Read

Police break Kudankulan protest using force

Trending Now: