Muslim leaders demand probe into source of sms's against NE people
18-August-2012
Vol 3&nbsp|&nbspIssue 33
Representatives of leading Muslim organizations have condemned the 'criminal and mischievous' campaign against people of North Eastern origin in parts of the country and have appealed to the Muslim community to "assure their brothers and sisters from North Eastern states that they are safe and secure and should not panic and leave their studies, jobs or businesses."

Muslims should invite people of the North East "to come and live in their houses and institutions until the situation becomes normal."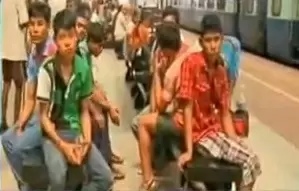 The exodus of North Eastern people to their homes is a shame on the nation
The appeal has been issued in the name of All India Muslim Majlis-e-Mushawarat, an umbrella body of Indian Muslim organizations.
The Muslim leaders have urged the authorities to probe the source of the mischievous sms's and punish the guilty without mercy.
They said, "We have reason to believe that this criminal campaign is orchestrated by the same people who are hell-bent to turn the present ethnic cleansing campaign in the Bodo Territorial Council areas into a foreigners and intruders' issue, which it is not."
"We are reminded by a similar campaign in Assam in May 2005 which had affected lakhs of people. Assam chief minister Tarun Gogoi had at the time squarely blamed the BJP saying that the BJP and RSS are trying to foment communal tension in Assam.
"We hope the authorities will not develop cold feet in probing the origins of the present campaign and punishing them."

They also appealed to Imams and Khateebs to avail the occasion of the Eid prayers and make an appeal to the Muslim masses in their sermons to maintain calm, peace and brotherhood.

The statement said: "We also appeal to the Muslim masses to beware of the communal forces' designs and remain vigilant to maintain peace and amity in their respective localities."

The signatories to the statement included Dr Zafarul-Islam Khan, President, All India Muslim Majlis-e Mushawarat, Muhammad Jaafar, Vice President, Jamaat-e Islami Hind, Mujtaba Farooq, Convenor, Coordination Committee Indian Muslims on Assam, Abdul Khaliq, General Secretary, Lok Janshakti Party, Ml. Asghar Imam Mehdi, General Secretary, Markazi Jamiat Ahl-e Hadees, Ml. Abdul Hameed Nomani, Secretary, Jamiat Ulama-e Hind, Navaid Hamid, General Secretary, Movement for Empowerment of Muslim Indians, Dr Taslim Rahmani, President, Muslim Political Council, and Dr Syed Qasim Rasool Ilyas, Member, Working Committee, Muslim Personal Law Board. - TWL Bureau


Trending Now: