'Office-of-profit' objection could spell trouble for Pranab

03-July-2012
Vol 3&nbsp|&nbspIssue 26
In 1969, Indira Gandhi, then Prime Minister and president of the Congress, could not have her way in the choice of her party's presidential candidate.
The Congress parliamentary board selected Neelam Sanjiva Reddy whom she considered a part of the 'syndicate', a euphemism for the senior leaders of the party suspected to be gunning for her.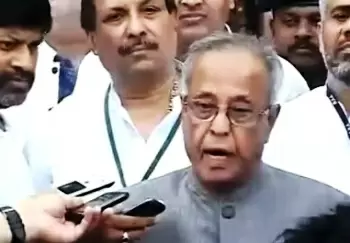 Throughout the Emergency, Pranab acted as a loyal servant of the Gandhi family
She was made to propose Sanjiva Reddy's name which she did condescendingly, but asked VV Giri to contest against the official candidate with her full blessings and support.
In the campaign for the presidential sweepstakes, 'conscience vote' was being bandied about to justify the betrayal of Sanjiva Reddy.
A similar scenario is slowly emerging in the coming election. Pranab Mukherjee is not the choice of Sonia Gandhi. She was inveigled into announcing his name before the Opposition could steal a march over the Congress.
In the established tradition of the Congress, the loser in a leadership contest is asked to move a consensus resolution. At the Congress Working Committee meeting, Mukherjee was asked to move the consensus resolution authorising Sonia Gandhi to choose the party's nominee for the presidential election.
Having messed up the nation's economy completely, Prime Minister Manmohan Singh wanted the North Block seat occupied by Mukherjee vacated well before the 2014 general election even as international rating agencies S & P and Fitch cut India's credit rating outlook to negative.

Sonia Gandhi certainly does not want the failed Finance Minister elevated as the President of India.
Though Mukherjee is known for his eye for details, he filed his nomination papers without getting himself officially relieved as chairman of the Indian Statistical Institute, an office of profit, even if he did not benefit financially from it.

Till 6 p.m. on 2 July, his name appeared as its chairman. Even after Vivek Agnihotri, the returning officer, clearing Mukherjee of the "office-of-profit" objection, he will face music in the Supreme Court if he is elected and his election is challenged.

The Supreme Court can call records of the ISI if his resignation was back-dated. He could have given a backdated resignation letter, but the 81-year-old academic institute in Kolkata should have informed all concerned about Mukherjee relinquishing his post as chairman and the truth would be nailed if none was informed in the last 12 days since his alleged resignation of 20 June.

Mukherjee was engaged in an elaborate cover-up on the last days of Azad Hind Fauj founder and national leader, Subash Chandra Bose.

Anuj Dhar, in his book "India's Biggest Cover-up," based on records de-classified by the British, Indian and American authorities and several documents that continue to be kept secret over 65 years after the incident, dismisses the official version that Bose died in an air-crash in Taiwan in 1945.

In his capacity as external affairs minister, Mukherjee went the extra mile to support the air-crash theory despite overwhelming evidence that he was spotted in Moscow after the so-called accident.

In 1996, a joint secretary in the external affairs ministry suggested in a secret note that India should issue a demarche to Russia that it should conduct a search for evidence in the KGB archives.

Mukherjee ensured this note did not see the light of day and noted that seeking access to the KGB archives would harm Indo-Russian relationship.

The Justice Mukherjee Comission of Inquiry on Bose says that Pranab Mukherjee was one of seven witnesses who testified before it in favour of the story of Bose's death in the air-crash.

Ironical, when he returned to power in 2004, Pranab sat in judgment of the Mukherjee Commission report with his Cabinet colleagues in rejecting the conclusions of the report.

During the dark days of the Emergency imposed by Indira Gandhi in 1975, resulting in the suspension of human rights of all citizens and the virtual death of democracy in the country, Mukherjee fully supported it and participated in its misdeeds willingly.

Throughout the Emergency, he acted as a loyal servant of the Gandhi family and was a complete collaborator with Sanjay Gandhi, the then extra-constitutional authority.

During that period when he was minister of state for revenue expenditure, he had no compunction in incarcerating in most inhuman conditions Gayatri Devi of Jaipur and Rajmata Vijaya Raje Scindia of Gwalior.

When the emergency was over and nobody had any fear from the government, Mukherjee lacked the courage to speak the truth. The Shah Commission on the Emergency says: "Although Pranab Mukherjee assisted the Commission at the preliminary stage of the fact finding inquiry, he did not file any statement in the case, as was required to be done under Rule 5(2) (a) of the Commission of Inquiry (Central) Rules, 1972."

As a senior partner in the UPA, the DMK might not have had any compunctions about providing a launching pad for Mukherjee's election campaign in Chennai, but senior party cadres, many of whom were imprisoned and subjected to humiliating treatment during the 1975-77 Emergency, are questioning the wisdom of carrying one of the leading participants in company with Sanjay Gandhi of the excesses of that dark period on their slender shoulders.

MK Stalin, heir apparent of the DMK, is also a victim of those excesses. Though none in the party would openly challenge DMK president Karunanidhi's decision to launch Mukherjee's campaign, a certain amount of cross-voting by the party and its allies in Tamil Nadu cannot be ruled out. With Chief Minister Jayalalitha firmly on the side of PA Sangma, the Opposition candidate, he is assured of a majority of the State's 81,540 votes.

Mukherjee would have browbeaten Mulayam Singh and Mayawati in UP having the largest number of electors, but there are limits to the persuasive powers of the CBI.
The Income-Tax Appellate Authority had given a clean chit to Mayawati and recommended to the CBI not to pursue case against her.

The CBI says it has clinching evidence against her in the disproportionate asset case and the charge-sheet against her is ready.

The Janata Dal (U), a product of the Jayaprakash Movement of the 1970s, throwing its weight behind Mukherjee, a leading storm trooper of Sanjay Gandhi, is unthinkable but almost everyone in India today has a price.

Mukherjee began his ministerial career with the promise of ushering in an era of self-reliance. In his long political journey, 'self' got deleted and he is known for tailoring policies to favour a particular corporate group.

Whatever be the President's constitutional powers, his real power rests on his moral stature and public esteem.

Indira Gandhi had to campaign openly in 1969 to ensure the official Congress candidate was defeated. Sonia Gandhi does not have to campaign. Her preference for a Christian in Rashtrapati Bhavan is well known.

One word from her, a glance, a frown would put the entire State machinery and the political system in full motion to carry out her hidden agenda. The nation is waiting with bated breath to find out.

Sam Rajappa is Consulting Editor of The Weekend Leader

Trending Now: